Quick Summary
Not everyone with mesothelioma has insurance coverage and the costs of treatment for mesothelioma can be very expensive. Veterans especially have many opportunities for treatment of their mesothelioma if it can be shown that the exposure to mesothelioma occurred during their time in the military.
Topics on this page:
Getting Financial Aid
Because most people with mesothelioma developed the disease because of exposure to asbestos, there are government and non-profit organizations out there that can provide financial aid for treatments, ongoing care while you can't work, disability assistance.
Financial aid can also help pay for things like transportation and meals while traveling to mesothelioma treatment centers.
There are plenty of ways that U.S. veterans with mesothelioma can get financial assistance. Get a free veterans packet to explore your options.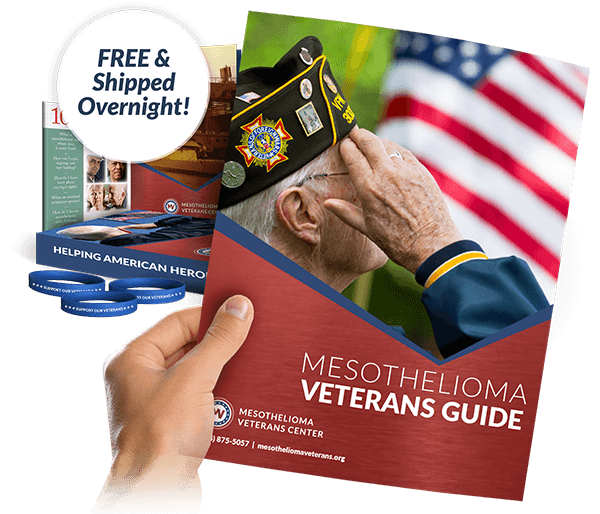 Get a FREE Veterans Packet
Get information on:
Top Treatment
Best Doctors
Improving Prognosis
Get a Free Veterans Packet
How Can I Get Aid from the Department of Defense?
The Department of Defense can help mesothelioma veterans in many ways. There are several federal agencies that provide funding for research into the disease.
This includes the National Cancer Institute, which provides care for those suffering from various types of cancer who are willing to take part in research on the diseases they have.
Did you know?
The National Cancer Institute is the biggest institute in the NIH (National Institutes of Health) and has a budget of almost $5 billion per year for cancer research. The CDC also sponsors medical research into mesothelioma and offers care at no charge for veterans and others with mesothelioma.
The Department of Defense has expanded its funding to include funds for mesothelioma research in 2008. The Department of Defense is a logical source for mesothelioma funding since it was discovered that a third of all mesothelioma patients are veterans who got their exposure to mesothelioma while in the military.
Exposure to asbestos was common in the military until there was a ban on its use in the early 1970s. Research studies have since been funded by the Department of Defense. These have focused on early detection of the disease and new, investigational therapies for this type of cancer.
Because mesothelioma is so rare, funding for programs on treating the disease is far behind funding for other types of cancers.
With the recent initiatives by the Department of Defense, it is hoped that more money will be given to help those suffering from mesothelioma receive financial aid for participating in research and clinical trials.
Agencies That Provide Support
There are many different non-profit and government organizations that help mesothelioma patients with the various financial needs that come up as part of having mesothelioma.
Some of these programs include the following:
HRSA
The Health Resources and Service Administration (HRSA) has a Bureau of Primary Health Care that gives money to medical centers that provide healthcare to low-income people.
This is a government agency that covers for primary health care services as well as transportation and translation services for those who need them regardless of their ability to pay for those services. See if you can get care with help from HRSA.
The Hill-Burton Program
This is a government program that provides modernization money for facilities that provide care for those who can be seen even if they cannot pay for services. Call 1-800-638-0742 or log onto the Hill-Burton Program site to find out if there are any of these facilities in your area.
Medicaid
Medicaid is a federal and state health insurance plan for people who meet certain income guidelines that prevent them from being able to pay for healthcare. Medicaid can cover costs for home care services, including part-time nursing care, medical supplies, and medical equipment.
Each state has its own program. You can find out how to contact your state's program by calling 1-877-267-2323 or by logging on to medicaid.gov.
Medicare
This is a government program offered to those over the age of 65 or those who are disabled. There are two parts, known as Medicare Part A and Medicare Part B. Medicare Part A pays for home health care, hospice care, hospital treatment, and care in certain nursing homes.
Medicare part B covers costs for the diagnosis of diseases, doctor care, ambulance care, and screening exams. To see if you can be covered under Medicare, call 1-800-633-4227 or visit medicare.gov.
U.S. Department of Veterans Affairs (VA)
The VA provides veterans who are eligible for services to receive any treatment connected with being in the military. There are large cancer centers just for VA patients and the cost of services is based on your level of service in the military and whether or not the problem was related to being in the service.
Our team can help you access VA benefits today.
Get VA Benefits
Get help with:
VA Disability Claims
Survivor Benefits
Finding Veteran Doctors
Learn More
Mesothelioma Research Foundation of America
This is a non-profit organization that is designed to help in various ways to find better treatments for mesothelioma.
It primarily funds mesothelioma research programs that you can become involved in. There are clinical trials going on all the time that you might be eligible for. Call 1-800-909-6376 or log onto mesorfa.org for more information as to how you can participate.
CancerCare
This is a non-profit organization that provides Financial Assistance, information, and free support to people with all kinds of cancer, including mesothelioma.
There are grants available that will cover for expenses incurred as part of cancer treatment. If you would like to be considered for Financial Assistance, contact 1-800-813-4673  or visit CancerCare's official website.
NeedyMeds
This is a non-profit organization that helps people who can't afford their medications or other healthcare costs. It helps people find various assistance programs or other resources when they are stricken with a disease like mesothelioma, where the medical and other care costs can be quite expensive. Contact NeedyMeds on its website to learn more.
Patient Advocate Foundation This is a non-profit foundation that helps with legal counseling, referrals, and education to patients who have cancer. They can help with issues related to finances, job discrimination, debts, and insurance problems.
Call 1-800-532-5274 or visit patientadvocate.org for more information. They have a copay relief system that helps insured patients cover high copays associated with medical care.
Pharmaceutical Manufacturers
Some pharmaceutical companies have special programs for patients needing very expensive medications, including chemotherapy medications. Each manufacturer has its own website.
To see if you qualify, find out who makes your medications and look up their website on the Internet. The website can direct you to where you can determine if you qualify for assistance in paying for their medication. You can also call 1-888-477-2669 or log onto pparx.org for a listing of helpful sites.
Assistance for Practical Needs
Mesothelioma patients often need more than just care for medical treatment. Issues like basic living expenses and transportation issues become a big problem for mesothelioma patients who are already struggling financially.
Some programs that help mesothelioma patients are provided by the government and others are simply private non-profit programs for veterans and non-veterans alike.
These include:
The American Cancer Society: This organization helps patients and their families struggling with cancer in various ways. It also offers a number of Hope Lodges, which provide temporary, free housing for those who are having cancer treatments. Visit the ACS Hope Lodge webpage. Transportation services are also offered through your local American Cancer Society office.
Benefits.gov: This is a group of federal agencies that help patients have better access to government assistance programs offered to those who have a variety of health issues. You can find out how to apply to the various assistance programs by calling 1-800-333-4636 or by logging on to benefits.gov.
Eldercare Locator: This is a referral service on behalf of the U.S. Administration on Aging. It helps those with issues on healthcare and aging by referring them to a variety of local agencies. Call 1-800-677-1116 between 9 am and 8 pm EST, Monday through Friday.
Mercy Medical Angels: This provides information on different long-distance travel options for patients with illnesses that require long-distance travel. You can call them for assistance at 1-800-2960-1217 or log onto mercymedical.org.
The Mesothelioma Research Foundation of America: This organization can help you and your loved ones with mesothelioma by giving free information as to financial aid. They also offer funding to those willing to participate in certain clinical trials.
Social Security: You can see if you are eligible for social security Financial Assistance on the basis of disability or age by contacting 1-800-772-1213 or by logging on to ssa.gov.
Supplemental Security Income (SSI): This for people who are disabled, blind, or elderly and who have no or little income. It provides cash assistance for things like clothing, food, and shelter. To see if you qualify and for help in filing a claim, visit socialsecurity.gov.
A Free Veterans Packet can help with
Treatment Options
Financial Assistance
VA Benefits
Get Your Free Veterans Packet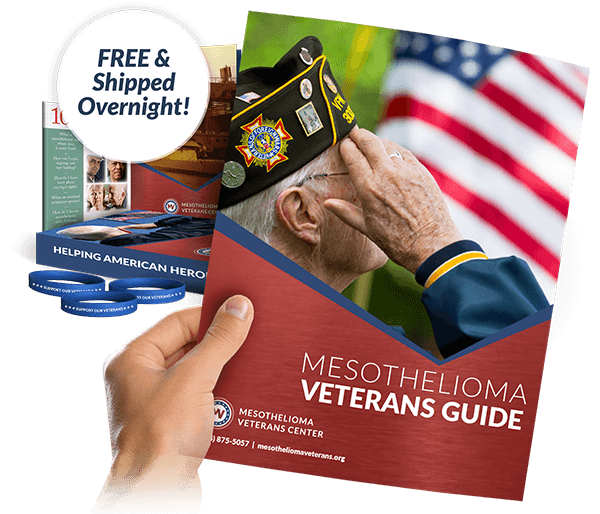 Get a FREE Veterans Packet
Get information on:
Treatment Options
Mesothelioma Specialists
Veterans Benefits
Get a Free Veterans Packet
Indigent Drug Programs
Many pharmaceutical companies have programs that help indigent, or low-income, patients pay for expensive medications. A medical social worker or your physician may have information as to whether or not your particular drugs are covered under one of these drug programs.
Find out what company makes your chemotherapy and other drugs and contact the company through their website's patient assistance programs. Call 1-888-477-2669 or visit the Medical Assistance Tool website for access to almost five hundred different private and public patient assistant programs.