Quick Summary
Not everyone with mesothelioma has insurance coverage and the costs of treatment for mesothelioma can be very expensive. Veterans especially have many opportunities for treatment of their mesothelioma if it can be shown that the exposure to mesothelioma occurred during their time in the military.
Topics on this page:
Getting Financial Aid
Because most people with mesothelioma developed the disease because of exposure to asbestos, there are government and non-profit organizations out there that can provide financial aid for treatments, ongoing care while you can't work, disability assistance, and help for things like transportation and meals while traveling to Mesothelioma Treatment centers.
How Can I Get Aid from the Department of Defense?
The Department of Defense can help mesothelioma veterans in many ways. There are several federal agencies that provide funding for research into the disease. This includes the National Cancer Institute, which provides care for those suffering from various types of cancer who are willing to take part in research on the diseases they have.
The National Cancer Institute is the biggest institute in the NIH (National Institutes of Health) and has a budget of almost $5 billion per year for cancer research. The CDC also sponsors medical research into mesothelioma and offers care at no charge for veterans and others with mesothelioma.
The Department of Defense has expanded its funding to include funds for mesothelioma research as of 2008. The Department of Defense is a logical source for mesothelioma funding since it was discovered that a third of all mesothelioma patients are veterans who got their exposure to mesothelioma while in the military.
Exposure to asbestos was common in the military until there was a ban on its use in the early 1970s. Research studies have since been funded by the Department of the Defense that has focused on early detection of the disease and new, investigational therapies for this type of cancer.
Because mesothelioma is so rare, funding for programs on treating the disease is far behind funding for other types of cancers. With the recent initiatives by the Department of Defense, it is hoped that more money will be given to help those suffering from mesothelioma receive financial aid for participating in research and clinical trials.
Get VA Benefits
Get help with:
VA Disability Claims
Survivor Benefits
Finding Veteran Doctors
Learn More
Agencies that provide support
There are many different non-profit and government organizations that help mesothelioma patients with the various financial needs that come up as part of having mesothelioma.
Some of these programs include the following:
Unlock Trust Funds
Learn about:
Asbestos Trust Funds
Access Over $30 Billion
Financial Assistance
Learn More
Assistance for Practical Needs
Mesothelioma patients often need more than just care for medical treatment. Issues like basic living expenses and transportation issues become a big problem for mesothelioma patients who are already struggling financially.
Some programs that help mesothelioma patients are provided by the government and others are simply private non-profit programs for veterans and non-veterans alike. These include:
Eldercare Locator. This is a referral service on behalf of the U.S. Administration on Aging. It helps those with issues on healthcare and aging by referring them to a variety of local agencies. Call 1-800-677-1116 between 9 am and 8 pm EST, Monday through Friday.
GoveBenefits.gov. This is a group of federal agencies that help patients have better access to government assistance programs offered to those who have a variety of health issues. You can find out how to apply to the various assistance programs by calling 1-800-333-4636 or by logging on to http://www.benefits.gov.
Social Security. You can see if you are eligible for social security Financial Assistance on the basis of disability or age by contacting 1-800-772-1213 or by logging on to http://www.ssa.gov/.
SSI. SSI is Supplemental Security Income Program for people who are disabled, blind, or elderly and who have no or little income. It provides cash assistance for things like clothing, food and shelter. To see if you qualify and for help in filing a claim, contact http://ssabest.benefits.gov/benefits/benefit-finder on the web or try http://www.socialsecurity.gov/ssi/.
The Mesothelioma Research Foundation of America. This organization can help you and loved ones with mesothelioma by giving free information as to financial aid. They also offer funding for those willing to participate in certain clinical trials such as the phase III Veglin clinical trial. Call this number for help: 1-800-909-6376 or log onto http://www.mesorfa.org.
The American Cancer Society. This organization helps patients and their families struggling with cancer in various ways. Log onto this site for further information: http://www.cancer.org/Treatment/. You can also call 1-800-227-2345 to talk to someone about your situation. They also offer a number of Hope Lodges, which provide temporary, free housing for those who are having cancer treatments. The website for Hope Lodges is: http://www.cancer.org/Treatment/SupportProgramsServices/HopeLodge/. Transportation services are also offered through your local American Cancer Society office.
Mercy Medical Angels. This provides information on different long-distance travel options for patients with illnesses that require long distance travel. You can call them for assistance at 1-800-2960-1217 or log onto https://www.mercymedical.org/.
A Free Veterans Packet can help with
Treatment Options
Financial Assistance
VA Benefits
Get Your Free Veterans Packet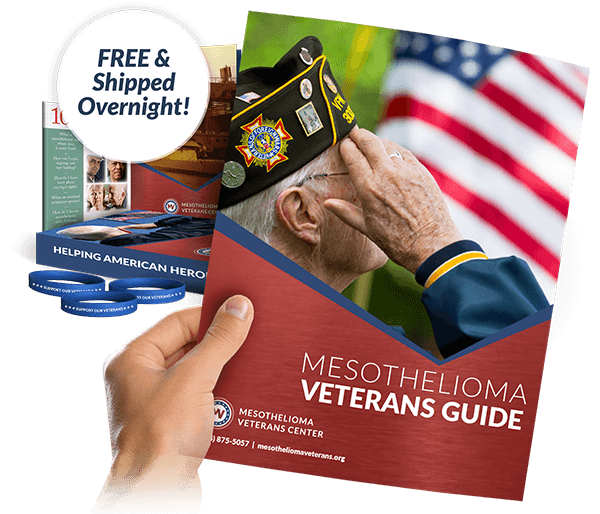 Get a FREE Veterans Packet
Get information on:
Treatment Options
Mesothelioma Specialists
Veterans Benefits
Get a Free Veterans Packet
Indigent Drug Programs
Many pharmaceutical companies have programs that help indigent, or low-income, patients pay for expensive medications. A medical social worker or your physician may have information as to whether or not your particular drugs are covered under one of these drug programs.
Find out what company makes your chemotherapy and other drugs and contact the company through their website's patient assistance programs. Call 1-888-477-2669 for access to almost five hundred different private and public patient assistant programs. The website for this is https://www.pparx.org .