Quick Summary
Veterans with mesothelioma or other asbestos-related diseases can file for disability compensation from the U.S. Department of Veterans Affairs (VA). Disability compensation typically starts at $3,823.89 per month for married veterans with mesothelioma and could be higher in some cases. Learn how to file mesothelioma disability claims and access compensation.
Topics on this page:
VA Disability for Veterans With Mesothelioma
VA disability compensation is a monthly tax-free payment granted to veterans who developed malignant mesothelioma due to military asbestos use. Disability helps disabled veterans and their families afford basic living expenses and medical care.
Did you know?
Many veterans were at a high risk of asbestos exposure since all branches of the military used the toxic substance between the 1930s and early 1980s.
Asbestos-based products were sold to the military by companies that knew the dangers but failed to warn service members or the public for decades.
Today, the VA usually offers full disability compensation benefits to qualifying veterans with mesothelioma.
Get our Free Veterans Packet to learn about VA disability and other benefits you may qualify for.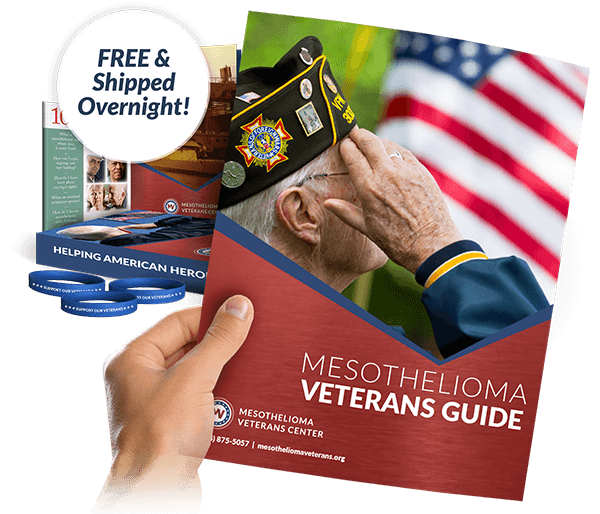 Get a FREE Veterans Packet
Get information on:
Treatment Options
Mesothelioma Specialists
Veterans Benefits
Get a Free Veterans Packet
How Much VA Disability Can You Get for Mesothelioma Cancer?
Your total disability compensation depends on your mesothelioma VA disability rating.
Veterans with mesothelioma are almost always granted a 100% disability compensation rate. This is the highest rating and awards the greatest amount of money.
$3,823.89+
VA Disability Compensation
*monthly payment for eligible veterans
In 2023, 100% disability amounts to $3,823.89 per month for a veteran with a spouse. Veterans with dependents or those who need aid and attendance from a caregiver can receive higher payments.
Our in-house Veterans Advocate Eric Hall can help you pursue disability benefits and get the highest mesothelioma VA disability rating. Start the process now: Call (877) 450-8973.
Is My VA Disability Compensation Taxable?
No. According to the VA, disability compensation is not taxed. This means you and your family will get this monthly benefit without worrying about taxes reducing the amount you receive.
How to File Mesothelioma Disability Claims
The steps to receive veterans disability benefits are fairly straightforward but involve proving your eligibility for mesothelioma compensation. Below are the steps in the application process.
1. Check Eligibility Requirements
To be eligible for VA disability, you must have:
A mental or physical injury/illness AND
Served in active duty OR
Undergone active/inactive duty training
In addition, your disability must also be connected to military service.
At least one of the following must be true:
You were injured during active service
You had a pre-existing condition that became worse because of service
You developed a disability after leaving the military due to your service
You could have developed mesothelioma after exposure to asbestos during your service. However, almost all mesothelioma cases take 10-50 years to appear after asbestos exposure. Thus, you'll likely file your mesothelioma disability claim long after you have left the military.
2. Fill Out the VA Disability Claim Form
If you are eligible for VA disability compensation, you can fill out a claim form online or print the form and send it to the VA.
The form (called the "VA Form 21-526EZ, Application for Disability Compensation and Related Compensation Benefits") can be found on the VA's official website.
Fellow veteran and VA-accredited attorney Eric Hall can help you file a mesothelioma disability claim right now.
3. Gather Medical Evidence
You must also submit medical evidence that proves your mesothelioma diagnosis and directly connects it to your military service.
Several types of evidence can be presented, including:
Official medical documentation of a mesothelioma diagnosis
Military records showing when and where you served
Proof that you worked around asbestos (such as records of specific job duties)
Mesothelioma specialists can provide the medical records that you'll need to prove your diagnosis. Supporting statements from family members, clergymen, or others can also help explain your condition if needed.
Proving Military Asbestos Exposure
Since it takes 10-50 years for mesothelioma symptoms to appear after asbestos exposure, you may no longer remember how you were exposed to asbestos in the military. The military used asbestos everywhere, including in Navy ships and shipyards, Air Force planes, and bases where service members lived.
To file a successful mesothelioma disability claim, veterans must prove they were exposed to asbestos while they served in the military. Exposure as a civilian won't count, even though asbestos-containing products were used in the private sector through the 1980s.
The Mesothelioma Veterans Center team can find out when, where, and how you were exposed to asbestos if you now have mesothelioma. Contact us today even if you were exposed decades ago. We can help you gather the evidence needed to support your VA claim.
4. Filing the Claim
The VA gives several options for filing a disability claim, including:
By mailing documents to a VA claims center
In person at a VA office
Online at va.gov
With the help of a VA-accredited representative (such as a mesothelioma lawyer)
If filing through the mail or in person, you must also submit an "intent to file" form. Online claims do not require this additional document.
We can help make sure your mesothelioma disability claim and supporting evidence are filed correctly. This will allow you to avoid delays or problems that could prevent you from getting compensation. Get help with filing a VA claim now.
5. VA Review and Distribution of Benefits
Once your claim is filed, the VA will review it and decide whether or not to award mesothelioma disability compensation.
The time it takes to process a veterans benefit claim may vary depending on the disability in question and the type of claim(s) filed. The VA must collect all necessary evidence, and you may be instructed to attend a medical exam, which can also add to the wait time.
However, our team can help make the process go by faster in some cases. Once you're approved for VA disability benefits, you don't have to do anything else.
Start Your VA Mesothelioma Disability Claim Now
If you are a veteran suffering from mesothelioma, contact us.
Our experienced and knowledgeable team can help you:
Find out if you're eligible for VA benefits
Determine your mesothelioma VA disability rating
File a mesothelioma disability claim
Connect with top doctors at civilian or VA hospitals
Access additional forms of mesothelioma compensation
File for mesothelioma VA benefits like disability compensation with our help right now.
Mesothelioma Disability Claims: Common Questions
The mesothelioma disability claims process can seem confusing, especially if you're waiting to hear back from the VA. Below are answers to a few frequently asked questions about this process.