Quick Summary
Veterans with mesothelioma can file for disability compensation from the U.S. Department of Veterans Affairs (VA). The disability benefit starts at $3,332.06 per month. It is higher for married veterans and/or veterans in need of a caregiver. Learn how to file mesothelioma disability claims and access this compensation.
Topics on this page:
VA Disability for Veterans With Mesothelioma
VA disability compensation is a monthly tax-free payment. It's available to veterans who developed malignant mesothelioma or other disabilities during their military service. This compensation can help veterans and their families cover daily living costs and medical expenses.
Did you know
Many military service members were exposed to asbestos, the only known cause of mesothelioma, because the U.S. military used asbestos-based products heavily from the 1930s to the early 1980s.
These toxic products were sold by companies that knew asbestos fibers were dangerous — but they chose not to warn the public or the Armed Forces.
Today, the VA usually offers full disability compensation benefits to qualifying veterans with mesothelioma.
How Much VA Disability Compensation Can I Receive?
Your total disability compensation depends on your disability rating.
$3,500+
VA Disability Compensation
*monthly payment for eligible veterans
Veterans with mesothelioma are almost always awarded a 100% disability rating, meaning they are entitled to the full amount of compensation granted by the military.
In 2021, 100% disability amounts to $3,332.06 per month for a veteran with no spouse or dependents. Mesothelioma patients who have spouses or children — or need assistance from a caregiver — can receive higher monthly payments.
How to File Mesothelioma Disability Claims
The steps in the VA disability claims process are fairly straightforward and involve proving your eligibility for mesothelioma compensation.
Below are the steps for filing a mesothelioma disability claim.
1. Check Eligibility Requirements
If you are seeking disability compensation from the VA, you can see if you qualify under the official terms below.
To be eligible for VA disability, you must have:
Served in the U.S. military, either on reserve or active duty
Been honorably discharged
Been given a disability rating from your doctor
In addition, at least one of the following must be true:
You were injured during active service
You had a pre-existing condition that became worse because of service
You developed a disability after leaving the military due to past military service
Most mesothelioma disability claims fall under the third qualification, as the cancer takes 20-50 years to develop after initial asbestos exposure.
2. Fill Out the VA Disability Claim Form
If you are eligible for VA disability compensation, you can fill out a claim form online or print the form and send it to the VA.
The form (called "VA Form 21-526EZ, Application for Disability Compensation and Related Compensation Benefits") can be found on the VA's official website.
You may also be able to access more benefits such as Aid and Attendance (A&A) by filling out additional forms. A VA-accredited claims agent (such as a lawyer) can help you pursue these other benefits during the application process.
Connect with a lawyer right now.
3. Gather Medical Evidence
You must also submit medical evidence that confirms your mesothelioma diagnosis and connects it to your military service.
Several types of evidence can be presented:
Official medical records of a mesothelioma diagnosis
Military records showing when and where you served
Documents showing you worked around asbestos (such as records of specific job duties)
Mesothelioma specialists can help provide the medical documentation you'll need to prove your diagnosis.
Supporting statements from family members, clergymen, and others can also explain your condition and help form a service-related connection to your current disability.
Proving Military Asbestos Exposure
It takes decades for mesothelioma symptoms to appear, so you may no longer remember how you were exposed to asbestos in the military.
Asbestos was also used in the private sector. Former service members who risked asbestos exposure in other jobs must prove they developed mesothelioma due to their military service instead of – or in addition to – their civilian job.
Our Patient Advocates have information on how asbestos was used by all branches of the military. To receive help providing evidence to the VA — even if your exposure to asbestos occurred decades ago — contact us today.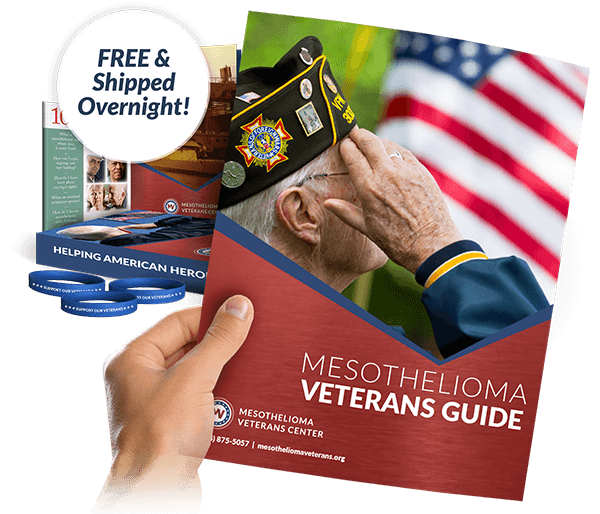 Get a FREE Veterans Packet
Get Answers on Mesothelioma Disability Claims
Compensation Amounts
Steps to File
VA Benefits
Get a Free Veterans Packet
4. Filing the Claim
The VA gives several options for filing a disability claim, including:
Online at va.gov
By mailing documents to a VA claims center
In person at a VA office
With the help of a VA-accredited representative (such as a mesothelioma lawyer)
If filing through the mail or in person, you must also submit an "intent to file" form. Filing online does not require this additional document.
Our team can make sure mesothelioma disability claims and evidence are filed correctly. This allows you to avoid problems that may prevent you from getting compensation.
Get help with filing a claim now.
5. VA Review and Distribution of Benefits
The VA will review the mesothelioma disability claim after it has been filed and decide whether or not to award benefits.
The time it takes to process a claim may vary according to the complexity of the disability (or disabilities) and type of claim. The VA must collect all needed evidence. You may need to attend a medical exam as part of this process, which can also add to the wait time.
Once you're approved for VA disability benefits, you don't have to do anything else. You will start receiving compensation automatically.
Start Your Mesothelioma Disability Claim Today
If you are a veteran suffering from mesothelioma, contact us today.
Our experienced and knowledgeable team can help you:
Find out if you're eligible for VA benefits
File mesothelioma VA disability claims
Access additional forms of mesothelioma compensation
Connect with top doctors
File for mesothelioma VA benefits like disability compensation with our help today.
Mesothelioma Disability Claims: Common Questions
Filing mesothelioma disability claims can seem confusing, especially if you're waiting to hear back from the VA. Below are answers to a few frequently asked questions about this process.
How long do mesothelioma VA disability claims take to process?
It takes an average of 149 days for the VA to decide on a claim, as of November 2021. However, veterans with mesothelioma may have shorter wait times since this cancer is so aggressive.
Veterans can get a better idea of how long they'll wait by speaking with a VA-accredited claims agent or a mesothelioma lawyer.
What happens if my mesothelioma disability claim is denied?
If your VA claim is rejected, you may request a decision review through one of three VA appeal options: a supplemental claim, a higher-level review, or a board appeal.
Certain appeal options may be more or less effective depending on the VA's reason for rejecting your mesothelioma disability claim.
How do I check on my mesothelioma VA disability claim?
Is my VA disability compensation taxable?
No. According to the VA, disability compensation is not taxed.
Can loved ones file mesothelioma disability claims?
Your loved ones may be able to file a mesothelioma VA disability claim on your behalf if they have proper authority.
Your spouse or other family members cannot file a disability claim for themselves. However, they can pursue VA Dependency and Indemnity Compensation (DIC).
VA DIC provides monthly compensation to loved ones of veterans who passed away while on active duty or from a service-related illness.
Can I get VA disability for other asbestos-related diseases?
Yes. The VA offers disability compensation if you've been diagnosed with asbestosis, asbestos lung cancer, or another similar disease.
You can get compensation for these asbestos-related illnesses through the same process used to file for VA mesothelioma disability claims.