Quick Summary
There are a variety of VA benefits available for veterans who have been diagnosed with mesothelioma. From receiving nursing care to financial support for your spouse and children — regardless of how long ago your service was. Veterans may get monthly financial benefits to help with the cost of living and treatment expenses.
Benefits for Military Asbestos Exposure
Mesothelioma develops after prolonged exposure to asbestos. After asbestos fibers are inhaled they can cause cell damage and cancerous tumors.
Veterans have a higher risk of getting mesothelioma than those who didn't serve their country in the U.S. Armed Forces.
The military used asbestos until the 1980s to make certain materials fireproof and heat-resistant. Asbestos materials weren't fully replaced until decades later. This left many veterans at risk for developing mesothelioma later in life.
Veterans suffering from mesothelioma caused by exposure to asbestos during their service in the military are eligible for VA benefits.
Available benefits may include:
Housebound Benefits
Funeral Honors
Benefits for Spouses and Dependent Children
VA Health Care for dependents through the Civilian Health and Medical Program of the Department of Veterans Affairs (CHAMPVA)
No-Cost Military Headstone
Common Myths About VA Benefits
Over 30% of mesothelioma patients are veterans. Many veterans may not be aware that they qualify for VA benefits.
Below are some of the common myths about VA benefits.
My military service was too long ago to get benefits.
The VA is aware that asbestos was widely used in the U.S. Armed Forces. The VA also recognizes that asbestos exposure causes mesothelioma, and the cancer takes decades to develop.
This is why veterans with mesothelioma who can prove they were exposed to asbestos while serving in the military are entitled to VA compensation and healthcare benefits.
If I get VA Benefits, I will be forced to see a VA doctor.
A common misconception among veterans with mesothelioma is that if they file for VA disability compensation, they will be forced to get treatment through the VA Health Care System.
While veterans approved for VA disability compensation are eligible for free VA Health Care, there is no requirement that they use it. Most veterans with private health insurance opt not to use the VA and continue treatment through their civilian doctors.
My income is too high to get benefits.
While some VA benefits are meant to help low-income veterans, there are benefits for all eligible mesothelioma patients regardless of income.
If a veteran's exposure to asbestos is related back to their service in the U.S. Armed Forces, they are entitled to "100% Disability." This is known as "service-connected disability compensation" and is not affected by any other sources of income a veteran may have.
These additional monthly benefits can provide additional peace and security for you and your family.
As of December 1, 2019, veterans (with spouses) who have been diagnosed with mesothelioma connected with their service are eligible for $3,279.22 per month.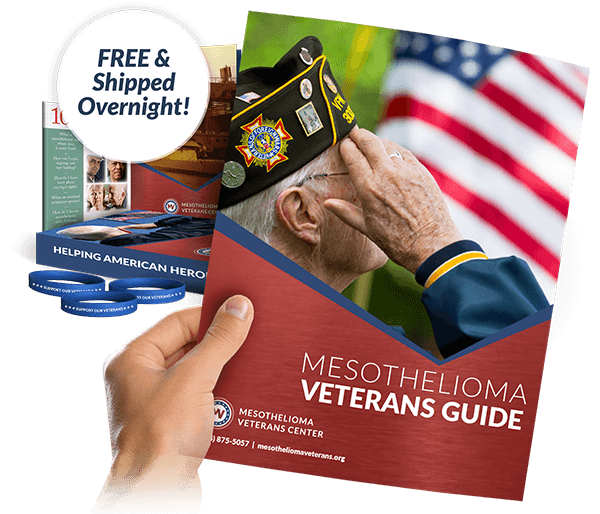 Get a FREE Veterans Packet
Get information on:
Treatment Options
Mesothelioma Specialists
Veterans Benefits
Get a Free Veterans Packet