Quick Summary
Mesothelioma is treated with surgery, chemotherapy, and radiation. Some patients receive experimental treatments through clinical trials. Mesothelioma patients today have a much higher chance of survival thanks to sophisticated surgical procedures and emerging therapies. There are specialized cancer centers across the country, including within the VA Health Care System.
Mesothelioma Treatment Goals
Mesothelioma treatments accomplish different goals, depending on the particular patient's case. Specialists tailor mesothelioma cancer treatments according to each patient's unique diagnosis. Customized treatments give patients the best chance of survival. Each patient has factors that doctors must consider before determining a treatment plan.
Doctors look at following factors to determine best mesothelioma treatment options:
Disease location (pleural, peritoneal or pericardial)
Disease stage (pleural mesothelioma stages 1-4)
Mesothelioma cell type (epithelioid, sarcomatoid or biphasic)
Patient's age and overall level of health
Doctors consider all possible outcomes, including potential risks and benefits. In general, doctors prescribe more aggressive therapies for less advanced mesothelioma cases.
Some possible goals with mesothelioma treatments include:
Removing tumors and all visible signs of mesothelioma
Killing cancer cells to prevent them from dividing
Targeting cancer cells and destroying tumors
Killing cancer cells circulating throughout the body
Improving comfort levels through pain management
Reducing symptoms such as fluid buildup in the chest and stomach
All treatments aim to extend life expectancy, improve quality of life or accomplish both.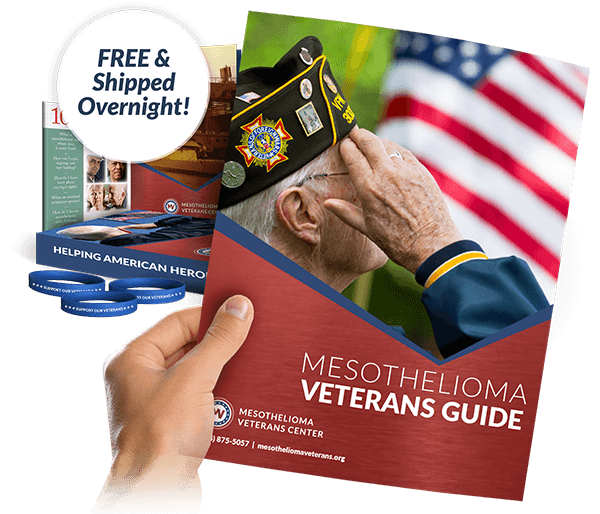 Get a FREE Veterans Packet
Get information on:
Treatment Options
Mesothelioma Specialists
Veterans Benefits
Get a Free Veterans Packet
Types of Treatment of Mesothelioma
Mesothelioma patients are living longer than ever thanks to tailored treatment plans. Mesothelioma specialists design unique treatment plans for each of their patients.
The primary treatment options for mesothelioma patients include:
Surgeries to remove as much of the tumor as possible
Palliative treatments that reduce painful symptoms
Chemotherapy that kills cancer cells and prevents them from multiplying
Radiation therapy that targets and destroys cancer cells
Multimodal treatment that uses a combination of 2 or more treatment methods
Emerging therapies tested in clinical trials and studies, such as immunotherapy, gene therapy, and photodynamic therapy