Quick Summary
The most common mesothelioma treatments are surgery, chemotherapy, and radiation. These traditional options play a key role in eliminating or reducing cancer cells. That said, some patients receive emerging treatments through clinical trials, which may give them a higher chance of survival. Veterans with mesothelioma can access top doctors and cutting-edge treatment through the VA.
What Are My Mesothelioma Treatment Options?
Treatment options for mesothelioma vary based on the location of the cancer, the cell type of the cancer, and the patient's general health. However, there is significant overlap in some of the more common treatment methods.
Standard treatment options for mesothelioma are:
Surgery
Chemotherapy
Radiation
All three treatment types can be used to extend lifespan or to reduce symptoms and improve quality of life. Your doctor will help you create the best treatment plan for your individual goals and needs.
Multimodal Treatment for Mesothelioma
Doctors often use a range of therapies simultaneously to help combat mesothelioma. Called multimodal treatment, this strategy works to eliminate as much cancer as possible by ensuring that mesothelioma cells left behind by one type of treatment are destroyed by another.
The most common type of multimodal treatment combines surgery with either radiation or chemotherapy.
The surgery removes the bulk of the cancerous tissue, while the chosen supplemental therapy is used to reduce the size of the tumor before surgery or to eliminate remaining cancer cells after surgery takes place.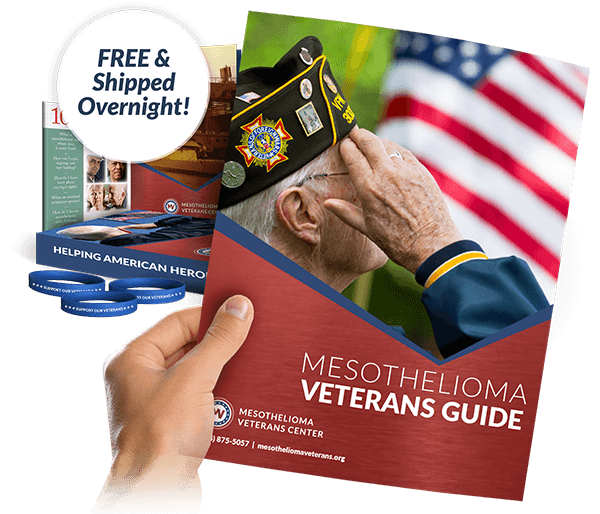 Get a FREE Veterans Packet
Get information on:
Treatment Options
Mesothelioma Specialists
Veterans Benefits
Get a Free Veterans Packet
Pleural Mesothelioma Treatment
Pleural mesothelioma — the most common type — originates in the lining of the lungs (pleura). Its relative prevalence makes it the most well-researched form of mesothelioma, giving patients many options for treatment.
All three common types of treatment are used for the treatment of malignant pleural mesothelioma.
Surgery
Mesothelioma surgery is considered the best option for patients seeking curative treatment because it works to remove the cancer in its entirety. However, due to the demanding and invasive nature of most cancer surgeries, it may not be an option for everyone.
Surgery is most often considered for patients diagnosed in the early stages of mesothelioma when the cancer is still easily removable and hasn't spread to distant areas of the body.
In later stages of the cancer, surgery may be considered too risky. Additionally, some patients may be excluded on the basis of age or poor overall health.
Extrapleural Pneumonectomy (EPP)
Extrapleural pneumonectomy (EPP) is an aggressive surgical treatment focused on removing as much cancerous tissue from the chest cavity as possible. Surgeons remove the affected lung, the lining of the lungs, the lining of the heart, and parts of the diaphragm.
Cancer patients must be in general good health to qualify for this surgery and may face quality of life issues after it is performed, like shortness of breath or dependence on an oxygen tank.
Pleurectomy/Decortication (P/D)
Pleurectomy with decortication (P/D) involves selectively removing cancerous tissue from the lining of the heart, lining of the lung, and diaphragm. It is colloquially known as the lung-sparing surgery for mesothelioma, as the lung is left intact and is not removed.
Patients are not excluded from receiving this surgery on the basis of age. Many oncologists (cancer doctors) prefer it to EPP even for younger patients because it is less likely to negatively impact quality of life while giving those who undergo it similar benefits.
Chemotherapy
Chemotherapy is the most common form of treatment for pleural mesothelioma patients as there are no barriers regarding the age or general health of the patient. It may be given alone as part of a palliative treatment plan or as part of a multimodal plan to increase lifespan.
Pleural mesothelioma patients who undergo chemotherapy are usually given a combination of the drugs cisplatin and pemetrexed.
Radiation
During mesothelioma radiation, high energy particles and rays are aimed at tumors, destroying and damaging cancer cells so they cannot reproduce. This causes the tumors to shrink — making them easier to remove with surgery — and slows the spread of cancer.
Radiation therapy is considered non-invasive and is often a top choice for mesothelioma patients. It's a popular option for palliative care because it can work to alleviate painful mesothelioma symptoms.