Quick Summary
Peritoneal mesothelioma is a cancer that develops in the lining of the abdomen, called the peritoneum. Surgery with heated chemotherapy is the most effective treatment for this type of mesothelioma, often extending life expectancy to 5 years or longer.
Topics on this page:
What Is Peritoneal Mesothelioma?
Malignant peritoneal mesothelioma is a form of cancer caused by asbestos exposure that affects the lining of the abdominal organs.
A very rare form of cancer, peritoneal mesothelioma accounts for only 10-15% of all malignant mesothelioma cases in the United States — around 450 cases a year.
What Causes Peritoneal Mesothelioma?
The only known cause of peritoneal mesothelioma is inhaling or ingesting asbestos fibers. After these fibers enter the body, they can travel to the abdomen where they become embedded in the peritoneum and may eventually cause cancer.
There are 2 ways asbestos fibers may end up in the abdominal cavity:
When asbestos fibers are inhaled, they can travel to the abdomen through the lymphatic system.
Swallowed asbestos fibers may work themselves into the abdominal cavity as they move through the digestive system.
Asbestos fibers can remain in the lining of the abdomen for 20-50 years before the irritation eventually triggers mutations in mesothelial cells. This cell mutation is what leads to peritoneal mesothelioma.
Asbestos Exposure and Veterans
Veterans may develop peritoneal mesothelioma after being exposed to asbestos during their military service. Following their service, many veterans worked industrial and construction jobs, both high-risk occupations for asbestos exposure.
Peritoneal Mesothelioma Symptoms
The symptoms of peritoneal mesothelioma often take the form of digestive issues. Many common symptoms are subtle and can be mistaken for other illnesses like the flu, irritable bowel syndrome (IBS), and celiac disease.
Early Symptoms of Peritoneal Mesothelioma
Abdominal pain
Constipation
Diarrhea
Swelling of the peritoneal cavity
Nausea and vomiting
Symptoms of Advanced Peritoneal Mesothelioma
Anemia (low red blood cell count)
Breathing difficulties
Constantly feeling full
Fatigue
Fever
Night sweats
Weight loss
"I had a big weight loss in just a matter of a few months. After I ate, I was so uncomfortable, very bloated. I was tired all the time. I had the sweats."

– Mary Jane W., Peritoneal Mesothelioma Patient
A Free Veterans Packet can help with
Treatment Options
Financial Assistance
VA Benefits
Get Your Free Veterans Packet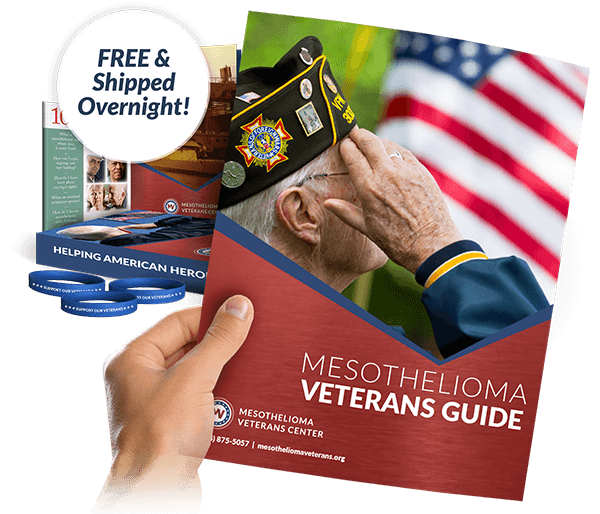 Get a FREE Veterans Packet
Get information on:
Treatment Options
Mesothelioma Specialists
Veterans Benefits
Get a Free Veterans Packet