Quick Summary
The VA Healthcare system has partnered with two of the foremost mesothelioma surgeons in the country who treat mesothelioma patients at VA Hospitals in Los Angeles and Boston. Veterans seeking treatment through the VA can rest assured that they are being treated by the top civilian mesothelioma doctors in the country.
Using VA Health Care for Mesothelioma Treatment
Veterans considering mesothelioma treatment may feel hesitant about using the VA Health Care System because they may have heard that VA Health Care service is poor.
In fact, the United States Government has ensured that veterans suffering from mesothelioma can have their medical needs met through the VA Health Care System.
These programs were set up so veterans can get quality, affordable health care. However, not all veterans are immediately enrolled in VA Health Care upon discharge from the military. They must apply for enrollment and must meet certain criteria to qualify.
Former service members are at a higher risk of developing mesothelioma than the general population due to their asbestos exposure while in the military.
The VA Health Care System includes two of the top mesothelioma doctors in the country — Dr. Abraham Lebenthal in Boston and Dr. Robert Cameron in Los Angeles — who are both well versed in treating pleural mesothelioma.
Visit the UCLA Health website to learn more about Dr. Robert Cameron.
Disclaimer

The Mesothelioma Veterans Center has no affiliation with and is not endorsed or sponsored by Dr. Robert B. Cameron. The contact information above is listed for informational purposes only. You have the right to contact Dr. Cameron directly.
Veterans already enrolled in VA Health Care can see either doctor without having to pay any more for treatment than they would at their local VA Hospital.
Therefore, veterans with no copays when being treated at their local VA Hospital have no copays when traveling to see either of the VA's specialists.
If veterans suffering from mesothelioma can get a referral from their local VA Hospital to see one of these specialists, the VA will also pay the veteran's travel expenses to see that doctor.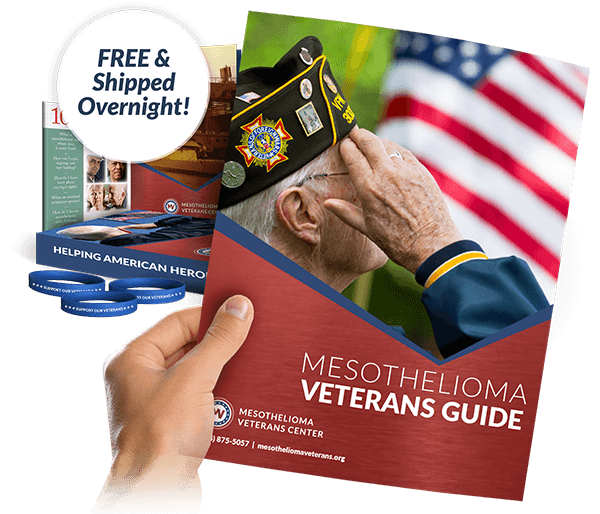 Get a FREE Veterans Packet
Get information on:
Treatment Options
Mesothelioma Specialists
Veterans Benefits
Get a Free Veterans Packet
Eligibility
In 2003, the eligibility rules were changed, and the number of veterans who could be enrolled in VA Health Care became dependent on the amount of money Congress provided the program each year. Veterans already in the program prior to 2003 were grandfathered in.
Today, a veteran must meet VA Health Care eligibility requirements in order to get their medical treatment covered by the VA.
After applying for enrollment in the program, eligible veterans are placed within Priority Groups 1-8, with those in Group 1 receiving the highest priority for medical care.
Veterans in receipt of VA disability for mesothelioma are usually placed in Priority Group 1, as this group is for veterans with a 50% disability rating or higher.
The Choice Program
Veterans enrolled in VA Health Care are eligible for the Choice Program, which allows veterans to receive care from non-VA facilities.
Veterans can receive mesothelioma care from non-VA facilities if they have been waiting for longer than 30 days for VA medical care or if they live 40 miles or more from a VA medical facility.
As long as the treatment received at a non-VA facility is related to a veteran's VA-approved health needs, their treatment costs will be covered. For mesothelioma patients, that typically means being covered at 100% of treatment costs.
If the veteran faces an excessive travel burden, such as geographic challenges, environmental factors, or a medical condition, the VA may also cover travel costs.