Quick Summary
Wartime veterans filing for a VA Pension do not need to be able to link their mesothelioma directly back to their time in service. Veterans with mesothelioma who don't meet any of the other eligibility criteria can establish eligibility by submitting medical documentation to the VA proving that they have mesothelioma, which is considered permanently disabling.
Mesothelioma VA Pension Claim Overview
Wartime veterans that develop mesothelioma may be eligible for a VA Pension if they meet certain criteria.
To be eligible to file for VA Pension, a veteran must meet one of the following requirements:
Be older than 65
Permanently disabled
Receiving nursing care in a nursing home
Receiving Supplemental Security Income (SSI)
Receiving Social Security Disability Income (SSDI)
Veterans with mesothelioma are considered to be permanently disabled for the purpose of the pension eligibility criteria. However, the mesothelioma does not have to be caused by the veteran's military service.
VA Pension is a means-tested benefit. Therefore, veterans must also have a family annual "countable" income below a particular amount set by Congress.
Did you know
The Maximum Annual Pension Rate (MAPR) is $13,752 without a spouse or child and $18,008 with one dependent, as of 2020.
However, if the veteran is housebound or in need of the regular aid and attendance of another person to perform basic daily tasks, the income limits are much higher.
In addition, veterans must have at least 90 days of active duty service with one or more of those days falling during a wartime period.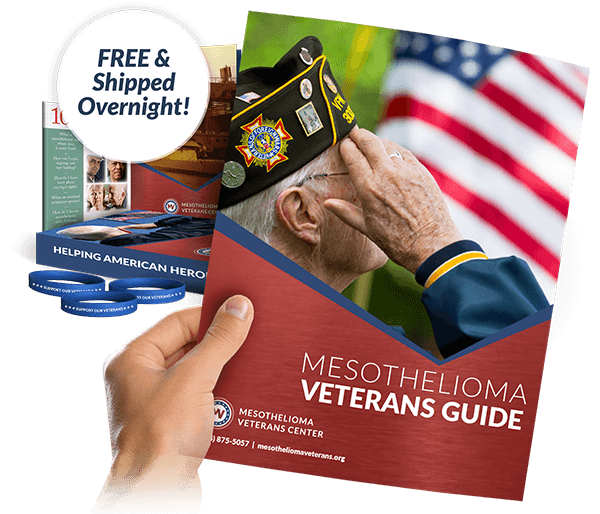 Get a FREE Veterans Packet
Get information on:
Treatment Options
Mesothelioma Specialists
Veterans Benefits
Get a Free Veterans Packet
VA Pension Amounts
In order to calculate your VA Pension, you must first determine your family's countable income.
Your countable income can include disability, earnings, retirement payments, and interest payments. Income from all family members is included in this number.
If they exceed a certain amount, your out-of-pocket medical expenses may be subtracted from your income to reduce your countable income.
Once you have determined your countable income, you can calculate an estimate of your VA Pension.
Your pension, which is paid in monthly installments, is the difference between your countable income and the number set by Congress.
Did you know
In 2020, this number amounts to $18,008 for an individual with one dependent. A veteran with one dependent who made $10,000 would then be awarded a VA Pension of $8,008 for that year.
Veterans who are eligible for the VA Pension may also be eligible for additional financial compensation based on their medical needs.
Veterans may be eligible for additional funds if they require the aid and attendance of another person or are housebound and receiving skilled nursing care.
The Aid & Attendance (A&A) and Housebound benefits are not separate from the VA Pension, and veterans applying for these benefits must meet the other eligibility criteria for VA Pension.
Aid & Attendance (A&A)
A&A is financial compensation that can be added to VA Pension or VA Disability Compensation if a veteran meets certain conditions.
A veteran must meet at least one of the following conditions in order to be eligible:
The aid of another person is required for the veteran to perform daily functions such as eating, dressing, and bathing. The aid is necessary on an everyday basis.
The veteran is bedridden.
The veteran is confined to a nursing home because of physical incapacity.
The veteran's eyesight has been limited to just 5/200 visual acuity or less in both eyes.
Housebound
Veterans that are confined to their homes due to a permanent disability are eligible for housebound benefits.
Housebound benefits are paid as financial compensation in addition to VA Pension or VA Disability Compensation.