Quick Summary
When frigates were first built, asbestos was thought to be a safe substance to use in various materials and insulation aboard the ship. Unfortunately, asbestos was found to be highly toxic and was removed from all U.S. Navy frigates. Thousands of Navy personnel were exposed to asbestos and suffered from asbestos-related illnesses, such as asbestosis, mesothelioma, and lung cancer.
Topics on this page:
Asbestos and Frigates Explained
Frigates were often used during World War II to escort destroyers and assist with patrol missions and other open-ocean escort functions. These warships had tons of asbestos on each one of them, particularly in the piping, boiler rooms and engines of the frigate ships. Navigation rooms also contained a great deal of asbestos.
Click here for a FREE Navy Ships Guide containing a list of ships with asbestos.
Notable U.S. Navy Frigates that used asbestos included:
USS Albert David
USS Aylwin
USS Badger
USS Bagley
USS Barbey
USS Blakely
USS Cook
USS Davidson
USS Downes
USS Fanning
USS Francis Hammond
USS Gray
USS Jesse L. Brown
USS Joseph Hewes
USS Lang
USS Miller
USS Ouellet
USS Patterson
USS Paul
USS Ramsey
USS Rathburne
USS Robert E. Peary
USS Sample
USS Talbot
USS Thomas
USS Trippe
USS W. S. Sims
USS Whipple
USS Valdez
Even though this asbestos exposure happened many years ago, there is a long lag time from when a person becomes exposed to asbestos and the development of an asbestos-related illness.
This means that those who served in the armed forces at least 50 years ago are still at risk of developing some kind of asbestos-related illness.
Thankfully, veterans with mesothelioma may qualify for benefits from the U.S. Department of Veterans Affairs (VA), legal compensation, and financial aid from trust funds.
A Free Veterans Packet can help with
Treatment Options
Financial Assistance
VA Benefits
Get Your Free Veterans Packet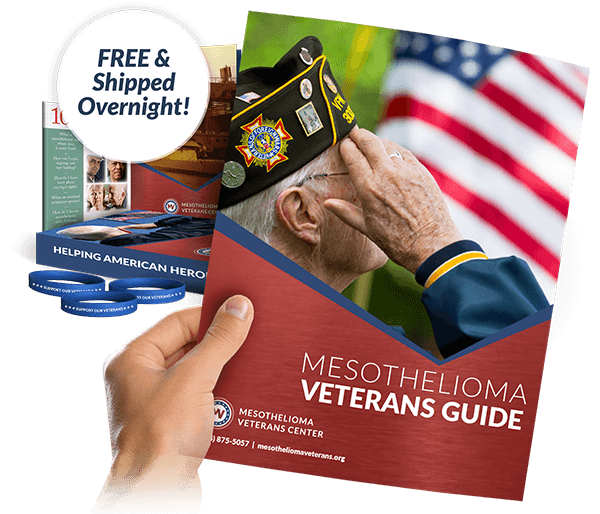 Get a FREE Veterans Packet
Get information on:
Treatment Options
Mesothelioma Specialists
Veterans Benefits
Get a Free Veterans Packet
Why Was Asbestos Used on Frigates?
Prior to the knowledge that asbestos was a toxic substance, the Navy made more than 300 asbestos-containing products to be used on frigates.
They also insulated the insides of frigates and many structures within the ships with insulation containing asbestos. This put thousands of military personnel living and working on frigates at risk for exposure to asbestos and the secondary development of asbestos-related diseases.
Any frigate built before the early 1980s was likely built using some type of asbestos. Asbestos was actually mandated at one time to be used on all Navy ships and submarines, including frigates. Since most frigates were made prior to 1989, they likely contain large amounts of asbestos, some of which are impossible to safely remove, as they are an integral part of the ship's design.
Asbestos was initially thought to be the ideal insulator for frigate ships. It was inexpensive, had high tensile strength and was also fire resistant. This made it a popular option to use when insulating boilers, engines, pipes and the inside of the hull. Every part of a frigate contains some component of asbestos as part of its construction.