Quick Summary
The United States Army and all other military branches relied on asbestos-based products between the 1930s and early 1980s. Unfortunately, it's now known that people exposed to asbestos can develop a deadly cancer called mesothelioma 10-50 years later. Thankfully, U.S. Army veterans with mesothelioma often qualify for health care benefits and financial compensation.
Topics on this page:
Benefits for Army Veterans With Mesothelioma
Army veterans are at risk of mesothelioma since all branches of the U.S. military used asbestos-based products for decades.
Asbestos exposure is the only known cause of this cancer. Companies that made asbestos-based products knew the risks but hid them to make a profit.
Thousands of Army mesothelioma cases stem from active-duty asbestos exposure.
Thankfully, veterans with mesothelioma and their families can get benefits and financial aid to cover costs that stem from a diagnosis. Veterans can access benefits from the U.S. Department of Veterans Affairs (VA) as well as other avenues.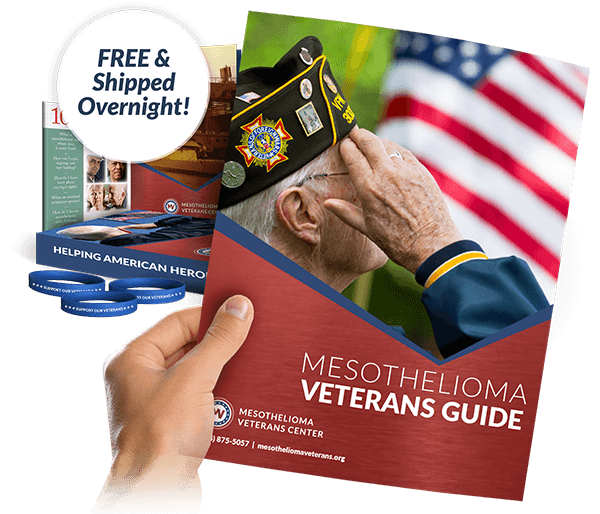 Get a FREE Veterans Packet
Get Answers on Filing for Army VA Benefits
Compensation
Support Services
Living Expenses
Get a Free Veterans Packet
VA Financial Benefits and Compensation
Once the risks of asbestos became known, the VA began offering benefits so veterans with mesothelioma or other asbestos-related diseases could get medical and financial support.
The VA has several financial benefits to help Army veterans cover the costs that a mesothelioma diagnosis brings. As of 2023, married veterans can often access $3,823.89 a month or more from VA disability compensation alone.
$3,823.89+
VA Disability Compensation
*monthly payment for eligible veterans
Army mesothelioma VA benefits can help veterans afford:
In-home caregiving services
Medical treatments and medications
Mortgages and other living expenses
Other costs follow a cancer diagnosis
Veterans can apply for VA benefits by working with Eric Hall, our in-house VA representative who is also a fellow U.S. veteran.
Other Benefits for Army Veterans With Mesothelioma
Army veterans can pursue financial benefits from other sources besides the VA. Learn about ways to get private payouts below.
Asbestos Trust Funds
Some asbestos companies declared bankruptcy after facing a large amount of mesothelioma lawsuits. Bankrupt companies can't be sued but U.S. courts ordered them to put money aside in trusts so victims would still get paid.
Over $30 billion is currently available through asbestos trust funds.
Legal Claims
Veterans can file legal claims (aka lawsuits) to get compensation. Mesothelioma lawsuits typically award $1 million on average. Legal claims are filed against the makers of asbestos products — the Army and other branches of the military are not sued.
The process is stress-free when veterans work with experienced mesothelioma lawyers. Filing a claim doesn't impact a veteran's ability to file for VA benefits, either.
How Did the U.S. Army Use Asbestos?
The Army and other branches of the U.S. Armed Forces used asbestos as an insulation and fireproofing substance on buildings, ships, planes, weapons systems, and equipment.
Asbestos-based products used by the military include:
Brake pads
Cement foundation
Clutch plates
Flooring and ceiling tiles
Gaskets
Gloves and fireproof suits
Insulation
Pipes
Plumbing
Roofing materials
Any of these products may have exposed Army veterans to asbestos and caused them to develop mesothelioma.
Veterans who have mesothelioma but are unsure how or where they were exposed to asbestos can speak with a VA-accredited claims agent, who can help veterans get VA benefits.
VA claims agents can help veterans look through their military service history and find out how they were exposed.
Access financial benefits with help from Eric Hall, who is a VA-accredited agent and fellow U.S. veteran. Get started now.
Army Jobs With Asbestos Exposure Risk
Anyone serving on an Army base may have come in contact with asbestos, but some jobs carried a higher risk of exposure.
For example, mechanics and construction workers generally had a greater risk of asbestos exposure. They had to work with asbestos products like insulation, cement, and brake pads on a daily basis.
Other high-risk Army jobs included:
Carpentry
Construction
Demolition
Millwork
Mine work
Shipyard work
Army Barracks and Other Buildings
Soldiers living in Army bases and other buildings may have come in contact with asbestos. There are over 60 U.S. Army bases known to have been built with asbestos-based products.
Many Army structures relied on asbestos-containing products for decades. In fact, almost every building made by the military before the late 1970s contained asbestos.
Asbestos in Army barracks could be found in:
Ceiling and floor tiles
Cement sheet
Electrical wiring
Insulation
Pipes
Plumbing
Siding
Military bases were not the only structures with a high risk of asbestos exposure. The use of asbestos was also common in other military buildings, such as mess halls and office spaces.
Army Vehicles
Almost all Army vehicles built prior to the early 1980s contained asbestos, including ambulances, buses, jeeps, and tanks.
Asbestos was used in the following vehicle parts:
Brake pads
Clutches
Gaskets
Heating systems
Without asbestos, vehicle parts could expand and break down if exposed to heat. However, removing or repairing car parts made with asbestos could send tiny fibers flying into the air. This led to many cases of mesothelioma in Army mechanics.
Army Construction Sites
Army veterans who worked in construction or demolition were at high risk of asbestos exposure.
Any time asbestos-containing construction materials (like insulation, pipes, or tiles) were disturbed, those nearby were put at risk of inhaling the airborne fibers.
Asbestos exposure could happen during the construction of new buildings and the repair or demolition of old ones.
Get a free veterans packet to learn more about Army asbestos exposure risks and resources for veterans.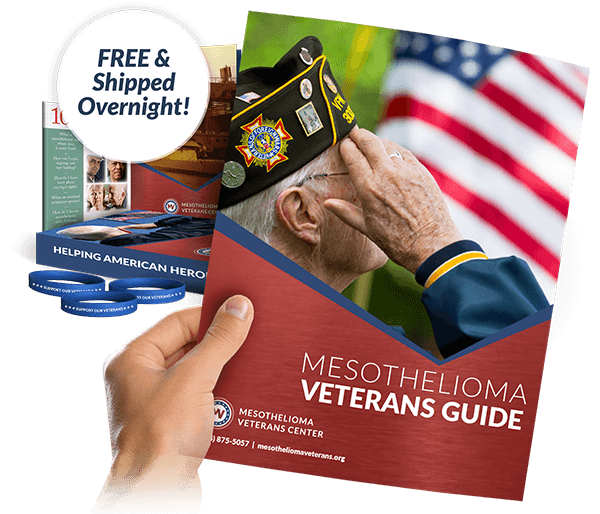 Get a FREE Veterans Packet
Get information on:
Top Treatment
Best Doctors
Improving Prognosis
Get a Free Veterans Packet
Mesothelioma and Army Risks in 21st Century
The Army stopped using asbestos in the 1980s and began removing and replacing most asbestos-based products. However, the risks of asbestos exposure and mesothelioma among Army veterans haven't fully gone away even today.
For example, Army personnel serving in the Middle East and South Asia may have inhaled asbestos fibers if older buildings that contained the substance were blown up or damaged.
Further, older buildings on Army bases may still contain asbestos. For example, Fort Campbell finally demolished several asbestos-containing buildings that dated back to World War II in 2021. A planner on the project said the buildings were "just unsafe to be in" since they used asbestos.
Secondhand Asbestos Exposure Risks in Army Families
The dangers of asbestos exposure were not limited to Army soldiers. Their family members and loved ones were often put at risk as well if they lived on Army bases.
Soldiers could bring home stray asbestos fibers that stuck to their hair or clothes after a day's work, exposing loved ones in the process.
Family members were also at risk of breathing in or swallowing airborne fibers disturbed during construction projects or renovations on Army bases.
Medical Treatments for Mesothelioma Army Cases
Mesothelioma is a devastating disease that requires urgent medical care. Thankfully, the VA is well-equipped to treat cases of mesothelioma in Army veterans.
Thanks to VA health care, medical treatment for mesothelioma might be free or not expensive. Top mesothelioma doctors work with the VA health care system to treat veterans.
Doctors that treat mesothelioma Army cases include:
A surgeon whose team treated 300 mesothelioma patients each year at the Boston VA Hospital until he moved to Israel in 2022. Mesothelioma patients can still get treated at the Boston VA by other qualified surgeons.

A surgeon who works at the West Los Angeles VA Medical Center. Dr. Cameron has developed breakthrough treatment options to help patients live longer.

Visit the UCLA Health website to learn more about Dr. Robert Cameron.
Disclaimer
The Mesothelioma Veterans Center has no affiliation with and is not endorsed or sponsored by Dr. Robert B. Cameron. The contact information above is listed for informational purposes only. You have the right to contact Dr. Cameron directly.
Veterans can apply for VA Health Care and other benefits right now by working with Eric Hall, a fellow veteran and VA-accredited lawyer.
Get Help Filing for Mesothelioma Army VA Benefits
If you or a loved one was exposed to asbestos while serving in the Army, you may be eligible to file a VA benefits claim. VA benefits and compensation can provide peace of mind for you and your family.
Filing a VA claim can seem like a daunting task, but you don't have to go it alone. Our VA Support Team — including U.S. veteran Eric Hall and on-staff nurses — can walk you through the process.
We can help you:
File for Army mesothelioma VA benefits
Find top doctors and medical care near you
Work with a mesothelioma law firm
Get all the benefits and financial compensation you deserve
Connect with our team now to get help filing for VA benefits and other forms of compensation.
Questions About the Army and Mesothelioma