Quick Summary
Through much of the 20th century, the U.S. Army and all other military branches were major consumers of asbestos-based products. Unfortunately, asbestos exposure is now known to cause a deadly cancer called mesothelioma. U.S. Army veterans with mesothelioma may be eligible for health care benefits and financial compensation.
Benefits & Compensation for U.S. Army Veterans
Veterans and their families have a wide range of options to access mesothelioma compensation and benefits. These benefits can help cover the costs of treatment and provide support to veterans and their families navigating a cancer diagnosis.
Some benefits are accessed through the U.S. Department of Veterans Affairs (VA) while others are available outside of the VA.
Learn about the top benefits for U.S. Army veterans with mesothelioma below.
VA Financial Benefits
The VA has several financial benefits to help U.S. Army veterans cover the costs that a mesothelioma diagnosis brings.
VA benefits can help veterans afford:
In-home caregiving services
Medical treatments and medications
Mortgages and other living expenses
VA Compensation Amounts
Eligible veterans can access over $3,000 a month in VA Disability Compensation alone. More financial aid may be available from other benefits like a VA pension plan.
Veterans can apply for VA benefits by working with a VA-accredited representative, such as a lawyer.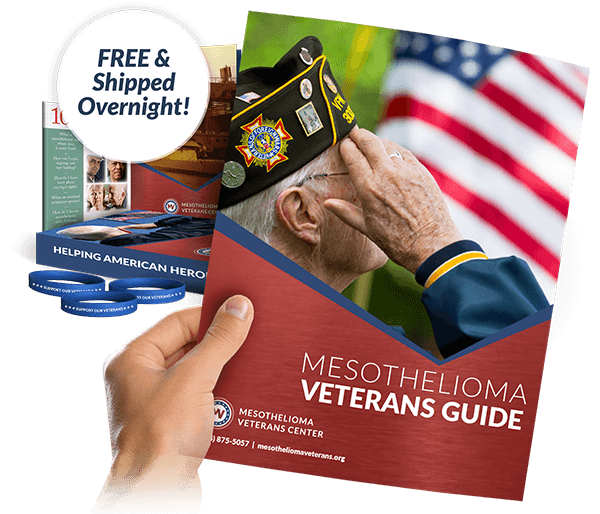 Get a FREE Veterans Packet
Get information on:
Treatment Options
Mesothelioma Specialists
Veterans Benefits
Get a Free Veterans Packet
Specialized Treatment Options Through the VA
U.S. Army veterans with mesothelioma can also apply for VA Health Care to access free or low-cost treatment.
As of 2021, some of the world's best mesothelioma doctors have partnered with the VA Health Care System to treat veterans. One such specialist is Dr. Avi Lebenthal, a surgeon whose team treats 300 mesothelioma patients each year at the Boston VA Hospital.
The VA also employs nationally recognized surgeon Dr. Robert Cameron, who works at the West Los Angeles VA Medical Center. Dr. Cameron has decades of experience treating mesothelioma and even developed breakthrough surgical techniques to help patients live longer.
Visit the UCLA Health website to learn more about Dr. Robert Cameron.
Disclaimer

The Mesothelioma Veterans Center has no affiliation with and is not endorsed or sponsored by Dr. Robert B. Cameron. The contact information above is listed for informational purposes only. You have the right to contact Dr. Cameron directly.
Asbestos Trust Funds
Manufacturers of asbestos-based products knew the risks posed by their products but sold them to the military and the public anyway. When the truth was exposed, these companies faced an influx of lawsuits that drove many of them to bankruptcy.
The U.S. Court system ordered the companies that declared bankruptcy to set up trust funds so victims would still get paid (as bankrupt companies cannot be sued). Currently, an estimated $30 billion is available through asbestos trust funds.
Legal Claims
Outside of VA benefits and trust fund claims, veterans may also be able to file legal claims to access compensation. These claims (also known as mesothelioma lawsuits) award $1 million on average.
The U.S. Army and other military branches are not sued in this process. Legal claims are filed against the makers of asbestos-based products that knew the dangers of asbestos but hid them from the military and civilians.