Quick Summary
Many products used on merchant marine ships were made from asbestos. The ships were also insulated with asbestos insulation to keep out the cold of the ocean. With this in mind, it was almost impossible to avoid asbestos exposure on these vessels.
Topics on this page:
Asbestos and Merchant Marine Ships Explained
Merchant marine ships, also known as U.S. Maritime Service Ships, are civilian ships that were used by the Navy to carry cargo to and from the U.S. ports during peacetime. They were also used in wartime, where they were responsible for the transportation of supplies and troops for the U.S. military.
Each merchant marine ship had an array of personnel who were responsible for many types of jobs on the ship.
Many of these workers, including masters, captains, mates, department heads, engineers, pilots, deck officers, oilers, wipers, food handlers, cooks and firemen, worked and lived on these ships.
Unfortunately, many were exposed to asbestos as part of their job. Asbestos is now known as a cancer-causing substance, but between the 1930s and 1980s, almost every merchant marine ship used it to keep the ships fireproof and insulated.
Did you know?
Those exposed to asbestos can develop deadly cancers like mesothelioma later in life.
Many of the workers on these merchant marine ships received intensive training at various military academies prior to their service on the ships, but few were aware of the dangers of asbestos during their time on the ships.
Thankfully, veterans with mesothelioma can pursue benefits from the U.S. Department of Veterans Affairs (VA). This includes monthly payouts and medical care. They may also qualify for compensation from the makers of asbestos-based products.
A Free Veterans Packet can help with
Treatment Options
Financial Assistance
VA Benefits
Get Your Free Veterans Packet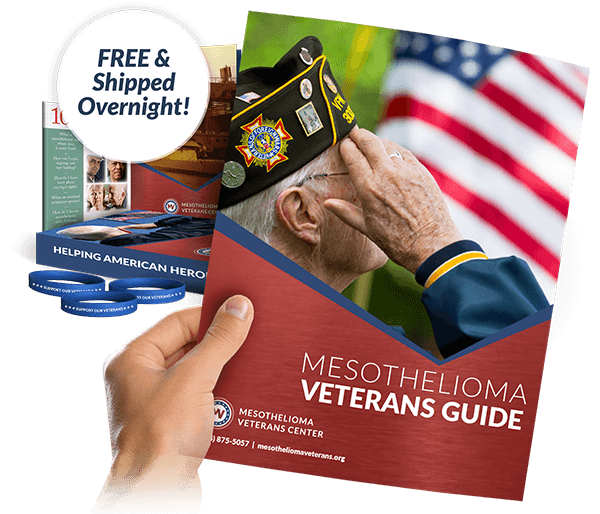 Get a FREE Veterans Packet
Get information on:
Treatment Options
Mesothelioma Specialists
Veterans Benefits
Get a Free Veterans Packet
Who Was at Risk of Asbestos Exposure on Merchant Marine Ships?
People living and working on merchant marine ships faced many asbestos-related dangers, particularly during wartime.
Personnel at the greatest risk of asbestos exposure were workers who worked in the engine room, the boiler room, the navigation room, and those who maintained the plumbing aboard these types of ships.
This was because asbestos was used to insulate the machinery in these rooms. Back then, asbestos was not thought to be dangerous and workers did not use personal respiratory protective gear.
This meant high doses of asbestos were inhaled or ingested, making for a high chance of asbestos-related illnesses, such as mesothelioma, lung cancer, and asbestosis.
Engineers & Asbestos Risks
Engineers were some of these high-risk employees. They were responsible for the installation, repair, and functioning of the engines that allowed the ship to operate. They were also responsible for the installation and maintenance of pipes, pumps, and boilers aboard merchant marine ships.
All of these products contained asbestos that often degraded, requiring replacement. Anytime an engineer had to replace or repair a piece of equipment, they had a high risk of exposure to asbestos, as most of the equipment was either made from asbestos or insulated with asbestos.
Risks for Shipbuilders & Shipyard Workers
Those who built merchant marine ships also had a high risk of exposure to asbestos. Asbestos was used in the insulation of the hulls of merchant marine ships and this insulation was installed by shipyard workers.
This made shipbuilding a highly hazardous job, with a high risk of exposure to asbestos-containing products and developing an asbestos-related illness later on in life.
Who Else Was at Risk?
Even those who weren't engineers or shipyard workers had a high risk for asbestos exposure. This is because there were pipes insulated with asbestos everywhere on the ship and the insulation was not always able to contain the asbestos fibers.
This meant that asbestos was airborne in all parts of the ships so that all mariners, regardless of their job on the ship, were exposed to asbestos.
History of the Merchant Marines
There were thousands of merchant marine ships in service from 1937 to 1947. During this time period alone, more than six thousand merchant marine ships were built and used by the U.S. Navy.
Many of these ships used deadly asbestos-based products. Get a free veterans packet if you developed mesothelioma or another asbestos-related disease after serving.
Merchant marine ships included hospital ships, tankers and liberty ships that provided ammunition and other materials to the U.S. soldiers who were fighting the war.
The merchant marine ships were mostly used during wartime, where they would transport cargo and troops from place to place as part of a Naval convoy.
During this time, the merchant marine ships operated under the auspices of the U.S. military. However, in peacetime, they are considered civilian ships. They assist the Department of Defense (DOD) during peacetime and wartime.
Merchant marine ships provided a lot of services during World War II. Merchant marine ships transported two hundred billion pounds of material during this time, much of which was lost during battles.
The death rate among those working on merchant marine ships was extremely high, as nearly one out of every 24 merchant mariners died while in the service.
Merchant Marine Ships Today
Merchant marine ships are still in use; as of 2006, 465 merchant marine ships were functional and about 100,000 Naval personnel were working and living on these ships.
Sadly, many merchant marine veterans today are developing asbestos-related diseases. See if you can file for VA benefits if affected.
Help for Veterans With Mesothelioma
If you worked as a shipbuilder making merchant marine ships or were a Naval employee working and living on merchant marine ships, it is highly likely that you were exposed to asbestos.
You can be screened for an asbestos-related condition at any VA medical center.
If you are found to have an asbestos-related illness, you can be treated at a specialty VA medical center who handles mesothelioma cases and patients with asbestosis.
If you sustained your asbestos-related disease as part of your military service, the disease is covered under your veteran's administration benefits.
If you were a civilian working for the military on a merchant marine ship, there may be compensation for your asbestos-related illness as the military was likely responsible for your illness.
Get a free veterans packet to see if you qualify for VA benefits and other forms of compensation.