Quick Summary
At one time, it was mandated that asbestos be used to insulate all ships and submarines made by the U.S. Navy. These products quickly degraded or became worn out, causing asbestos fibers to became airborne where they could then become ingested or inhaled by the sailors working on the submarines.
Asbestos and Submarines Explained
There are three main classifications of U.S. Navy submarines, and each have different functions and personnel. The three main types of submarines are:
Attack submarines (SSN)
Guided Missile submarines (SSGN)
Ballistic Missile Submarines (SSBN)
Attack Submarines are responsible for seeking out and destroying the enemy's submarines and other types of seagoing vessels. Modern attack submarines are built with Tomahawk cruise missiles so they can attack targets on land. They also engage in warfare against mines, perform intelligence operations, support battle group operations and undergo surveillance and reconnaissance missions.
Ballistic submarines, which are often referred to as "Boomers", partake in strategic deterrence missions and provide the U.S. with the most powerful nuclear strike capacity. Submarines are specially designed to be stealthy and to provide precise launching capabilities for nuclear warheads during war time.
Submarines have been used by the U.S. Navy for over 100 years. They were used in World War I, World War II, the Korean War, the Vietnam War and the Cold War. The Navy currently makes use of guided missile submarines that provide special operation missions and strikes.
There are many classifications of submarines that were built mostly during the 20th century. These include the following:
Radar Picket Submarines (SSR)
Anti-submarine submarines (SSK)
Submarines, Nuclear Powered (SSN)
Anti-submarine Submarines (SSK)
Guided Missile submarines (SSGN)
Fleet Ballistic Submarines (SSBN)
Submarines (SS)
While all of these submarines were once in use by the U.S. Navy, only the attack submarines and the ballistic missile submarines are actively serving the military today.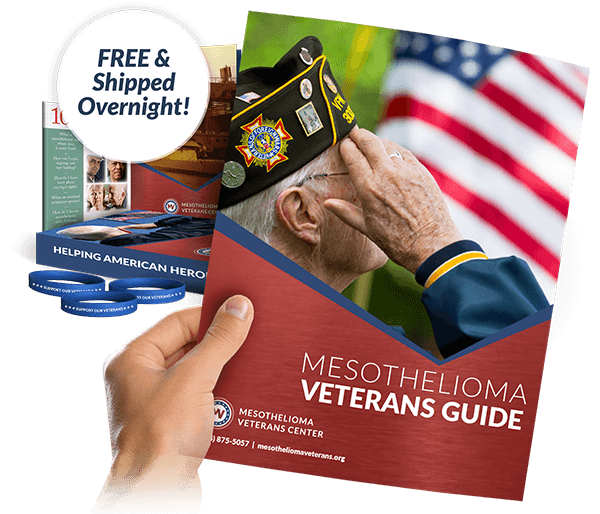 Get a FREE Veterans Packet
Get information on:
Treatment Options
Mesothelioma Specialists
Veterans Benefits
Get a Free Veterans Packet
Asbestos Exposure on Submarines
When submarines were being built, particularly between 1920 and 1970, the United States Military used a large amount of asbestos-containing products in the construction of many Naval vessels, including submarines. Asbestos was not found to be toxic until the middle part of the 1970s and it had desirable properties for use on submarines. It insulated the submarines against the cold of the ocean, was cheap to manufacture, heat resistant, and an extremely versatile product to be used on all sorts of Naval vessels.
The environment inside a submarine is, by definition, small and extremely cramped. They reside mostly underwater and as a result, are not well ventilated. For this reason, the asbestos used in insulating submarines and the products on submarines made from asbestos had nowhere to go when it became airborne through the installation, repair and degradation of these products. Nevertheless, asbestos was used for its desirable properties (flexibility, light weight, fire resistant and easy manipulation) in the manufacturing of submarines made by the U.S. Navy.
The dangers of fire were great on submarines — far greater than the danger on surface vessels. The U.S. Navy used asbestos on as many materials and products as possible because it was heat resistant and cut down the risk of a fatal fire on board a submarine under water.
The Navy made use of chrysotile asbestos for much of its insulation in the submarine and in products such as tape, packing materials and gaskets. Amosite asbestos was also used for insulating the submarines' flanges, valves and water pipes.
Click here for a FREE Navy Ships Guide containing a list of ships with asbestos.
U.S. Navy personnel used products containing asbestos on an everyday basis. The asbestos fibers built up over time in linings of the abdomen and/or the lungs, setting up inflammation in these areas. Some of these areas became so inflamed that cancer developed. Mesothelioma was the main type of cancer that came from asbestos exposure, although other types of lung cancer have been linked to the inhalation of asbestos, particularly among sailors who also smoked cigarettes.
The use of asbestos between 1956 and 1960 on the USS Triton was clearly documented.  Compressed asbestos was used as an insulating material, wire asbestos cloth was used to protect equipment from leaking heat and quilts of asbestos felt was used to insulate the pipes on the submarine. Asbestos spiral-wound gaskets were used on submarines and automatic drain valves.
Occupations Most at Risk For Asbestos Exposure
Certain Naval employees carried the greatest risk of asbestos exposure. Those most at risk for developing an asbestos-related condition include:
Those who built submarines at Naval shipyards
People who repaired pipes, engines and boilers
Maintenance workers on submarines
Asbestos was first used around 1920, and this use continued until the middle of the 1970s, when it was determined that asbestos was hazardous to an employee's health.
Unfortunately, this was too late for the thousands of U.S. servicemen and women who worked on Naval submarines during the 20th century. If you worked on any submarine during that time — even if you didn't directly work in the boiler room or engine room — you were likely exposed to asbestos and are at risk for an asbestos-related disease, such as asbestosis or mesothelioma.
You can be evaluated for an asbestos-related disease at your local VA medical center. If you are found to have an asbestos-related disease, you can be treated locally or can go to any one of several specialty VA medical centers that treat asbestos-related illnesses. Because asbestos-related diseases were usually service-connected, much or all of your care may be paid for under your VA medical benefits.