Quick Summary
Few oncologists have experience treating patients diagnosed with malignant mesothelioma. Finding a mesothelioma specialist is critical to increasing long-term survival odds.
Finding The Mesothelioma Doctor For You
The best treatment method depends on your mesothelioma location. Some mesothelioma specialists are experts in treating only pleural mesothelioma, while others have experience treating patients with peritoneal mesothelioma. You will need to seek out a specialist that is best suited for your unique diagnosis.
Find Mesothelioma Specialists in your State
Alabama
Alaska
Arizona
Arkansas
California
Colorado
Connecticut
Delaware
Florida
Georgia
Hawaii
Idaho
Illinois
Indiana
Iowa
Kansas
Kentucky
Louisiana
Maine
Maryland
Massachusetts
Michigan
Minnesota
Mississippi
Missouri
Montana
Nebraska
Nevada
New Hampshire
New Jersey
New Mexico
New York
North Carolina
North Dakota
Ohio
Oklahoma
Oregon
Pennsylvania
Rhode Island
South Carolina
South Dakota
Tennessee
Texas
Utah
Vermont
Virginia
Washington
Washington DC
West Virginia
Wisconsin
Wyoming
Mesothelioma Specialists in
Diagnosed with Mesothelioma?
Get connected with a specialist.
Connect with a Mesothelioma Specialist
Secure Submission
There are cancer centers all across the country that specialize in mesothelioma with multidisciplinary teams of mesothelioma specialists, which may include board-certified medical oncologists, radiation oncologists, thoracic surgeons, pathologists, and other medical professionals. Some of these medical centers are VA hospitals.
A large percentage of mesothelioma patients were exposed to asbestos while in the military. If your condition is not the result of exposure to asbestos while serving in the military, you need to find a mesothelioma doctor that practices out of a non-VA surgical center.
There are over 1.6 million cases of cancer diagnosed in the U.S. each year, but mesothelioma accounts for only around 3,000 diagnoses. This is why finding a doctor with mesothelioma experience is so important. Further, you have a better chance of receiving the latest cancer treatment methods if you see a specialist.
Research clinical trials are usually available only through mesothelioma specialists who actively participate in research related to this disease. Clinical trials can give you access to new treatments that are unavailable to the general public. Participating in a clinical trial may even mean you receive treatment that prolongs your life.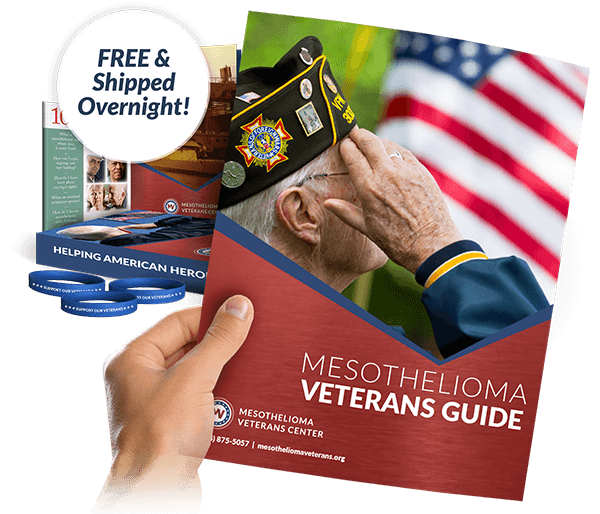 Get a FREE Veterans Packet
Get information on:
Treatment Options
Mesothelioma Specialists
Veterans Benefits
Get a Free Veterans Packet
Top  Mesothelioma Specialists for Veterans
Each of the mesothelioma doctors below carries a specialty in mesothelioma. They practice in various parts of the country and are experts in either pleural or peritoneal mesothelioma. They have conducted groundbreaking research and have treated hundreds of patients.
Abraham (Avi) Lebenthal, M.D. – Pleural Mesothelioma
Dr. Avi Lebenthal is a thoracic surgeon and specialist in mesothelioma. He works at the Brigham and Women's Hospital in Boston. He also sees patients at the VA Medical Center, treating both veterans and non-veterans with mesothelioma. He also specializes in disorders of the gastroesophageal junction, including esophageal cancer.
Dr. Lebenthal completed his initial training in Israel as part of the Israeli Army before coming to the United States. His specialty is minimally invasive surgery. He also treats patients with radiation therapy and chemotherapy. He did his fellowship at Brigham and Women's Hospital, where he currently practices. Dr. Lebenthal conducts clinical research and uses the latest treatments.
Dr. Lebenthal is an optimist when it comes to survival for his mesothelioma patients. "When planned and executed precisely," he says, "the 'impossible' becomes possible."
David J. Sugarbaker, M.D. – Pleural Mesothelioma (1953-2018)
Until his passing in August 2018, Dr. David Sugarbaker practiced out of the Lung Institute at Baylor College of Medicine in Houston, Texas.
He originally studied mesothelioma at the Brigham and Women's Hospital in Boston, Massachusetts. He was a thoracic surgeon who specialized in the treatment of pleural mesothelioma.
While in Boston, Dr. Sugarbaker pioneered a procedure used to treat pleural mesothelioma — the extrapleural pneumonectomy. This surgery removes the diseased lung, the lining around the heart and lungs, and part of the diaphragm. The doctor also takes out all nearby lymph nodes.
This procedure has been very successful in extending the lives of pleural mesothelioma patients. It's one of the multiple treatments he used to treat mesothelioma.
"The treatment of patients with mesothelioma really is a team effort. One of the most important things we that can do within the mesothelioma treatment center is to provide hope for patients and their families that their treatment here will result in longer-term survival."

– Dr. David Sugarbaker
Paul Sugarbaker, M.D. – Peritoneal Mesothelioma
Dr. Paul Sugarbaker is the specialist you'll want to see if you are diagnosed with peritoneal mesothelioma. He practices at the Cancer Institute at the Washington Hospital Center.
He's world-renowned as a leader and specialist in the treatment of peritoneal mesothelioma as well as other types of abdominal and gastrointestinal cancers.
He is involved in clinical mesothelioma research and is one of the few medical specialists in the area of peritoneal mesothelioma. He also helped perfect the treatment for peritoneal mesothelioma — cytoreduction with HIPEC. His work in the improvement of this procedure is so prominent, that it's very often referred to as the "Sugarbaker Procedure."
He has decades of surgical expertise in removing this type of cancer. He's also an expert in chemotherapy.
"If we can recognize [peritoneal mesothelioma] early, and apply the definitive treatment, […] the outcome is extremely good; perhaps 75% of people alive and well and disease-free at 5 years."

– Dr. Paul Sugarbaker
Robert B. Cameron, M.D. – Pleural Mesothelioma
Dr. Cameron cares for mesothelioma patients at the Jonsson Comprehensive Cancer Center in Los Angeles, California.
Dr. Cameron has specific theories about the treatment of pleural mesothelioma, and he believes that the EPP is too invasive. Instead, he prefers the lung-sparing pleurectomy with decortication procedure (P/D), a less invasive surgery that removes only the mesothelioma cancer and spares the lung.
Dr. Cameron treats mesothelioma as a chronic condition and manages it through radiation and chemotherapy. He is currently the director of Thoracic Surgery and heads the Comprehensive Mesothelioma Program at the Ronald Reagan UCLA Medical Center.
He is also one of the medical advisors at the Pacific-Meso Center. This center uses state of the art treatment for mesothelioma patients from all walks of life.
"The first thing you should do when you've been diagnosed with [mesothelioma] is to try and find a center of excellence in terms of treatment."

– Dr. Robert Cameron
Visit the UCLA Health website to learn more about Dr. Robert Cameron.
Disclaimer
The Mesothelioma Veterans Center has no affiliation with and is not endorsed or sponsored by Dr. Robert B. Cameron. The contact information above is listed for informational purposes only. You have the right to contact Dr. Cameron directly.
Dr. Raja Flores – Pleural Mesothelioma
Dr. Flores is the Chairman for the Department of Thoracic Surgery, the Director of the Mesothelioma Program, and a professor in thoracic surgery at the Mount Sinai Medical Center in New York.
He has worked on several research projects focused on improving treatments for malignant pleural mesothelioma.
How to Choose a Mesothelioma Doctor
Before you decide on a mesothelioma doctor, you'll need to do some research. You should first find out if your insurance will cover treatment at a mesothelioma cancer center. You should also figure out travel arrangements and lodging. Some cancer centers offer to lodge mesothelioma patients and their families only.
Last, but not least, you'll want to find out everything you can about the doctor you want to see. Find out what they specialize in. Learn the types of surgery they usually perform and what kinds of clinical trials they participate in.
You'll want to make an appointment for a consultation with a specialist and ask some of the following questions:
Is the doctor covered by my insurance plan?
Does this doctor collaborate with me on specific options for treatment?
Has the doctor been practicing for a long time in the area of Mesothelioma Treatment?
Does the doctor understand my need to make decisions and will he address all of my concerns?
Does the doctor have a clear and transparent way of communicating?
Can I easily travel to see this doctor?
What kinds of treatments for mesothelioma does this doctor offer?
Does the doctor treat my sub-type of mesothelioma?
Does the doctor have treatments for widespread mesothelioma?
Will the doctor allow me access to a clinical trial?
You should feel satisfied that the doctor you are choosing is skilled and knowledgeable about your subtype of mesothelioma. Then you can confidently make arrangements to begin your treatment plan.
Mesothelioma cancer centers have doctors who specialize in different ways to treat mesothelioma. The team often consists of oncologists, surgeons, and radiologists. Mesothelioma cancer centers are also the best way to take advantage of clinical trials.
Our Free Packet covers doctors who specialize in treating the different types of mesothelioma.
Becoming a Mesothelioma Survivor
Surgical oncologists like Dr. Sugarbaker and Dr. Cameron have led some of their patients to beat their disease. Some doctors consider the patients cured although there is always a chance of recurrence (when the mesothelioma comes back). Mesothelioma survivors are people who have lived years with no signs of their disease.
They may still take medication to prevent it from reoccurring, but they have essentially taken their lives back.
Surgery remains the best way to achieve survival. Dr. Cameron and Dr. Sugarbaker both have several patients who are alive more than 6 years after their diagnosis. Some people are even living beyond 10 years with no signs of mesothelioma. This is thanks to their mesothelioma specialists.
Get VA Benefits
Get help with:
VA Disability Claims
Survivor Benefits
Finding Veteran Doctors
Learn More
Improve Your Prognosis With a Specialist
Not having control is frustrating, but you can take that power back by choosing a mesothelioma specialist. Getting the right doctor can be the difference between surviving months or years.
The best way to take control of your prognosis is to find the right doctor for your diagnosis, and the best way to find the right doctor is by getting a second opinion. This will provide you with a list of different treatment options. It will also give you the peace of mind that you are getting the best treatment possible.
Here are the top reasons to see a mesothelioma specialist:
Top doctors are up-to-date on the latest, most effective treatments
They perform clinical trials that offer additional treatment options
They have helped patients become survivors
Most treatments, particularly surgical, can often double a patient's life expectancy. This is unlikely to happen without a doctor specializing in mesothelioma. To learn more about the latest mesothelioma treatments, get your free Mesothelioma Veterans Packet now.