Quick Summary
From the 1930s through to the middle of the 1970s, the Navy made use of hundreds of asbestos-containing products while constructing minesweeper ships for the various wars and conflicts in which minesweepers were involved. Many sailors and workers have a high risk of developing an asbestos-related condition, including mesothelioma.
Topics on this page:
Asbestos and Minesweepers Explained
U.S. Naval minesweepers are small naval warships that were designed to counteract the effects of mines laid out at sea during war time.
Unfortunately, minesweepers and other Navy vessels were often built with asbestos between the 1930s and early 1980s. While asbestos was thought to be safe during most of this time, this material is now known to cause cancer.
As a result, many U.S. veterans who served on minesweepers are now developing incurable cancers like mesothelioma.
It takes 20 to 50 years after being exposed to asbestos for the symptoms to appear, so veterans might not realize their cancer is related to their military service at first.
Thankfully, veterans with mesothelioma can pursue medical care in monthly payouts from the U.S. Department of Veterans Affairs (VA). They can also take additional action to get even more compensation from the makers of asbestos-containing products.
A Free Veterans Packet can help with
Treatment Options
Financial Assistance
VA Benefits
Get Your Free Veterans Packet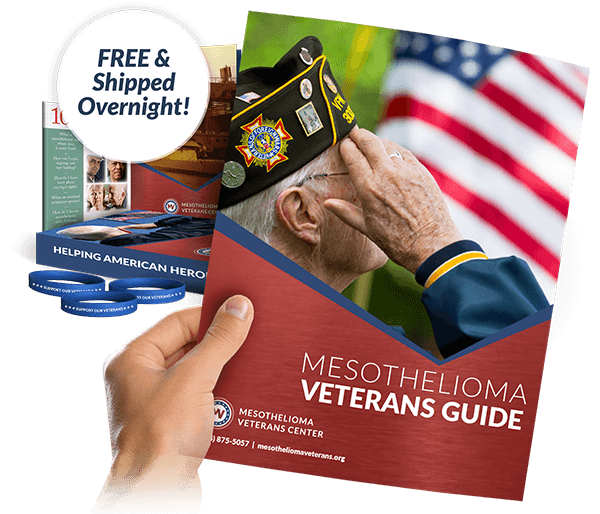 Get a FREE Veterans Packet
Get information on:
Treatment Options
Mesothelioma Specialists
Veterans Benefits
Get a Free Veterans Packet
List of Minesweepers That Used Asbestos
The first U.S. minesweeper was made in 1917 and was commissioned in 1918. This minesweeper, the USS Lapwing (AM 1), was named after the lapwing bird, which reminded the Navy of the way minesweepers worked.
The initial minesweepers were of the AM class, but there were other minesweeper designations made after that.
Any minesweepers made between the 1930s and early 1980s may have contained asbestos.
Minesweeper designations included:
Mine Countermeasures (MCM)
Motor Minesweepers (AMS)
Underwater Mine Locators (AMCU)
Coastal Minesweepers (AMc)
Harbor Minesweepers (AMb)
Coastal Minesweepers, Old (MSC(O)
Minesweepers, Coastal (MSC)
Minehunter, Coastal (MCH)
Mine Countermeasures (MCM)
Motor Minesweepers (AMS)
Minesweepers, Ocean (MSO)
Minesweepers, Inshore (MSO)
Minesweepers, Fleet, Steel Hull (MSF)
Click here for a FREE Navy Ships Guide containing a list of ships with asbestos. Find a ship that you may have served on right now.