Quick Summary
Located in southern California, the West Los Angeles VA Medical Center treats veterans from anywhere in the country who have mesothelioma. It is considered a center of excellence in the area of mesothelioma research and treatment and is staffed by doctors and health care practitioners who specialize in mesothelioma surgery.
West Los Angeles VA Medical Center and Mesothelioma
Patients with mesothelioma have an exceedingly rare disease, affecting only about 0.3 percent of all cancers. While pleural mesothelioma is the most common of these diseases, patients can also have peritoneal mesothelioma, pericardial mesothelioma, or testicular mesothelioma.
Because of the rarity of this condition, it is not a good idea to see just any thoracic surgeon for the treatment of your mesothelioma. You should instead seek out expert advice at a major mesothelioma center in the country.
Thankfully, the U.S. Department of Veterans Affairs (VA) has specialized treatment centers for veterans with mesothelioma. One of them is the West Los Angeles VA Medical Center. This facility is part of the VA Greater Los Angeles Healthcare System. It's one of two VA facilities that treats veterans with mesothelioma.
The West Los Angeles VA Medical Center is located on Wilshire Boulevard. There are also two ambulatory care centers in Los Angeles that supplement the medical center. These facilities specialize in outpatient care.
The doctors at the West Los Angeles VA Medical Center not only treat patients with mesothelioma but are also researchers in the field themselves. This offers mesothelioma patients the option of participating in a clinical research trial of mesothelioma treatment, provided they meet eligibility requirements.
Trials involving the latest techniques in dealing with mesothelioma have the potential to prolong your life, even if you arrive in the advanced stages of the disease.
Besides performing numerous surgical procedures for the treatment of mesothelioma, health care professionals at the West Los Angeles VA Medical Center make use of the latest advancements in chemotherapy for mesothelioma and radiation therapy for the disease.
Some programs offered at the medical center include the following:
Surgical interventions for mesothelioma: Doctors at the center are experts in the lung-sparing mesothelioma surgery known as the pleurectomy and decortication (P/D) procedure. They also perform bronchial and esophageal stents, laser procedures for mesothelioma, and both video and thoracoscopic biopsy techniques. The West Los Angeles VA Medical Center partners with the UCLA Medical Center in order to provide premium surgical techniques for mesothelioma patients requiring surgery to manage their disease.
Radiation therapy: The doctors at the West Los Angeles VA Medical Center have the availability of doing intensity-modulated radiation therapy (IMRT), radiosurgery, and stereotactic body radiation therapy (SBRT). They make use of the most recent advancements in radiation oncology to provide customized treatment for patients with mesothelioma that require radiation for their disease but don't want to damage the healthy tissue surrounding the cancerous areas. Areas such as uninvolved lung tissue, the liver, the heart, the kidneys, the spleen, and the spinal cord can be protected from damage, while the radiation is more specifically focused on killing cancer cells.
Unique techniques and therapies: Doctors at the West Los Angeles Medical Center are experts in the latest advancements in immunotherapy, chemotherapy, and targeted biologic therapy for the treatment of mesothelioma. Through years of clinical research, therapies that aren't available elsewhere in the world are used at the center in order to prolong the lives of veterans with mesothelioma at various stages of the disease.
The West Los Angeles VA Medical Center has been affiliated with the Comprehensive Mesothelioma Program located at UCLA since 1998. This is a program that provides veterans with mesothelioma the option of having lung-sparing surgery and other specialty therapies that focus on both extending the life of the patient with mesothelioma, as well as increasing their quality of life.
Doctors at this VA treatment center can treat veterans from anywhere in the country — from those living in close-by cities like Arcadia, Santa Barbara, and San Luis Obispo, to states like Iowa or Florida.
A Free Veterans Packet can help with
Treatment Options
Financial Assistance
VA Benefits
Get Your Free Veterans Packet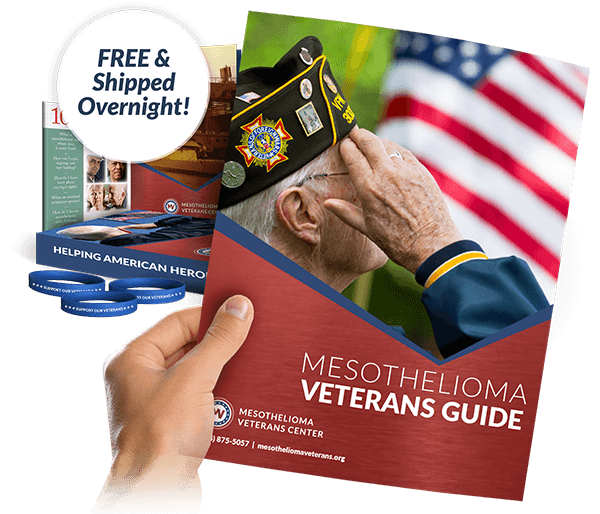 Get a FREE Veterans Packet
Get information on:
Treatment Options
Mesothelioma Specialists
Veterans Benefits
Get a Free Veterans Packet
Specialities and Treatment
Doctors work at both the UCLA and the West Los Angeles VA campuses to provide expert treatment in the surgical management of mesothelioma using the pleurectomy with decortication procedure. This procedure removes all visible signs of cancer from the chest wall while keeping other thoracic structures, such as the pericardium, lung and diaphragm intact. This offers a quicker recovery for patients who then go on to have chemotherapy and radiation therapy for their disease.
After being surgically treated for mesothelioma, the veteran patient is provided with stereotactic radiation therapy to remove any mesothelioma cells that weren't initially treated with surgery, as well as various investigational treatments. These can be a part of some of the ongoing clinical trials used to manage mesothelioma.
Unfortunately, doctors at the West Los Angeles VA Medical Center recognize that it is impossible to get rid of all of the mesothelioma cells, even with advanced surgical techniques.
Instead of letting the patient suffer from any remaining mesothelioma cells, the doctors treat the disease as a chronic condition that requires ongoing treatments to slow the growth of the residual mesothelioma cells. They avoid using concentrated therapies that have been found to be toxic and yet don't prolong the individual's life.
The mesothelioma experts at the West Los Angeles VA Medical Center and the UCLA Medical Center are experts in treatment modalities such as cryoablation and immunotherapy.
These have been found to be successful in ridding the body of mesothelioma cells more safely than can be achieved by more toxic treatments. Patients tolerate these procedures and treatments very well and are afforded an extended lifespan as a result.
There is an even rarer type of mesothelioma known as sarcomatoid mesothelioma. Doctors at the West Los Angeles VA Medical Center are experts in this disease and know about specialized chemotherapy treatments that were traditionally used to treat other types of sarcomas in the body.
By using these treatments on patients with sarcomatoid mesothelioma, doctors have been able to do rather aggressive chemotherapy to shrink the tumor, followed by a surgical procedure and radiotherapy. Such advancements in the treatment of this type of mesothelioma have been found to extend the lives of patients who develop this rare form of cancer. Doctors can work these specialized treatments into many patients' master plans of care.
At the West Los Angeles VA Medical Center, all mesothelioma patients are treated by a multidisciplinary team. Each patient is given a dedicated nurse practitioner as part of their care. The nurse practitioner aids in coordinating the patient's care and is an expert in answering questions about mesothelioma from referring physicians, patients, and their families.
Learn more about the West Los Angeles VA Medical Center by visiting www.losangeles.va.gov or contacting our team today.