Quick Summary
Asbestos exposure is the only proven cause of malignant mesothelioma. Inhaled or ingested asbestos fibers can mutate cells in the linings of the lungs, abdomen, or heart, causing mesothelioma tumors. Because it takes 20-50 years for mesothelioma to develop after exposure, veterans are being diagnosed decades after they were exposed during military service.
Topics on this page:
What Causes Mesothelioma?
Inhaling or ingesting asbestos fibers is currently the only known cause of mesothelioma.
Asbestos is an extremely durable, naturally occurring mineral. Asbestos fibers are light and can float in the air for long periods, so they're easy to inhale or ingest unintentionally.
Exposure to asbestos can happen in three primary ways, including:
Occupationally: This is the most common type of asbestos exposure. Many mesothelioma patients had past on-the-job asbestos exposure.
Secondhand: People exposed to asbestos in their occupation may have unintentionally exposed their family members as well. Asbestos fibers can get stuck to clothing. These fibers may be released at home where other people can breathe the fibers. This is called secondhand exposure.
Naturally: Asbestos is a naturally occurring mineral. There are deposits of the fibers in some parts of America. People living near asbestos deposits or mines may breathe in the fibers nearby.
Asbestos fibers are like tiny needles that bore deep into body tissues where they are not easily dislodged or coughed out. Over time, asbestos fibers cause inflammation and scarring of body tissues. Prolonged irritation may eventually change the DNA of nearby cells, resulting in cancer.
Once asbestos fibers enter the body, they can remain there for decades before mesothelioma develops.
Did you know
The process of initial asbestos exposure to the development of mesothelioma can take 20 to 50 years, which is why symptoms take so long to show up after asbestos exposure.
Inhaled fibers eventually migrate to the lining of the lungs or the lining of the heart while ingested fibers can migrate to the peritoneum, the lining of the abdominal cavity. As a result, mesothelioma can develop in the lining of the lungs, abdomen, or heart.
How Mesothelioma Develops
Cancers like mesothelioma develop when something alters the DNA inside cells. DNA mutations cause cells to grow and divide uncontrollably.
Normal cell DNA tells the cells how to grow, divide, and die. When asbestos fibers damage the DNA of otherwise healthy mesothelial cells, the affected cells stop behaving as they should. Instead, they continue to divide and grow when they are not supposed to.
Mutated cancer cells grow uncontrollably to invade healthy tissue, form mesothelioma tumors, and spread throughout the body. A person is diagnosed with different types of mesothelioma depending on where the tumors first develop.
How Asbestos Causes Pleural Mesothelioma

When asbestos fibers are inhaled, they travel through the chest wall to the lining of the lungs, called the pleura, and settle there permanently. The needle-like fibers irritate the tissues for many years until cell DNA becomes damaged, and malignant pleural mesothelioma tumors begin to form.
How Asbestos Causes Peritoneal Mesothelioma

If the asbestos fibers are swallowed instead of inhaled, they can become lodged in the membranes that line the abdominal cavity and organs, called the peritoneum. Prolonged inflammation of the abdominal lining can eventually lead to peritoneal mesothelioma.
How Asbestos Causes Pericardial Mesothelioma

It's unclear at this point exactly how asbestos travels to the heart lining (pericardium) to cause pericardial mesothelioma. Pericardial mesothelioma is the rarest form of the disease, and experts have a limited understanding of its pathology (how it develops).
A Free Veterans Packet can help with
Treatment Options
Financial Assistance
VA Benefits
Get Your Free Veterans Packet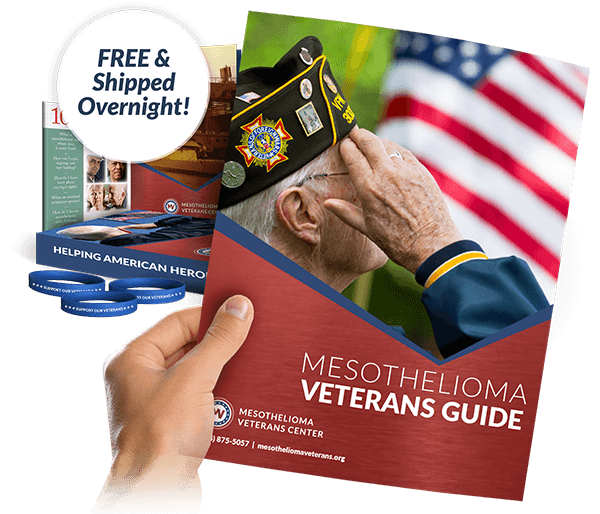 Get a FREE Veterans Packet
Get information on:
Treatment Options
Mesothelioma Specialists
Veterans Benefits
Get a Free Veterans Packet
Finding the Link Between Asbestos and Mesothelioma
Asbestos fibers are extremely strong, heat-resistant, and resilient against chemical wear. Because of these durable properties, the use of asbestos was common in many products like insulation, floor tiles, roofing, and brake linings. This was before we knew that asbestos was dangerous.
Medical evidence linked asbestos to mesothelioma in the mid-20th century, but the connection wasn't formally established until much later. The mineral remained uncontrolled by law until the late 1970s when it became clear that asbestos causes mesothelioma.
The Environmental Protection Agency (EPA) banned certain asbestos products in 1973. Since that time, sufficient scientific and medical evidence has shown that asbestos causes mesothelioma. However, asbestos was frequently used in military applications before the material's use was heavily restricted.
Because of its durability, asbestos was a staple product in:
Aircraft
Cars
Ships
Tanks
Bases
Other buildings
Veterans who served in the U.S. military during the 20th century may have experienced long-term asbestos exposure in various capacities.
All types of asbestos are considered human carcinogens by the World Health Organization, the International Agency for Research on Cancer, the U.S. Department of Health and Human Services, and the U.S. Environmental Protection Agency.
Where Is Asbestos Found?
Asbestos was used throughout the 20th century in thousands of industrial and home applications. Since asbestos was widely used in the military, veterans are one of the most at-risk groups.
Each year, 900-1,100 Veterans are diagnosed with Mesothelioma
800-900
Pleural Mesothelioma
100-200
Peritoneal Mesothelioma
10
Pericardial Mesothelioma
*Sources: American Cancer Society,
National Institutes of Health
Branches of the military that were most significantly affected by asbestos include the Navy, Coast Guard, Air Force, Army, and Marines. Certain non-military occupations also presented a high risk of asbestos exposure.
Some jobs with an increased risk of asbestos exposure include:
Auto Mechanics: People who were involved in manufacturing cars or repairing brakes may have been exposed to asbestos used in automobile parts.
Boilermakers: Boilermakers may have come into contact with asbestos used to insulate water heaters.
Brick and Stone Masons: People who worked with brick and stone may have inhaled asbestos fibers found in bricks and asbestos dust used in mortar.
Bulldozer Operators: During building demolitions, bulldozer operators may have inhaled airborne asbestos fibers that were released from building insulation.
Carpenters and Construction Workers: Carpenters were frequently in contact with asbestos used in insulation, flooring, and roofing materials.
Factory Workers: People working in factories producing asbestos-containing products may have been directly or indirectly exposed to airborne fibers. Asbestos was also used in factory machines and transportation belts.
Today, some occupations still put people at higher-than-average risk of asbestos exposure. Firefighters, electricians, HVAC workers, construction workers, and automobile mechanics may still be exposed to asbestos on the job.
Environmental Asbestos Exposure
Asbestos mineral deposits are found in rock and soil. Certain areas of the United States contain uncommonly high amounts of environmental asbestos. People who live near these mineral deposits have a higher risk of developing mesothelioma.
Natural Asbestos Sites

There are two main areas in the U.S. with high levels of natural asbestos — El Dorado Hills, California and Libby, Montana.
Most of California's counties contain asbestos deep underground. In El Dorado Hills, rocks near the surface of the ground contain a particularly dangerous form of asbestos called tremolite.
Libby was home to an asbestos-contaminated vermiculite mine, which was declared a public health hazard in 2009. The asbestos mine, owned by W.R. Grace & Company at the time, has since been cleaned up.