Quick Summary
Pericardial mesothelioma is extremely rare. It is caused by asbestos fibers lodged in the lining of the heart. This results in tumors in the pericardium, the protective lining around the heart. Some patients have extended their life expectancy more than a year with the right treatment.
Topics on this page:
Understanding Pericardial Mesothelioma
There are three main types of mesothelioma: peritoneal, pleural, and pericardial mesothelioma. Primary malignant pericardial mesothelioma is the rarest type.
Only 200 cases of pericardial mesothelioma have been reported in medical journals. This represents about 1% of all mesothelioma diagnoses — a very rare incidence. Few veterans are ever diagnosed with pericardial mesothelioma.
There are two layers of the pericardium, an inner and an outer layer. Mesothelioma can develop in either layer. Experts consider asbestos to be the cause of mesothelioma. Yet, they can't explain how asbestos fibers get into the pericardium.
Doctors only know that asbestos fibers have the ability to migrate once inside the body. This also makes it hard to determine the cause of pericardial mesothelioma in veterans. Most veterans are exposed to asbestos in the military, but it's not certain this could have been the cause of their diagnosis.
Pericardial mesothelioma is twice as common in men compared to women. Some experts think this is because men are more likely to get exposed to asbestos in the workplace.
Most people with this disease are 50-70 years of age when diagnosed. It often takes several decades before the asbestos exposure develops into mesothelioma cancer. Pericardial mesothelioma is a difficult disease to diagnose because of its rarity. It's also difficult to diagnose because the symptoms are similar to those found in more common diseases.
A Free Veterans Packet can help with
Treatment Options
Financial Assistance
VA Benefits
Get Your Free Veterans Packet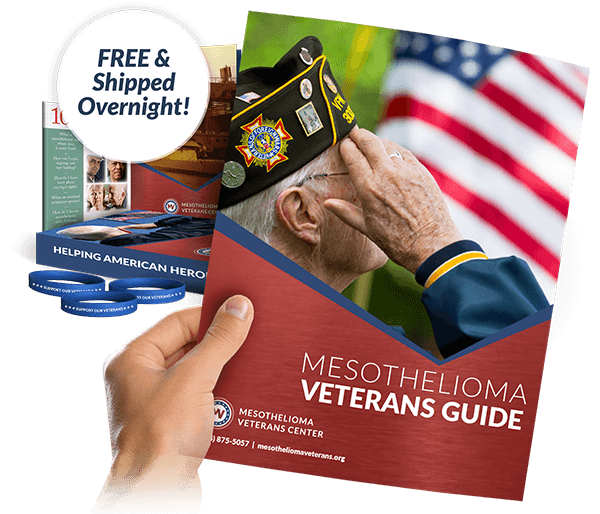 Get a FREE Veterans Packet
Get information on:
Treatment Options
Mesothelioma Specialists
Veterans Benefits
Get a Free Veterans Packet
Symptoms of Pericardial Mesothelioma
There are few to no symptoms when the disease remains localized to the pericardium. This is why it is rarely diagnosed in its early stages.
When symptoms do occur, they look like those seen in heart disease. As a result, people are often diagnosed with some type of heart condition before doctors find the mesothelioma.
The telltale symptoms of pericardial mesothelioma are usually found with visual imaging tests. One common sign is pericardial fluid buildup around the heart. This is often detected with an echocardiogram, X-rays or a CT scan of the chest.
Typical symptoms seen in pericardial mesothelioma include:
Chest pain
Dry cough
Difficulty breathing (dyspnea)
Exhaustion
Fever
Heart palpitations
New onset of a heart murmur
Night sweats
Shortness of breath (with or without activity)
Weight loss
Worsening of shortness of breath when lying down
If you have any of these symptoms, it is important to seek medical attention. These signs could show that you have fluid around your heart. If you know you have been exposed to asbestos, your symptoms could be a result of pericardial mesothelioma.