Quick Summary
Stage 1 Pleural Mesothelioma is the most localized form of pleural mesothelioma. It means that mesothelioma hasn't spread from the lining of the lung. Stage 1 patients have all potential treatments at their disposal, including radiation, chemotherapy, and surgery. Patients with stage 1 pleural mesothelioma have the best prognosis and life expectancy.
What Is Stage 1 Pleural Mesothelioma?
Doctors use mesothelioma stages to describe how advanced your disease is. Stage 1 mesothelioma is the least advanced. It describes patients whose tumors haven't started growing and spreading beyond their origin. Tumors are still in the linings of the lung (pleura) but haven't yet spread to the lungs. There are two categories of stage 1 mesothelioma.
The types of stage 1 pleural mesothelioma are:
Stage 1A: The parietal layer of the pleura is involved. This is the part of the pleural lining that lines the chest wall but not the lungs themselves.
Stage 1B: The visceral layer of the pleura is involved. This is the part of the pleural lining that lines the lungs themselves and not the part that covers the thoracic wall.
In both subtypes of stage 1, the goal of treatment is to remove all visible signs of cancer in the pleura.
Stage 1 Symptoms
Symptoms of stage 1 mesothelioma are easy to miss. Most common symptoms of pleural mesothelioma haven't yet developed at stage 1 because the tumors are small and confined to a small part of the lining of the lung.
Some symptoms you may experience in stage 1 include:
Shortness of breath
Persistent cough
Potential bouts of bronchitis or pneumonia
These symptoms are common to many other conditions. And bronchitis, a condition all its own, may be hard to tie to mesothelioma. Many veterans don't think twice about symptoms like coughing. In a healthy person, a cough can persist for weeks after being sick. Veterans who smoke may attribute their shortness of breath to cigarettes. These are some reasons why few cases of mesothelioma are diagnosed in stage 1.
Diagnosis
People with stage 1 mesothelioma may have few to no symptoms. If something seems wrong, doctors start with imaging scans. Looking at X-ray scans of stage 1 mesothelioma will show a small tumor on one side of the chest.
When doctors find something that looks like cancer on a scan, they need to scan a tissue sample, a process called a biopsy. This is the only way doctors can find out what is on the X-ray.
Few people get diagnosed at stage 1. If they are, the next step is treating the disease.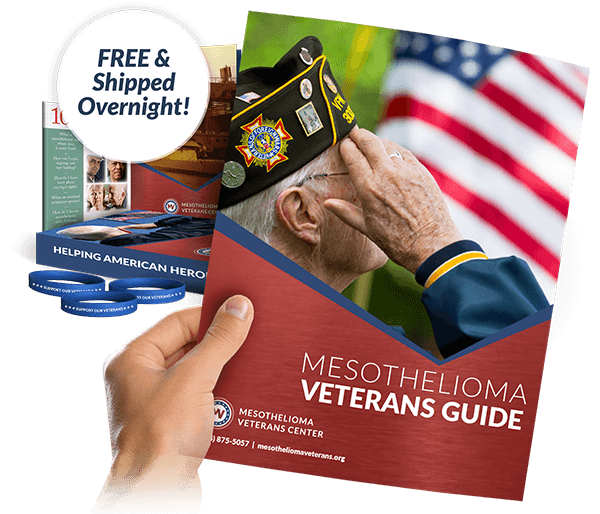 Get a FREE Veterans Packet
Get information on:
Treatment Options
Mesothelioma Specialists
Veterans Benefits
Get a Free Veterans Packet
Treatment
Those that are fortunate enough to be diagnosed early have more treatment options. Mesothelioma requires aggressive treatment like surgery. Stage 1 patients can get the greatest benefits from aggressive treatments.
There are two surgical strategies for stage 1 pleural mesothelioma. There is the pleurectomy with decortication (P/D) or the more invasive extrapleural pneumonectomy (EPP). These surgeries offer the best chances for long-term survival.
Surgery is usually combined with chemotherapy or radiation. Doctors may prescribe radiation before or after surgery. Chemotherapy is used before, after, and during surgery. Chemotherapy during surgery is called intraoperative chemotherapy. Surgeons use this method to kill mesothelioma cells invisible to the naked eye.
You can learn more about stage 1 treatment in our free Mesothelioma Veterans Packet.
Prognosis
As mentioned, the prognosis of stage 1 mesothelioma is the best of all types of mesothelioma. Even with the best prognosis, few people live longer than five years. The median survival time is 21 months.
For stage 1 mesothelioma patients, there are other factors that also play a big role in prognosis. These can affect the type of treatments you get and how the disease spreads.
Other important prognostic factors for stage 1 patients are:
Age: Younger patients tend to live longer than older patients. This is true for any stage. But it can affect your eligibility for stage 1 treatments. That being said, your health may be more important than your age.
Health: Age often correlates to overall health. Healthier patients are more capable of aggressive treatments that improve their prognosis. Older patients in good health may be better candidates for surgery than younger patients.
Cell type: Stage 1 patients with an epithelioid cell type have the best prognosis. This cell type spreads slowly. This makes it easier to treat with surgery. Patients with sarcomatoid cell types may not respond to surgery as well as their epithelioid-diagnosed counterparts.
Did you know?
A study released in 2008 compared the survival times of 663 patients who had EPP or P/D surgery. The median survival time for stage 1 patients was 38 months. This is 17 months longer than the average prognosis for stage 1 patients. The study evaluated patients between 1990 and 2006. This is long before surgical procedures became as effective as they are today. Newer research tends to show patients living even longer.
A Note on Age and Eligibility for Surgery
Age is a factor that doctors consider in patients looking for surgery. And surgery is the best way to improve survival. So some people wonder if their age will affect their eligibility. Doctors are starting to find that older patients can receive the same benefits from surgery as younger patients. The pleurectomy with decortication, for instance, often works well in patients over 70 years old.
"Our study demonstrates that whereas age may be associated with more [additional diseases] in patients with malignant pleural mesothelioma undergoing extended pleurectomy and decortication, this does not necessarily translate into increased operative morbidity or mortality or shorter long-term survival," said the authors of a 2014 study.
What the authors are simply trying to say is this: P/D surgery improves the prognosis for both younger and older patients.
Stage 1 Patients Reaching for Remission
Veterans diagnosed with stage 1 mesothelioma have more treatment options than any other stage. There is a good chance that surgery can remove all or most of your tumor. Combined with chemotherapy and emerging therapies, you could outlive your prognosis by years.
Things to remember about stage 1 mesothelioma:
Tumors are still confined to a localized area.
Aggressive treatments like EPP and P/D are the most effective.
Stage 1 patients have the best chances of remission.
Stage 1 patients are in the minority of people diagnosed with mesothelioma. The disease is often caught in later stages. This means you have cause for hope to live longer than the average prognosis. Seeing a mesothelioma specialist is your best chance to extend your life. Find out more about specialists around the country now.