Quick Summary
Stage 1 is the earliest stage of mesothelioma. During stage 1 mesothelioma, the cancer has not spread far past the lining of the lungs, making it easier to treat. Stage 1 patients can often access a wide range of treatments such as surgery, chemotherapy, and radiation to help them live longer. These options give patients the best prognosis of all types of mesothelioma and an average life expectancy of 21 months.
What Is Stage 1 Mesothelioma?
Doctors use mesothelioma stages to describe how advanced a patient's cancer is. Stage 1 mesothelioma is the first of four malignant pleural mesothelioma stages and is the least advanced stage.
In this stage, mesothelioma tumors have formed in the linings of the lung (pleura) but haven't yet spread throughout the body.
Patients diagnosed in stage 1 can often receive life-extending treatments like aggressive surgery since the cancer is still relatively contained.
Did you know?
Pleural mesothelioma is the only type of this cancer that can officially be broken into stages. Other types of mesothelioma are classified as localized or advanced depending on how far tumors have spread.
U.S. veterans are at a high risk of mesothelioma since the military used asbestos between the 1930s and early 1980s as the makers of asbestos-based products hid the health risks throughout this time.
Thankfully, veterans with stage 1 mesothelioma can pursue free or low-cost treatments and financial aid from the VA.
Amy FairRegistered Nurse
20+ years helping mesothelioma victims
"Stage 1, the mesothelioma is contained within the pleura. […] Staging is important in mesothelioma as is in any cancer. It drives your prognosis, it drives your treatment modalities. It's important to know if you're a surgical candidate. The staging of your disease drives that decision."
Chat now with our trusted advocates to learn more about what therapies may be available for you or your loved one.
Quick Facts About Mesothelioma Stage 1
Aggressive surgeries to remove tumors in the lung lining are often highly effective
Mesothelioma stage 1 patients have the best chances of remission (living cancer-free)
Patients in stage 1 have the longest life expectancies and highest survival rates
Tumors are still confined to a localized area (such as one side of the chest)
Mesothelioma Stage 1: Medical Overview
In cases of stage 1
pleural mesothelioma
, cancer tumors are contained to the lining of one lung and nearby tissues. The tumors
have not spread
to nearby lymph nodes or distant parts of the body.
Stage 1 is one of four stages outlined in the Tumor Node Metastasis (TNM) staging system, a globally recognized method for determining how far certain cancers have spread. Cancer authorities like the American Cancer Society rely on the TNM staging system.
In the past, American doctors diagnosed mesothelioma stages by using older staging systems such as the Butchart System or the Brigham System.
Mesothelioma Stage 1A
Under the TNM staging system, doctors can break stage 1 mesothelioma cases into two substages based on how far the tumors have spread.
In cases of stage 1A mesothelioma, cancer tumors are found on one side of the body in the lining of the chest wall (visceral pleura). Tumors may also be found in parts of the pleura that line other areas in the chest, such as the diaphragm or lung.
In some cases of stage 1A mesothelioma, the tumors actually invade the lung.
Mesothelioma Stage 1B
In stage 1B mesothelioma, cancer tumors have reached parts of the pleura in the chest wall, diaphragm, lung, and mediastinum (a space in the center of the chest).
The tumors may have also spread deeper into the chest wall or mediastinum, or to nearby areas like the heart lining (pericardium).
Despite this spread, mesothelioma tumors in stage 1B are still highly treatable with aggressive surgeries and other methods.
Other Types of Stage 1 Mesothelioma
Mesothelioma does not just develop in the lining of the lungs. It can also develop in the linings of the heart, abdomen, or testicles.
As previously mentioned, there are no official staging systems for the other types of mesothelioma. That said, doctors can still note how far the cancer has spread in these patients.
For example, patients may have early-stage peritoneal mesothelioma if the cancerous tumors have not spread past the abdominal lining (peritoneum). The same can be said for patients with pericardial mesothelioma if tumors are only found in the pericardium and not in other organs.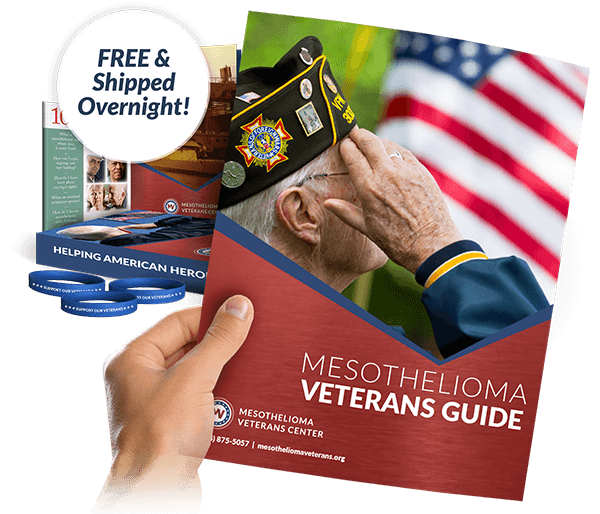 Get a FREE Veterans Packet
Get information on:
Top Treatment
Best Doctors
Improving Prognosis
Get a Free Veterans Packet
Stage 1 Mesothelioma Symptoms
Symptoms of stage 1 mesothelioma often go unnoticed. Many of the common symptoms of pleural mesothelioma haven't yet developed at stage 1 as the tumors are small and confined to a relatively small part of the body. In fact, many patients are asymptomatic (having no symptoms) at this stage.
That said, possible mesothelioma stage 1 symptoms include:
Persistent cough
Shortness of breath
Tightness and pain in the chest
These symptoms are also common in many minor illnesses, so patients may initially dismiss them and may not see a doctor until their mesothelioma symptoms worsen. Unfortunately, this can allow the cancer to spread.
Sadly, veterans exposed to asbestos 20-50 years ago who are suffering from these symptoms may not suspect they have mesothelioma or another asbestos-related disease. For example, veterans may attribute their shortness of breath or other symptoms to smoking cigarettes.
If you or a loved one was ever exposed to asbestos and suffer from these symptoms, see a doctor immediately. The sooner mesothelioma is properly diagnosed, the sooner treatments can begin to help patients live longer.