Quick Summary
The U.S. Army relied on asbestos to build bases between the 1930s and early 1980s. The Army didn't realize asbestos exposure could cause deadly cancers like mesothelioma until thousands had already been put at risk. Today, those who developed mesothelioma after working around asbestos on an Army base can pursue military veterans benefits and financial aid.
Asbestos and Army Bases Explained
The U.S. Army used asbestos-containing products on its bases for over four decades without knowing its deadly risks.
Asbestos is a cancer-causing material that was widely used on U.S. Army bases across the world. Products strengthened with asbestos could cheaply keep Army bases fireproof, durable, and well-insulated.
Army bases often used asbestos in:
Asphalt cement and shingles
Boiler rooms
Construction materials
Drywall
Electrical wiring
Gaskets
Insulation
Joint compound
Piping
Tile
The U.S. military valued this substance so much that it actually required certain asbestos products to be used on all its installations for decades.
However, the benefits of asbestos did not outweigh the dangers. Anyone exposed to asbestos materials may develop mesothelioma or other deadly diseases later in life.
Sadly, the U.S. Army was largely unaware of the risks as the makers of asbestos-based products hid the facts. This put thousands of service members at risk of mesothelioma later on in life after their service.
U.S. veterans account for 33% of all mesothelioma cases due to the widespread use of asbestos in the military. Anyone who lived on an Army base before the mid-1980s may have been exposed — especially those who worked around asbestos-based products on a regular basis.
Thousands had already been exposed before the risks of asbestos were publicly known. The U.S. Army stopped using asbestos and removed most asbestos from existing bases in the early 1980s.
Thankfully, veterans now facing mesothelioma after military service can access a number of benefits through the U.S. Department of Veterans Affairs (VA), including financial aid and treatment.
A Free Veterans Packet can help with
Treatment Options
Financial Assistance
VA Benefits
Get Your Free Veterans Packet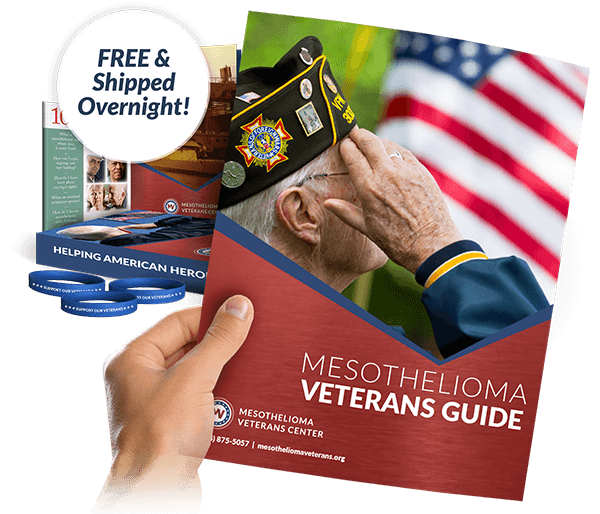 Get a FREE Veterans Packet
Get information on:
Treatment Options
Mesothelioma Specialists
Veterans Benefits
Get a Free Veterans Packet
Notable Army Bases That Used Asbestos
Fort Bragg
Built in 1918, Fort Bragg is one of the largest U.S. Army bases still in operation. Unfortunately, Fort Bragg was home to dozens of structures that contained asbestos.
Asbestos was used throughout Fort Bragg prior to the 1980s in barracks, family housing, and even fire stations.
While the Army took steps to remove asbestos in the 1980s, not all asbestos-based products were removed from Fort Bragg and other bases. This means some structures on Fort Bragg still contain this deadly material today.
In 2008, 10 Army paratroopers were exposed to asbestos while removing old tile in a storage room on Fort Bragg. The paratroopers did not get any protective equipment during their work. The U.S. Army agreed to monitor the soldiers' health moving forward to prevent and treat mesothelioma symptoms.
Fort Campbell
This Army installation is situated directly on the border of Tennessee and Kentucky. Construction on the base finished in 1942, around the time the military increased their use of asbestos for World War II.
Fort Campbell used asbestos in:
Cement pipes
Ceiling and floor tile
Felt pipe
Insulation
Roofing
Some of the asbestos-based structures built on Fort Campbell during World War II were not supposed to be permanent, yet remained in place for decades after. The Army finally started to demolish some of these structures in 2021 to safely remove asbestos and other hazardous materials.
Asbestos in Army barracks and housing on Fort Campbell also posed risks to families in the 20th century and beyond. At the turn of the millennium, over 200 families may have been exposed to asbestos during a remodeling project on one of Fort Campbell's family housing units.
Call (877) 450-8973 if you developed mesothelioma from military bases. You may qualify for VA benefits and financial aid.
Fort Hood
Located near Killeen, Texas, this is the Army's largest active-duty installation. Fort Hood was constructed in 1942 as a home for tank destroyers. The base can support two fully armored divisions.
Fort Hood used asbestos-based products like floor tiles throughout buildings and housing for its military families. It was also found in secret tunnels that led to a storage unit for atomic weapons.
Many Fort Hood buildings still contain asbestos today despite removal efforts. In 2020, families living on Fort Hood complained that mold and asbestos are still present in older homes on the base. The families filed a lawsuit against the private company that manages Fort Hood's housing.
Fort Benning
Fort Benning is located near Columbus, Georgia and was established in 1918. It was home to nearly 100,000 soldiers — and dozens of buildings laced with asbestos — during World War II. This put Army service members at risk of mesothelioma from this military base.
Sadly, many asbestos-containing buildings remained on Fort Benning up through the 1980s and beyond. Some World War II-era structures on Fort Benning still had asbestos intact as recently as 2016, but the Army ordered them to be safely demolished.
Fort Lewis (Joint Base Lewis-McChord)
Located near Tacoma, Washington, Fort Lewis dates back to 1917. Fort Lewis merged with the McChord airfield (controlled by the U.S. Air Force) in 2010.
Like many older Army bases around the country, Fort Lewis built most of its structures using asbestos-based products before the risks were well-known. Everything from Army barracks, chapels, maintenance sheds, and even libraries used this dangerous substance.
Over 100 asbestos-containing structures on the base were still standing as of 2019, when demolition began to make room for more modern structures.
Fort Knox
Located near Louisville, Kentucky, Fort Knox heavily relied on asbestos in a variety of ways. This toxic substance was used to insulate many of the structures where Army personnel would work and live. In particular, boiler rooms in Fort Knox contained a lot of asbestos insulation.
Army buildings were not the only place soldiers may have been exposed to asbestos on Fort Knox, though. A report from the 1980s noted that Fort Knox's U.S. Army Armor Center didn't do enough to control asbestos exposure among mechanics working on vehicle brakes.
Army vehicles often contained asbestos-based parts, and repair jobs could send asbestos dust flying into the air that mechanics breathed in.
Thankfully, VA benefits are available if you developed mesothelioma after serving on an Army base. See if you can file a VA claim to pursue benefits right now.