Quick Summary
Veterans, family members, and those working on Army bases may have commonly encountered asbestos in old buildings and vehicles as late as 1980.
Asbestos and Army Bases Explained
Asbestos is a cancer-causing mineral that was widely used on Army bases across the world. From the 1930s to the late 1970s, the U.S. Army used asbestos in barracks, vehicles, and weapons systems because it was a cheap and effective insulator and fire-retardant.
Asbestos is an excellent insulator and fireproofing material, but it is an extremely dangerous substance that causes many to develop mesothelioma.
The risks of asbestos weren't known to the public until around 1980, which is when the Army began implementing regulations to restrict the use of asbestos products. Anyone who lived on an Army base before 1980 may have been exposed to asbestos.
When exposed to asbestos, a person may develop mesothelioma but it will often take up to 50 years for the disease to develop. Every year, veterans and their family members are still being diagnosed with diseases caused by asbestos exposure during their service.
Even exposure to a tiny amount of asbestos can be deadly.
According to the EPA, "Up to date, no safe level of asbestos exposure has been determined, and it is generally assumed that 'zero' exposure is the level most protective of human health. Because of the small size of asbestos fibers, it is possible for the smallest to remain airborne for weeks."
For these reasons, veterans now facing mesothelioma can access a number of benefits through the U.S. Department of Veterans Affairs (VA), including financial aid and treatment.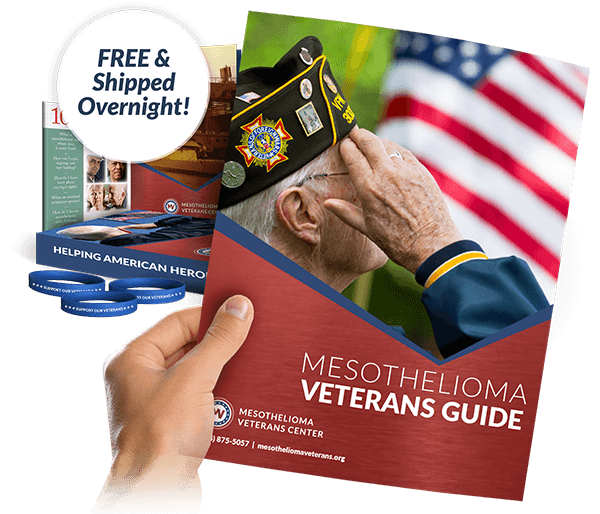 Get a FREE Veterans Packet
Get information on:
Treatment Options
Mesothelioma Specialists
Veterans Benefits
Get a Free Veterans Packet
Notable Bases
Army bases aren't simply a place for military operations. Each base is a community, and some are large enough to be considered cities in their own right. Base life consists of families, stores, schools as well as day-to-day Army functions. The largest military bases even employ thousands of civilians.
Learn more about some of the largest Army bases in the United States below.
Fort Bragg
Built in 1918, this installation has the largest population of any Army base with over 230,000 people. Over 50,000 are active-duty soldiers.
It's located in North Carolina and is home to the 82nd Airborne Division. Fort Bragg is home to 8 elementary schools and a junior and senior high school.
Fort Bragg was essential to developing airborne troop tactics that helped win WWII. The base was also critical for operations during the Cold War and the Middle East wars. Pope Field, located on Fort Bragg, is one of the largest training centers for paratroopers in the U.S.
Fort Campbell
This Army installation is situated directly on the border of Tennessee and Kentucky between Clarksville and Hopkinsville. This is another base renowned for its paratrooper division.
Fort Campbell is home to the U.S. Army Dental Corps, the 5th Special Forces, the Tennessee Valley Corps of Engineers and the famous 101st Airborne, the Screaming Eagles. The base's construction was finished in 1942 just as WWII was ramping up. In fact, the Army finished surveying the land for this base 1 month before Japan attacked Pearl Harbor.
This base has the 5th largest military population in the Army.
Fort Hood
Located in Texas, this is the Army's largest active-duty installation. The base can support 2 fully armored divisions. It was constructed in 1942 as a home for tank destroyers.
Texas was the ideal location to test the anti-tank weapons because of its huge landmass. The base is situated north of Austin and south of Waco. It's at least 50 miles out from the nearest large city.
Now Fort Hood serves as a place to mobilize National Guard and reserve troops. There are multiple children and elderly care divisions located on the base. It also has a population of more than 13,000 civilian employees and contractors.
Fort Benning
Built approximately 100 years ago, Fort Benning is located on the border of Alabama and Georgia. It's part of the "tri-community" area of Fort Benning, Phenix City and Columbus, Georgia's second-largest city. This Army base is the home to some of the most well-trained infantry in the world.
It was home to nearly 100,000 soldiers, including officers and enlisted men, during WWII. Now, there are just over 27,000 active duty personnel on base, and it is one of the main locations where soldiers attend basic training and home to thousands of families.
The base even has its own renowned schooling system for military children up to grade 8.
Joint Base Lewis-McChord
Located near Tacoma, Washington, this installation is a joint effort of the Army and Air Forces. Fort Lewis dates back to 1917 while the McChord airfield was established in 1930. However, the bases weren't merged until 2010.
As a joint base, it's one of the largest in the U.S. military with over 50,000 family members, 27,000 military members, 10,000 civilians, and over 100,000 retirees. Its location in the Pacific Northwest is a strategic benefit for deployment and humanitarian efforts.
Most of the population of Lewis-McChord is located in Fort Lewis with only several thousand living on McChord Field.
Other Notable Bases
The list above consists of some of the most well-known Army bases because they are located on U.S. soil. However, there are thousands of soldiers stationed at forts and joint bases around the world.
No matter where the Army base is located, asbestos may be a risk if the installations were built prior to 1980. Asbestos was definitely a risk prior to military regulations on the substance.
Other countries that are home to U.S. Army bases include:
Japan (84 bases)
Germany (38)
Italy (3)
Israel
Kosovo
Kuwait
South Korea