Quick Summary
As of 2014, there were more than 6 million construction workers in the U.S. construction workers are at a high risk of developing an asbestos-related illness, such as asbestosis or mesothelioma.
Mesothelioma and Construction Workers Explained
Construction workers have been exposed to asbestos for many years, and they continue to become exposed today. These individuals usually work alongside roofers, painters, drywall installers and tile installers in the construction of homes and large businesses. What all these workers have in common is their risk of exposure to asbestos as part of their jobs.
According to the Occupational Safety and Health Administration (OSHA), workers in the construction industry have one of the most dangerous occupations in the U.S. While most workers are aware of the hazards of their trade, other workers are unaware that, in doing their job, they could become exposed to dangerous substances like asbestos.
In 2012, workers in the construction industry held the greatest number of work injuries resulting in death among all other U.S. industries. Most of these deaths were caused by a fatal fall, an electrocution injury, being struck by something or getting caught between objects. While these are fairly unpreventable causes of death among construction workers, many workers are unaware of other threats they face as part of their job. This includes the inhalation or ingestion of asbestos fibers from the construction products they are working with.
A Free Veterans Packet can help with
Treatment Options
Financial Assistance
VA Benefits
Get Your Free Veterans Packet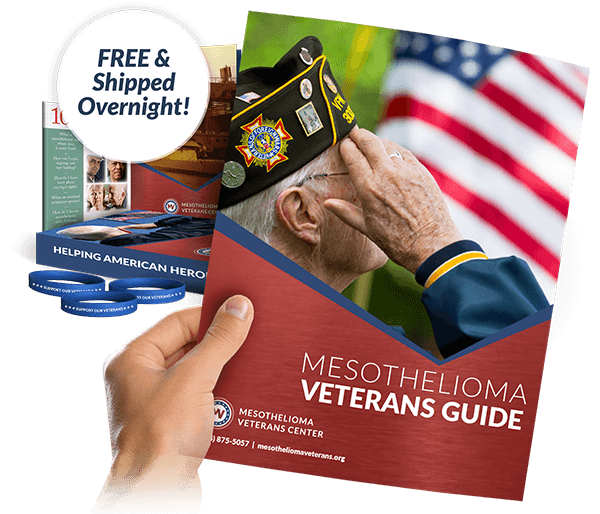 Get a FREE Veterans Packet
Get information on:
Treatment Options
Mesothelioma Specialists
Veterans Benefits
Get a Free Veterans Packet
Asbestos was desired as a construction product because it was fire retardant and provided an inexpensive way to insulate homes, businesses and ships. While it was believed to be dangerous as far back as the 1930s, the link between inhaling asbestos fibers and having mesothelioma cancer only became obvious later on. Between these two points in time, millions of workers in the construction industry were exposed to asbestos.
In fact, there is no other confirmed cause of mesothelioma cancer besides asbestos exposure. Mesothelioma is an aggressive cancer of the lining of the lungs, heart or abdomen.  It is an extremely rare condition that is only found in people who were once exposed to asbestos. The lag time between exposure to asbestos and having an asbestos-related illness can be as many as five decades.
The construction worker most susceptible to asbestos exposure are those who work with insulation or renovates older buildings. Many buildings built before 1980 were insulated with asbestos that has become friable over time. During the renovation of these areas, asbestos fibers can be inhaled or ingested by the worker, resulting in lung disease or peritoneal disease.
Fortunately, most manufacturers have stopped making building materials out of asbestos; however, asbestos has not been banned in the U.S. completely. As a result, there are plenty of older homes that still contain asbestos as part of insulating walls, electrical outlets and plumbing pipes. These contaminated areas continue to expose construction workers to asbestos every day.
Asbestos-Related Construction Occupations
There are certain construction jobs where the risk of asbestos exposure is higher than others. In fact, according to a study out of the American Journal of Respiratory and Critical Care Medicine, about 1.3 million construction workers are still being exposed to asbestos and are at risk for an asbestos-related disease. The risk is highest among demolition workers who inhale the asbestos dust when tearing down older buildings for renovation. Those who must clean up the debris left behind during the demolition process are also at a high risk of developing asbestos-related illnesses.
This isn't to say that other workers aren't at a high risk for developing diseases related to asbestos exposure. Practically every construction worker will come into regular contact with asbestos as part of their job in the construction industry.
The trades at highest risk for asbestos-related diseases include the following:
Crane operators
Carpenters
Bulldozer operators
Bricklayers
Masonry workers
Plumbers
Plasterers
Pipe fitters
Laborers
Insulation workers
Home renovators
Drywall hangers
Drywall tapers
Demolition crews
Tile Setters
Roofers
Most of these workers are usually working in the same general area at about the same time. For this reason, it takes only one person being negligent in handling an asbestos-containing product to cause potential inhalation or ingestion of asbestos to all of the other workers.
Even family members are at risk for asbestos-related illnesses when construction workers return home after work with asbestos fibers in their clothing, shoes and hair. This secondary exposure to asbestos has been known to cause mesothelioma in people who never worked in the construction industry.
Examples of High-Risk Workers
The following types of construction workers are at a high risk of developing an asbestos-related disease:
Drywall workers.  These workers are exposed to asbestos when they need to cut pieces of drywall to fit various walls. When these pieces are tacked up, the dust can drift out of the exposed areas and become inhaled by the drywall worker. Holes in drywall are sometimes patched with asbestos-containing patching substances and the sanding of drywall tape can lead to asbestos exposure.
Masons and Bricklayers.  These workers used to mix raw asbestos fibers into brick mortar and the bricks themselves. They are also responsible for cutting down bricks to fit in certain dimensions. This is when they release asbestos fibers into the air that can be inhaled or ingested. Dry mortar also contains asbestos that can be released into the air. When carpenters work in masonry, painting or carpentry activities, they inhale asbestos that is five times greater than the legal limit for asbestos exposure.
Roofers and Tile Setters.  These workers are responsible for laying down roofing tiles and floor tiles. The tiles themselves contain asbestos and they are also combined with asbestos located in the grout used between tiles. The roof tiles used to be made from asbestos, so cutting them can cause asbestos to pollute the air.
Painters.  These workers inhale asbestos particularly when they use spray paint containing aerosolized asbestos. Spackling compounds used by painters also contain asbestos. Workers that apply textured ceiling paint are also at a high risk of becoming exposed to asbestos.
Lawsuits Related to Asbestos
There have been many lawsuits on behalf of construction workers and their families who were unknowingly exposed to asbestos as part of a construction site.
If you are or were a construction worker, you may be entitled to financial compensation if you have developed an asbestos-related disease. At the very least, if you worked in the construction industry, you should be regularly screened for an asbestos-related disease, such as mesothelioma.