Quick Summary
Malignant pleural mesothelioma is a dangerous cancer that affects the lining of the lungs (pleura). Symptoms include chest pain, coughing, and shortness of breath. Malignant pleural mesothelioma patients have an average life expectancy of 1-2 years, but veterans may be able to access treatments to live longer.
Topics on this page:
What Is Pleural Mesothelioma?
Pleural mesothelioma is a rare type of cancer caused by asbestos exposure. Cancerous tumors develop in the pleura, the thin membrane that lines the chest cavity and lungs. Over time, the cancer tumors surround the lung and spread through the body, causing difficulty breathing or even worse health problems.
Malignant pleural mesothelioma is the most common type of mesothelioma, making up roughly 80% of all cases.
There is currently no cure for pleural mesothelioma and patients often have a poor life expectancy. However, treatment can help patients live longer with this cancer.
U.S. veterans should report symptoms of pleural mesothelioma — such as a persistent cough or difficulty breathing — and any history of asbestos exposure to doctors immediately. Patients will qualify for more effective treatment options if they are diagnosed early on.
A Free Veterans Packet can help with
Top Treatment
Best Doctors
Improving Prognosis
Get Your Free Veterans Packet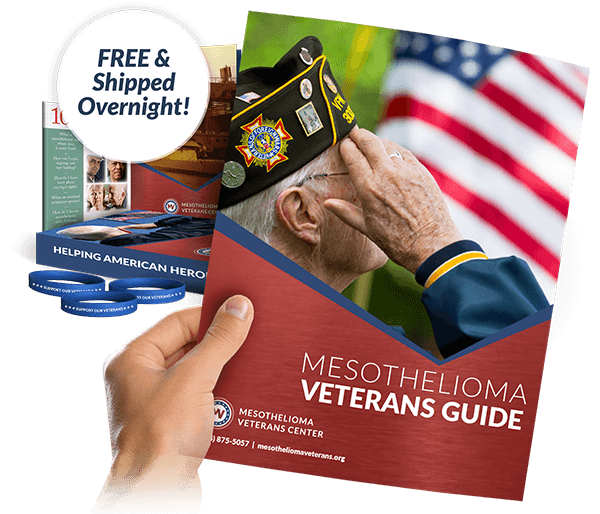 Get a FREE Veterans Packet
Get information on:
Top Treatment
Best Doctors
Improving Prognosis
Get a Free Veterans Packet
Further, veterans with mesothelioma can see if they qualify for financial compensation and benefits from the U.S. Department of Veterans Affairs (VA). These options can help ease the burdens that mesothelioma may bring and provide financial support for a veteran's loved ones.
Our team can help you file for mesothelioma VA benefits right now.
What Causes Pleural Mesothelioma in Veterans?
Asbestos exposure is the only known cause of pleural mesothelioma. Asbestos was used heavily by the U.S. military from the 1930s to the early 1980s. Thousands of veterans were exposed and are now at risk of developing mesothelioma.
Did you know?
The manufacturers of asbestos-based products sold their goods to the military without disclosing the health risks. They allowed veterans and civilians to get sick all in the name of profit.
Some veterans had a military occupational specialty (MOS) that required them to work with asbestos-containing products on a daily basis. These products could easily send microscopic fibers into the air if they were disturbed.
When asbestos fibers are inhaled, they can become trapped in the lung lining and cause prolonged irritation. This irritation can harm nearby cells and eventually cause cancerous tumors to develop.