Quick Summary
One of three main mesothelioma cell types, epithelioid mesothelioma makes up approximately 70% of all mesothelioma cases. Epithelial cells spread slower than other cell types, giving epithelioid mesothelioma patients a better prognosis and treatment options.
Topics on this page:
Looking for resources about the types of mesothelioma and treatment options?
---
What Is Epithelioid Mesothelioma?
Malignant epithelioid mesothelioma, also called epithelial mesothelioma, is the most common mesothelioma cell type. The other two main mesothelioma cell types are sarcomatoid and biphasic.
Did you know
Approximately 70% of mesothelioma cases are epithelioid mesothelioma, according to the American Society of Clinical Oncology (ASCO).
Mesothelioma, including epithelioid mesothelioma, is a rare and aggressive cancer caused by asbestos exposure. Before the 1980s, asbestos was widely used in building materials and consumer products.
Although the manufacturers of these products knew the risks of inhaling asbestos fibers, they hid that information from the public and the military.
Because the U.S. military used asbestos in its bases, ships, and vehicles, veterans have an increased risk of mesothelioma and other asbestos-related diseases. In fact, veterans make up over 30% of all cases of malignant mesothelioma.

Testimonial

"I served in the Navy for 20 years. I always knew that there was asbestos, and when I went aboard ship, that's when I found out that it was asbestos in the products. Nobody ever said anything about it being dangerous."
There is no cure for any type of
mesothelioma
, but those with epithelioid mesothelioma have
better survival rates
and more treatment options when compared to the other cell types.
A Free Veterans Packet can help with
Treatment Options
Financial Assistance
VA Benefits
Get Your Free Veterans Packet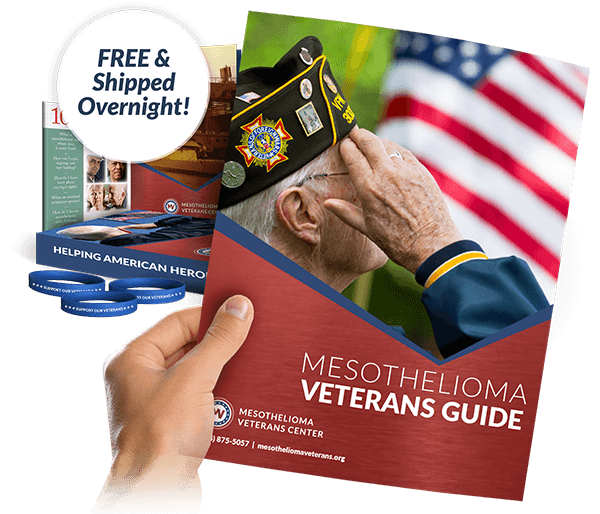 Get a FREE Veterans Packet
Get information on:
Treatment Options
Mesothelioma Specialists
Veterans Benefits
Get a Free Veterans Packet