Quick Summary
The cancer-causing material asbestos was used in all U.S. Navy ships built before 1980. Every sailor or worker who served on these ships was likely exposed to asbestos. Today, Navy veterans make up the highest percentage of patients with mesothelioma, a life-threatening cancer caused by asbestos exposure.
Topics on this page:
Understanding Asbestos Exposure on Navy Ships
Starting in the 1930s, the U.S. military began using a fibrous "miracle" mineral called asbestos in its vessels. Since asbestos was cheap, water-resistant, and a good fireproofing agent, the government mandated that all Naval vessels use it for decades.
What Navy service members didn't know is that asbestos exposure can cause the deadly cancer mesothelioma. Makers of asbestos-based products hid the health risks from the military and the public to keep profits high.
Due to widespread military asbestos use, 33% of all mesothelioma patients today are veterans. Navy veterans have the highest risk of mesothelioma since this branch used more asbestos-based products than any other.
Thankfully, VA benefits and legal options can help Navy veterans and their loved ones get compensation and medical care.
Get our Free Navy Ships Guide to learn more about asbestos on military ships and your options if exposed.
Types of Ships Where Asbestos Could Be Found
Find Out If Your Navy Ship Had Asbestos
Type of Ship:
Asbestos Used: Yes
Asbestos Equipment on Navy Ships
Asbestos was used in hundreds of products found on Navy ships, such as:
Adhesives
Bedding compounds
Cables
Caulk
Electrical wiring
Floor tiles
Gaskets
Grinders
Insulation
Packing
Paneling
Piping
Roofing and flooring tiles
Thermal materials
Tubing
Valves
Microscopic asbestos fibers were released into the air whenever these parts were installed, repaired, removed, or wore down naturally. Anyone who inhaled the fibers is at risk of developing mesothelioma 20-50 years later.
A Free Veterans Packet can help with
Treatment Options
Financial Assistance
VA Benefits
Get Your Free Veterans Packet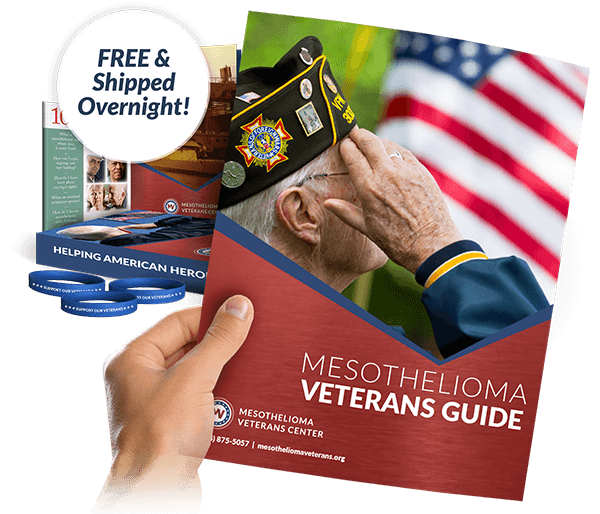 Get a FREE Veterans Packet
Get information on:
Treatment Options
Mesothelioma Specialists
Veterans Benefits
Get a Free Veterans Packet
Where Asbestos Could Be Found On Ships
Asbestos-based products could be found in engine rooms, boiler rooms, navigation rooms, mess halls, and many other parts of the ship. In places with poor ventilation like engines or boiler rooms, asbestos could linger in the air for hours.