Veterans With Mesothelioma and VA Benefits
Due to the military's widespread use of asbestos between the 1930s and early 1980s, veterans today have higher rates of mesothelioma than the general public.

Once widely used to build and repair military bases, vehicles, and ships, asbestos is now known to cause deadly diseases like mesothelioma. Makers of asbestos-based products knew these dangers for decades but hid the truth from the military and the public.
By the time the risks came to light in the early 1980s, thousands of service members had been exposed. Mesothelioma doesn't appear until 10-50 years after asbestos exposure, so veterans who served decades ago are at risk today.
Fortunately, if you're a veteran with mesothelioma, you may qualify for financial and medical benefits from the U.S. Department of Veterans Affairs (VA). We can help you access VA benefits right now.
Below, learn about top VA benefits and how to pursue them.
VA Disability Compensation
As a married mesothelioma veteran, you can get $3,946.25 or more per month with VA disability compensation as of 2024. This is the highest payout as mesothelioma has a 100% disability rating by the VA. To receive this benefit, you must have proof of diagnosis and show that your cancer is service-related.
VA Pension
You may be able to receive a VA pension if you meet certain income limits and other criteria. Most notably, your net worth must be under $155,356 as of 2024. You'll get a monthly payout based on your specific case.
Special Monthly Compensation
Special Monthly Compensation (SMC) is extra compensation awarded as part of the VA's disability compensation plan. SMC may be provided if a mesothelioma veteran has dependents or if they can't care for themselves.
Survivor Benefits
Loved ones of mesothelioma veterans can also get benefits, including monthly compensation, reimbursement for a veteran's funeral costs, and health care services. Our team can help survivors find out which benefits they qualify for.
How to File a VA Claim
Filing for VA benefits is a multi-step process. Thankfully, it's relatively easy for veterans with mesothelioma to file a claim with help from our team.
Here's how we can help you file a mesothelioma veterans VA claim:
Connect with our team: The Mesothelioma Veterans Center has VA-accredited experts and fellow veterans on staff who can walk you through the process.
Gather evidence: A VA mesothelioma veterans claim must have supporting evidence, like proof linking mesothelioma diagnosis to military service. We can collect information about your military service to prove asbestos exposure.
File the claim: You will need to fill out VA Form 21-526EZ and submit it along with the relevant evidence. The form will ask which disabilities you have and how they relate to military service. Our team can help you complete this form.
Review of the claim: Once your claim has been submitted, the VA will review it and decide if you can receive the requested benefits based on the evidence provided.
Did you know?
You can file mesothelioma VA claims at any time, as they are considered "post-service claims." However, it's best to file as soon as possible to get the benefits you need.
Get help filing for mesothelioma veterans benefits now.
Asbestos Exposure in the Military
Your risk of mesothelioma and other asbestos-related diseases depends on your military branch and the jobs you performed while serving. Those who served in certain branches and roles were exposed to more asbestos than others.
See how each branch used asbestos below.
U.S. Navy
The Navy used more asbestos-based products than any other Armed Forces branch. As a result, U.S. Navy veterans are at the highest risk of developing mesothelioma. Navy veterans were often exposed if they served on Navy ships or worked in shipyards.
Navy Ships and Shipyards
Mandates meant that all Navy ships used asbestos for decades in insulation, boilers, gaskets, and many other components. If Navy personnel worked with or near these products, stray asbestos fibers could be released and linger in the air for hours (as ships had poor air circulation).
Further, as Navy personnel built or repaired ships in shipyards, asbestos dust filled their workstations. Below, see the number of U.S. Navy shipyards per state.
U.S. Air Force
The U.S. Air Force relied on asbestos-based products like brakes, gaskets, and clutches to prevent planes from catching fire. U.S. Air Force veterans who worked as pilots and mechanics were at risk of long-term asbestos exposure. Air Force bases and vehicles also relied on asbestos.
U.S. Army
U.S. Army veterans were exposed to a variety of asbestos-containing products, including vehicle parts like brakes. Dozens of U.S. Army bases were built with asbestos, potentially exposing countless service members.
U.S. Coast Guard
The U.S. Coast Guard used asbestos to build its ships and keep them fireproof. U.S. Coast Guard veterans who worked in boiler rooms, engine rooms, and other areas aboard military ships faced long-term exposure to asbestos.
U.S. Marine Corps
Marines spent significant time in military buildings constructed with asbestos-containing materials. Further, U.S. Marine Corps veterans who served aboard Navy ships or worked in shipyards may have been exposed to high levels of asbestos.
Get our Free Veterans Packet to learn more about how each military branch used asbestos.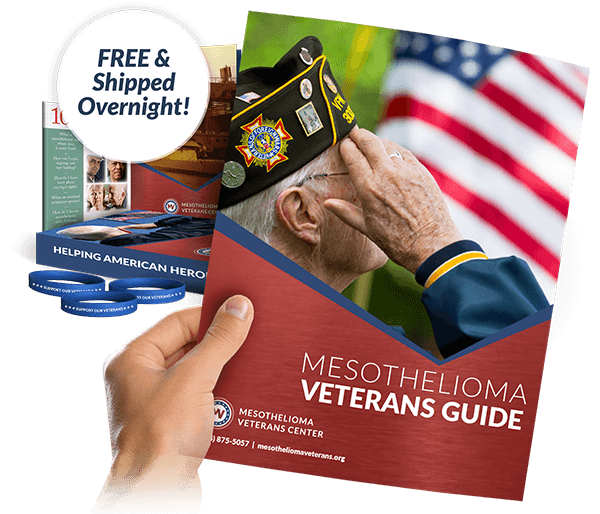 Get a FREE Veterans Packet
Get information on:
Top Treatments
Best Doctors
Improving Prognosis
Get a Free Veterans Packet
Secondary Asbestos Exposure in the Military
Families who lived on military bases were at risk of secondary asbestos exposure. Service members who worked with or around asbestos could bring home stray fibers on hair, clothing, or equipment. Family members and loved ones could then inhale the fibers.
Military Jobs With Asbestos Exposure Risk
Specific jobs came with a higher risk of military asbestos exposure than others.
Jobs with the highest risk included:
Aircraft and vehicle mechanics
Boiler operators
Construction workers
Enginemen
Hull technicians
Insulation workers
Machinist mates
Plumbers
Seabees
Shipyard workers
Service members frequently used asbestos-based products in these roles or worked in places where stray fibers could easily be inhaled.
Asbestos Exposure After Military Service
For many service members, the risk of asbestos exposure did not stop after their military careers ended. Veterans often found jobs similar to the ones they held while in the service, adding to their exposure history.
Connie's Asbestos Journey
Military Branch
Marine Corps
After serving in World War II, U.S. veteran Conrad "Connie" Bauer worked as an industrial electrician and used asbestos-based electrical products for roughly 30 years. He later developed asbestosis, an incurable lung disease, due to his exposure.
Asbestos Removal by the Military
Great efforts were taken to remove asbestos from military assets in the 1980s. However, costs and time constraints left some products behind in bases and ships.
Asbestos has been found in older military bases as recently as the early 2020s. Fortunately, the risk of asbestos exposure is low as long as the products aren't disturbed.
Veterans Mesothelioma Treatment and VA Health Care
Outside of financial benefits, veterans can access free or low-cost mesothelioma treatments and work with top doctors thanks to VA health care.
As of 2023, you can work with mesothelioma doctors in Los Angeles, Houston, or Boston if you have VA health care. The VA may also cover your travel expenses to see a mesothelioma specialist if you live far away from these locations.
Top VA mesothelioma doctors include:
Dr. Robert Cameron has decades of experience treating pleural mesothelioma patients. He treats veterans at the West Los Angeles VA Medical Center. Visit the UCLA Health website to learn more about Dr. Robert Cameron.

Dr. Lorraine Cornwell

Dr. Lorraine Cornwell treats mesothelioma veterans at the Michael E. DeBakey VA Medical Center in Texas. She leads a cancer program that works closely with Baylor College of Medicine, a leading civilian hospital, to help mesothelioma patients.
Contact our team now to get help finding top doctors treating mesothelioma veterans.
Disclaimer
The Mesothelioma Veterans Center has no affiliation with and is not endorsed or sponsored by Dr. Robert B. Cameron. The contact information above is listed for informational purposes only. You have the right to contact Dr. Cameron directly.
Voices From Mesothelioma Veterans
A mesothelioma diagnosis can be scary, but you're not alone. View inspiring stories from other courageous veterans with mesothelioma below.
Walter Twidwell
Branch: U.S. Navy
Service Years: 1954-1973
Diagnosis: Pleural Mesothelioma
Walter Twidwell served in the U.S. Navy for nearly two decades, working with asbestos as a boiler tender and fireman. Decades after his service, Walter started suffering from recurrent pneumonia and underwent testing. His doctors revealed that he had pleural mesothelioma.
"Asbestos didn't kill anybody on the spot that's for sure, but years later it started catching up with us."

— Walter, U.S. Navy veteran with mesothelioma
Walter fought the cancer courageously and took action against the manufacturers of the asbestos-based products he was exposed to. He ultimately secured a $40.1 million payout for himself and his family.
Art Putt
Branch: U.S. Army and U.S. Air Force
Service Years: 1956-62
Diagnosis: Pleural Mesothelioma
After serving in the U.S. Air Force and U.S. Army, Arthur "Art" Putt became a car mechanic, breathing in asbestos dust from repairing brakes. In 2018, after dealing with symptoms like a recurring cough, Art went in for testing and was diagnosed with mesothelioma.
Originally given just 6 months to 1 year to live, Art is still alive today thanks to treatments like chemotherapy and immunotherapy and changes to his diet.
"I would tell people to make the best of it. You can't change it. Make the best of it as you can. Get as close to the people in your family and friends as you can."

— Art Putt, U.S. Army and Air Force mesothelioma veteran
Jim Gahan
Branch: U.S. Navy
Service Years: 1973-1993
Diagnosis: Mesothelioma
Jim Gahan served in the U.S. Navy for 20 years, repairing boilers and working in engine rooms on three different ships. But this work put him in direct contact with gaskets, valves, and other products that contained asbestos.
In 2009, Jim started having respiratory issues and was diagnosed with late-stage mesothelioma. Though the diagnosis was almost unthinkable, Jim fought the cancer bravely. Originally given just months to live, he survived for over a year and a half.
"Jim did not waste time feeling sorry for himself or being resentful about something he knew he could not change. It was never a pity party for him."

— Randy Cohn, Jim's mesothelioma attorney
Accessing Veterans Mesothelioma Compensation
If you are a U.S. veteran with mesothelioma, we thank you for bravely serving our country and encourage you to pursue compensation and resources that can help.
VA benefits provide monthly compensation for your basic expenses and access to free or low-cost medical treatment. We can help you pursue all the mesothelioma veterans benefits you qualify for.
Asbestos trust fund claims allow people to access money from bankrupt manufacturers of asbestos-based products. Over $30 billion is currently in asbestos trust funds, and we can file a claim for you if you qualify.
Private claims, also known as mesothelioma lawsuits, allow veterans to pursue financial compensation from companies that made and sold asbestos-based products that didn't go bankrupt. Lawsuit settlements award an average of $1 million.
Did you know?
No legal action is taken against the government or any military branch. Further, you can file VA claims, legal claims, and asbestos trust fund claims at the same time.
Let us help you file for VA mesothelioma benefits and other forms of compensation now. Our team — including fellow veterans, patient advocates, and nursing support staff — stands by.
FAQs About Mesothelioma and Veterans
Top Question
Why do veterans have mesothelioma?
Many older U.S. veterans get mesothelioma because the military widely relied on asbestos between the 1930s and early 1980s. Asbestos is the only known cause of this cancer, but the health risks weren't widely known during that time.
Over 1,000 veterans each year are diagnosed with mesothelioma due to widespread military asbestos use.
How much compensation do you get for mesothelioma?
This depends on which compensation options a veteran pursues. Some veterans can get $3,946.25 a month or more through mesothelioma veterans benefits as of 2024, for example.
You may be able to access much more from a private mesothelioma claim, which pays out $1 million on average.
Is mesothelioma a VA disability?
Yes. Mesothelioma is a VA disability because many military veterans were exposed to asbestos while they served.
Thus, the VA awards both medical and financial payouts to mesothelioma veterans and their loved ones.
What is the VA rating for mesothelioma?
Almost all mesothelioma cases are given a 100% disability rating by the VA.
This means that mesothelioma veterans can get the most amount of disability compensation possible.
Are there time limits to file a VA mesothelioma claim?
No. VA mesothelioma claims are considered "post-service claims" since this cancer develops decades after a veteran served — and these claims can be filed at any time.
However, time is of the essence if you have mesothelioma as this cancer can severely limit your lifespan. Don't wait — see if you can file a claim today.
Are VA claims the same as mesothelioma legal claims?
No. Legal claims are filed against the manufacturers of asbestos-based products, while VA claims are filed with the U.S. Department of Veterans Affairs.
Legal claims award much more compensation than VA benefit claims typically do. Further, no branch of the military is sued when a legal claim is filed. Contact our team to learn how filing VA claims and legal claims can benefit you.
What is the VA disability rating for lung cancer?
The VA typically assigns a 100% disability rating to U.S. veterans suffering from active lung cancer. This allows these veterans to get the highest payouts available.
Like mesothelioma, lung cancer can be caused by asbestos exposure as well as exposure to other toxins that veterans may have encountered while they served.