VA Benefits for Veterans With Mesothelioma
Due to the military's widespread use of asbestos between the 1930s and early 1980s, veterans today have higher rates of mesothelioma than the general population.

Once praised for its fireproofing and insulation capabilities, asbestos is now known to cause deadly diseases like mesothelioma. Manufacturers of asbestos-based products knew these dangers for decades but hid the truth from the military and the general public.
By the time the risks of asbestos were well-known, thousands of service members had already been exposed.
Video Summary: The Mesothelioma Veterans Center was founded to help veterans access VA benefits, financial aid, and medical care after a mesothelioma diagnosis. Call (877) 450-8973 to get started. View Transcript
When someone first finds out they've been diagnosed with mesothelioma, it's a scary time and you're getting thrown a lot of information. We try to distill that information down and advocate for the veteran at no cost to them.
Veterans who served in the military between the 1930s and the 1980s were likely exposed to asbestos while they were on active duty. If a veteran believes they were exposed to asbestos while serving in the military, we encourage them to call the Mesothelioma Veterans Center so that we can work together to help them file for VA benefits.
The VA will recognize any asbestos-related disease, as long as your asbestos exposure happened while you were on active duty in the military.
In addition to VA benefits, the Mesothelioma Veterans Center can connect veterans with world-renowned physicians and nurses on staff that can answer any of your treatment questions.
Veterans with mesothelioma who were exposed while they were in the service are also entitled to private benefits as well, and we encourage veterans to call and find out how we can help them.
If you served in the military and suffer from an asbestos-related illness like mesothelioma, you may qualify for financial and medical benefits from the U.S. Department of Veterans Affairs (VA).
VA Disability Compensation
VA disability compensation is available if you're a veteran with mesothelioma. If you're a married veteran with 100% disability, you can get $3,823.89 or more per month.
To receive disability benefits, you must have proof of diagnosis (such as a note from a physician) and show that your cancer is service-related.
VA Pension
You may be able to receive a VA pension if you meet a certain income limit and other criteria.
If you served before September 8, 1980, you must have logged at least 90 days of active duty with at least one day during wartime. If you served after September 7, 1980, you must have served two full years or your full period of active duty, with at least one day of service during wartime.
To qualify, your net worth must be under $150,538 (as of December 2022).
Finally, you must meet at least one of the following VA pension requirements:
Be older than 65
Be permanently disabled
Receive Social Security Disability Insurance (SSDI) or Supplemental Security Income (SSI)
Reside in a nursing home due to your disability
To see if you qualify, reach out to our patient advocates and mesothelioma lawyers.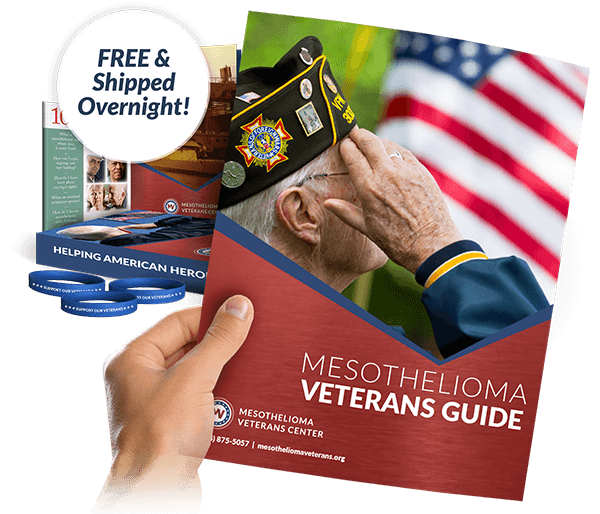 Get a FREE Veterans Packet
Get information on:
Top Treatment
Best Doctors
Improving Prognosis
Get a Free Veterans Packet
How to File a VA Claim
Filing for VA benefits is a multi-step process. Thankfully, it's relatively easy for veterans with mesothelioma to file a claim with help from our team. Find the steps to file a VA mesothelioma veterans claim below.
1. Connect With Our TeamThe Mesothelioma Veterans Center has patient advocates, fellow veterans, and skilled attorneys on staff to help you gather the information to file a VA claim.
Our team can pinpoint when and where you were exposed to asbestos while you served using data we've collected from helping other veterans.
2. Gather EvidenceA VA mesothelioma veterans claim must have evidence to support it, or it could be rejected. This evidence includes proof of a mesothelioma diagnosis and a link between the diagnosis and military service.
One key piece of evidence is known as a nexus letter. This is a letter from your doctor that says your cancer stems from military asbestos exposure. Additional evidence could be service records or information showing you were exposed to asbestos-based products while you served.
"The nexus letter is important. If you can provide it when you initially apply, it makes the VA's job a lot easier."

— Eric Hall, Capt. RIANG & VA-Accredited Attorney
3. File the ClaimOnce the proper information has been gathered, you will need to fill out VA Form 21-526EZ. This claim can be filed in person, online, or by mail. The form will ask which disabilities you have and how they relate to military service.
After the form has been filled out and its supporting evidence has been collected, you are ready to file your mesothelioma veterans claim with the VA.
4. Review of the ClaimOnce the claim has been submitted, the VA will review it and then decide if you can collect the benefits you requested based on the evidence provided.
The VA may award the benefits, or they may ask you to submit more information. In some cases, the VA may deny a veteran from getting VA benefits. In this case, an appeal can be filed to try and overturn the decision.
It typically takes the VA several months to make a decision on a claim. To speed up the process, a senator or congressperson can be contacted. This can be very helpful considering mesothelioma is a fast-moving cancer, and every day counts.
Asbestos Exposure in the Military
Your risk of mesothelioma and other asbestos-related diseases depends on your military branch and the jobs you held while serving. Those who served in certain branches and roles were exposed to more asbestos than others. See how each branch used asbestos below.
U.S. Navy
The Navy used more asbestos-based products than any other Armed Forces branch. As a result, U.S. Navy veterans represent the largest group of service members diagnosed with mesothelioma.
Navy veterans were often exposed to asbestos if they served on navy ships or worked in shipyards.
Navy Ships & Shipyards
Starting in the 1930s, the government mandated that the Navy build all Navy ships with asbestos as a fireproofing substance. Most ships had poor air circulation, so stray asbestos fibers could linger in the air for hours and be inhaled unknowingly by service members.
Veterans who worked in Navy shipyards also had a high risk of asbestos exposure. Navy vessels were built, repaired, and dismantled in shipyards. These activities sent asbestos fibers flying into the air, allowing service members to inhale the fibers.
Below, see the number of U.S. Navy shipyards per state.
U.S. Coast Guard
The Coast Guard also used an abundance of asbestos to build its vessels. The Coast Guard used asbestos to fireproof its ships.
U.S. Coast Guard veterans who worked in boiler rooms, engine rooms, and other areas aboard military ships faced long-term exposure to asbestos.
U.S. Air Force
The Air Force relied on asbestos-based products to prevent planes from catching on fire. U.S. Air Force veterans who worked as pilots and mechanics were at risk of long-term asbestos exposure.
Asbestos could be found aboard Air Force planes in:
Brakes
Cockpits
Clutches
Electrical wiring
Engines
Gaskets
Insulation
Valves
Air Force bases and vehicles like trucks also contained large amounts of asbestos.
U.S. Army
Asbestos-containing products used by U.S. Army veterans include vehicle parts like brakes and the construction materials used to make bases (such as cement and paint).
Asbestos exposure is still a risk for some soldiers serving overseas today as well.
"Asbestos is a material that was once used in many buildings and products. If you served in Iraq or other countries in the Middle East and Southeast Asia, you may have had contact with asbestos when old buildings got damaged, releasing toxic chemicals into the air."

– U.S. Department of Veterans Affairs (VA)
U.S. Marine Corps
Marines spent a lot of time in buildings constructed with asbestos. They also served on battlegrounds where buildings containing asbestos products were destroyed, which released asbestos fibers into the air.
Further, U.S. Marine Corps veterans who served aboard Navy ships or worked in shipyards may have been exposed to high levels of asbestos.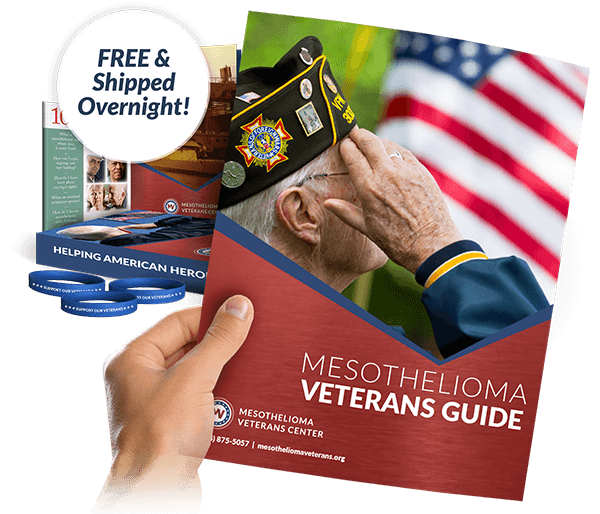 Get a FREE Veterans Packet
Get information on:
Top Treatment
Best Doctors
Improving Prognosis
Get a Free Veterans Packet
Secondary Asbestos Exposure in the Military
You didn't need to work directly with asbestos to be put in danger — families who lived on military bases may also have been at risk of secondary asbestos exposure.
Service members that worked around asbestos unknowingly brought home stray fibers on their hair, clothing, or equipment. The fibers could then be inhaled by family members and loved ones.
Military Jobs With Asbestos Exposure Risk
Specific jobs came with a higher risk of military asbestos exposure than others. Service members frequently used asbestos-based products in these roles or worked in places where stray fibers could easily be inhaled.
Some jobs with the highest risk included:
Aircraft and vehicle mechanics
Boiler operators
Carpenters
Construction workers
Demolition specialists
Enginemen
Floor and roof installers
Heating system workers
Hull technicians
Insulation workers
Machinist mates
Plumbers
Seabees
Shipfitters/pipefitters
Shipyard workers
Welders
That said, even service members who did not hold a high-risk job may have been exposed to asbestos through secondhand exposure or by inhaling fibers lingering in the air after a day's work.
Asbestos Exposure After Military Service
For many service members, the risk of asbestos exposure did not stop after their military careers ended. Veterans often found jobs similar to the ones they held while in the service, adding to their exposure history.
Connie's Mesothelioma Journey
Military Branch
Marine Corps
After serving in World War II, veteran and hero Conrad "Connie" Bauer worked as an industrial electrician, using asbestos-based electrical products for roughly 30 years. He later developed asbestosis, an incurable lung disease, due to his post-military exposure.
Asbestos Removal by the Military
Although the military no longer uses asbestos during the construction of new bases, vehicles, planes, or ships, many buildings and ships built before the 1980s still contain asbestos.
While the military went to great lengths to remove asbestos in the 1980s, some products were left behind due to costs and time constraints.
"During my twilight tour in the Navy as the Executive Officer at a shore duty installation, our building underwent a major overhaul. However, before work could begin, the contractor had to have much of the building tested for asbestos. I was floored when I received the report that showed that our building had asbestos in the floor tiles, drywall, joint compounds, heating system, and even in the window caulk. And this was as recent as 2008."

– Retired Senior Veteran
Fortunately, the risk of asbestos exposure from older structures is low if the material is left undisturbed. Recent efforts to remove and replace asbestos may, however, reintroduce this decades-old hazard if not handled properly.
If you or a loved one was diagnosed with an asbestos-related disease after serving our country, our Free Veterans Packet can help.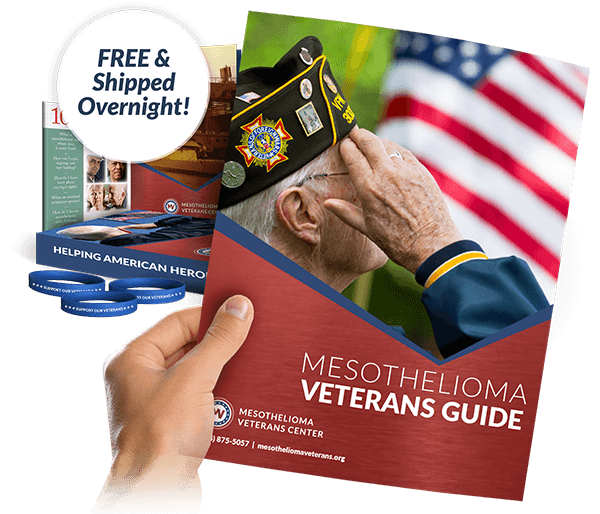 Get a FREE Veterans Packet
Get information on:
Top Treatment
Best Doctors
Improving Prognosis
Get a Free Veterans Packet
Veterans Mesothelioma Treatment
Outside of financial benefits, veterans may be able to access top mesothelioma treatments and work with specialists through the VA. Learn more about getting treatment for mesothelioma.
VA Health Care System
Through VA health care, you can receive free or low-cost medical treatment from some of the world's top doctors at VA mesothelioma cancer centers.
As of 2023, you can work with mesothelioma doctors from Los Angeles or Boston if you have VA health care. The VA may also cover your travel expenses to see a mesothelioma specialist if you live far away from these locations.
Top VA mesothelioma doctors include:
Dr. Robert Cameron has decades of experience treating pleural mesothelioma patients. Today he treats veterans at the West Los Angeles VA Medical Center. Visit the UCLA Health website to learn more about Dr. Robert Cameron.

Dr. Lorraine Cornwell

Dr. Lorraine Cornwell treats mesothelioma veterans at the Michael E. DeBakey VA Medical Center in Texas. She leads a cancer program that works closely with Baylor College of Medicine, a leading civilian hospital, to help mesothelioma patients.
Disclaimer
The Mesothelioma Veterans Center has no affiliation with and is not endorsed or sponsored by Dr. Robert B. Cameron. The contact information above is listed for informational purposes only. You have the right to contact Dr. Cameron directly.
Accessing Veterans Mesothelioma Compensation
If you are a U.S. veteran, we thank you for bravely serving our country and encourage you to pursue VA benefits for mesothelioma.
Whether you need aid and attendance from a caregiver, monthly disability compensation to make ends meet, or medical treatment for mesothelioma, VA benefits can be very helpful.
You can also explore legal options like mesothelioma legal claims or asbestos trust fund claims to potentially get more money.
Asbestos trust fund claims allow people to access money from bankrupt manufacturers of asbestos-based products instead of filing a lawsuit. Over $30 billion is currently in asbestos trust funds today.
Legal claims, also known as mesothelioma lawsuits, allow veterans to pursue financial compensation from companies that made and sold asbestos-based products that didn't go bankrupt. Lawsuit settlements award an average of $1 million.
Did you know?
No legal action is taken against the government or any military branch. Further, you can file VA claims, legal claims, and asbestos trust fund claims simultaneously.
Let us help you file for VA mesothelioma benefits and other forms of compensation today. Our team — including fellow veterans, patient advocates, and nursing support staff — is standing by.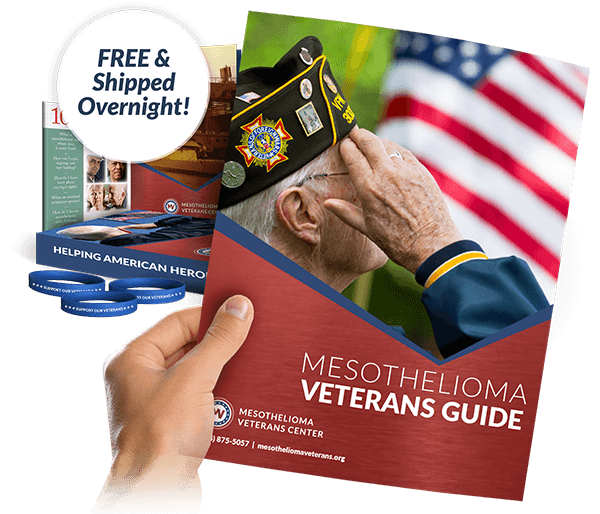 Get a FREE Veterans Packet
Get information on:
Top Treatment
Best Doctors
Improving Prognosis
Get a Free Veterans Packet
FAQs About Mesothelioma and Veterans
Top Question
How many veterans have mesothelioma?
Over 1,000 veterans are diagnosed with mesothelioma each year. There are 3,000 mesothelioma cases diagnosed annually, and veterans account for 33% of all cases due to widespread military asbestos use.
Who can file a mesothelioma VA claim?
Veterans with mesothelioma can file a VA claim and pursue benefits. In some cases, family members of the affected veteran may also be able to file a claim on their behalf.
Additionally, certain benefits like disability and indemnity compensation (DIC) can pass on to surviving spouses if a veteran with mesothelioma passes away.
What do I need in order to file for VA mesothelioma benefits?
To file a veterans benefits claim, you'll need information that shows:
You served in the military when asbestos was widely used
You used or worked around asbestos-containing products in your military role
Medical records and documents showing you were diagnosed with mesothelioma
While you may not have this information readily available, our team of Patient Advocates can help you gather all the necessary documents and forms and file your VA benefits claim.
Are there time limits to file a VA mesothelioma claim?
No. VA mesothelioma claims are considered "post-service claims" since this cancer develops decades after a veteran served — and these claims can be filed at any time.
However, time is particularly of the essence if you have mesothelioma as this cancer can severely limit your lifespan. Don't wait — see if you can file a claim today.
Are VA claims the same as mesothelioma legal claims?
No. Legal claims are filed against the manufacturers of asbestos-based products that are still in business, while VA claims are filed with the U.S. Department of Veterans Affairs.
Legal claims award much more compensation than VA benefit claims typically do. Further, no branch of the military is sued when a legal claim is filed.
Speak to a member of our team to see how filing VA claims and legal claims can benefit you.
Will having private insurance affect my ability to get mesothelioma VA benefits?
No. You can still access VA compensation and other benefits, even if you don't use VA health care for mesothelioma treatment.
Reach out to our team at (877) 450-8973 if you have any other questions about mesothelioma or VA benefits.