Quick Summary
The men and women who volunteered to serve their country knew they were putting their lives at risk in the defense of their nation. What they didn't know was that up until the 1980s, each branch of the military was using the deadly substance asbestos, the only known cause of mesothelioma. Veterans today have more resources than ever to help them get treatment and compensation.
Mesothelioma Diagnoses in Veterans
Hundreds of thousands of military members were exposed to asbestos during their service, causing high rates of mesothelioma among veterans.
1 out of 3
Mesothelioma Patients is a
veteran
Mesothelioma symptoms don't appear until 20-50 years after a person has been exposed to asbestos, meaning veterans who served during every era up until the 1980s are at risk today.
The U.S. military used asbestos heavily because it was cheap and because of its fire-retardant and insulating properties. However, manufacturers of asbestos-containing products hid this information from the government to continue selling their products.
Did you know
It wasn't until asbestos-related lawsuits emerged in the 1970s that consumers became aware of the serious health risks of asbestos. 
When OSHA began implementing limits on asbestos exposure, protective equipment like respirators became standard. The military also systematically phased out asbestos and replaced asbestos-containing materials with safe products.
However, it was virtually impossible to eliminate all asbestos in the military, as it was used too widely. Not to mention, by this time, many of the brave men and women who served our country were already put at risk of developing the deadly disease mesothelioma.
If you're a veteran with mesothelioma, we can help. The U.S. Department of Veterans Affairs (VA) has financial benefits and some of the best mesothelioma doctors in the country. Our VA-accredited claims agents can process your claim and help you get the most out of your well-deserved VA benefits.
Get started on your claim now.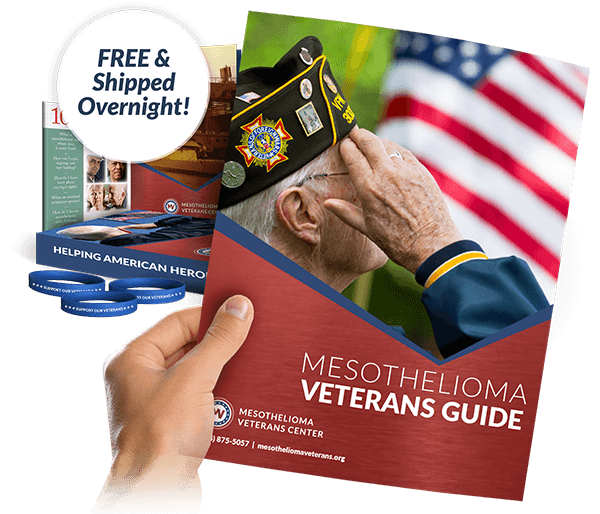 Get a FREE Veterans Packet
Get information on:
Treatment Options
Mesothelioma Specialists
Veterans Benefits
Get a Free Veterans Packet
Quick Facts About Veterans With Mesothelioma
Asbestos was used in every military branch from the 1930s to the early 1980s.
The U.S. Navy used the highest rate of asbestos for use on almost all of its ships.
Eligible veterans can qualify for mesothelioma VA benefits including compensation and free treatments.
The VA Health Care System has some of the top mesothelioma specialists available.
The Mesothelioma Veterans Center can help veterans start their claims and receive compensation.