Quick Summary
Specialized mesothelioma cancer centers have the best doctors and treatment options available for patients with this rare disease. Veterans with mesothelioma can seek treatments from civilian hospitals or cancer centers operated by the VA. Some of the top facilities treating mesothelioma in the United States include Brigham and Women's Hospital and the West Los Angeles VA Medical Center.
Why Seek Treatment at a Mesothelioma Cancer Center?
Choosing the right medical center after a mesothelioma diagnosis is an important decision. Because the cancer is so rare and aggressive, your best chance of reaching long-term survival is by getting care at a facility that treats it regularly. Doctors at general cancer centers may not have the experience or resources needed to properly treat you.
Fortunately, there are several major hospitals located throughout the United States that treat mesothelioma and other asbestos-related diseases.
These facilities are home to:
Mesothelioma surgeons
Pathologists
Radiation oncologists
Social workers
All of these professionals — and more — work together to develop the most effective treatment plan in your case, factoring in what type and stage of mesothelioma you have.
Your decision of which mesothelioma cancer center to attend depends on where you are located in the United States and if you are a U.S. veteran. Veterans with mesothelioma can often access care from medical centers within the U.S. Department of Veterans Affairs (VA), which are not open to civilians.
Find your local Mesothelioma Treatment Center
Alabama
Alaska
Arizona
Arkansas
California
Colorado
Connecticut
Delaware
Florida
Georgia
Hawaii
Idaho
Illinois
Indiana
Iowa
Kansas
Kentucky
Louisiana
Maine
Maryland
Massachusetts
Michigan
Minnesota
Mississippi
Missouri
Montana
Nebraska
Nevada
New Hampshire
New Jersey
New Mexico
New York
North Carolina
North Dakota
Ohio
Oklahoma
Oregon
Pennsylvania
Rhode Island
South Carolina
South Dakota
Tennessee
Texas
Utah
Vermont
Virginia
Washington
Washington DC
West Virginia
Wisconsin
Wyoming
We found mesothelioma treatment centers in .
Need help getting connected? Contact us at (877) 450-8973 today.
Connect with a Mesothelioma Specialist
Secure Submission
VA Cancer Centers for Veterans With Mesothelioma
As of 2020, there are three mesothelioma cancer treatment centers within the VA Health Care System. These centers only care for mesothelioma patients who developed mesothelioma after being exposed to asbestos in the U.S. Armed Forces.
West Los Angeles VA Medical Center
The West Los Angeles VA Medical Center has treated veterans with pleural mesothelioma since 1998. It is the largest hospital in the VA that treats mesothelioma patients and is part of the Greater Los Angeles Health Care System.
Dr. Robert Cameron, one of the world's top mesothelioma doctors, leads the mesothelioma program at this facility. Dr. Cameron developed a groundbreaking surgery for mesothelioma called the pleurectomy with decortication (P/D).
Unlike other mesothelioma surgeries, a P/D does not remove the lung closest to the cancer tumors, helping to preserve quality of life.
Other treatment options at the West Los Angeles VA include:
Chemotherapy
Immunotherapy
Radiation therapy
New treatments through clinical trials
This cancer center treats numerous patients with mesothelioma each year and offers housing and transportation programs for veterans that don't live near the Los Angeles area.
The VA Greater Los Angeles Healthcare System is accredited by the Joint Commission, which certifies thousands of health care programs and organizations in the United States.
Being accredited means that the facility has met the highest quality standards in health care and is a symbol of excellence in medical treatment.
Visit the UCLA Health website to learn more about Dr. Robert Cameron.
Disclaimer
The Mesothelioma Veterans Center has no affiliation with and is not endorsed or sponsored by Dr. Robert B. Cameron. The contact information above is listed for informational purposes only. You have the right to contact Dr. Cameron directly.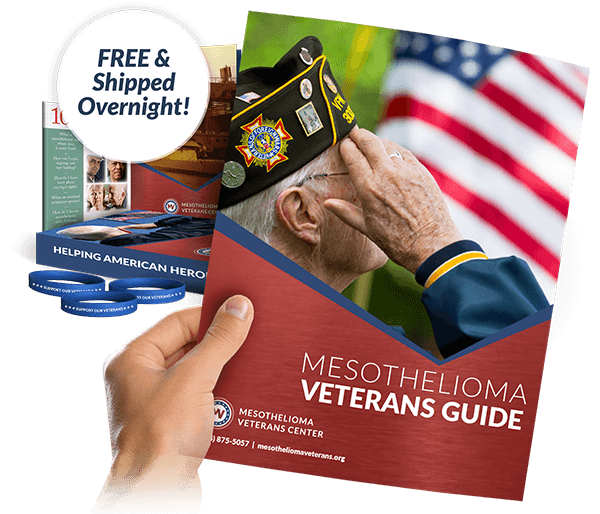 Get a FREE Veterans Packet
Get information on:
Treatment Options
Mesothelioma Specialists
Veterans Benefits
Get a Free Veterans Packet
Boston VA Hospital
The Boston VA Hospital is partnered with the Brigham and Women's Hospital in Boston, one of the leading civilian mesothelioma treatment centers.
Thoracic surgeon Dr. Abraham "Avi" Lebenthal leads the mesothelioma treatment program at the Boston VA Hospital. Dr. Lebenthal deeply understands the health concerns veterans face since he is a veteran himself, serving for nearly 20 years in Israel's army.
The Boston VA Hospital treats hundreds of pleural mesothelioma patients each year using surgeries such as the P/D and the extrapleural pneumonectomy (EPP).
It also offers clinical trials that have the potential to prolong the lives of U.S. veterans suffering from mesothelioma.
Michael E. DeBakey VA Medical Center
Located in Houston, Texas, the Michael E. DeBakey VA Medical Center began treating mesothelioma patients in 2019. Mesothelioma specialist Dr. Taylor Ripley of Houston's Baylor College of Medicine partnered with VA doctors to found this program.
"Fortunately, the work we're doing with the VA as we ramp up and start to see more and more patients with mesothelioma in Houston has the Baylor program right across the street to support that as it grows."

– Dr. Taylor Ripley, Mesothelioma Specialist
The Michael E. DeBakey VA Medical Center is currently the only VA hospital that offers treatment for peritoneal mesothelioma, under the direction of Dr. Eugene A. Choi. Treatment for pleural mesothelioma is also available.