Quick Summary
For individuals suffering from mesothelioma, it isn't enough to just go to your nearby hospital for medical care. You will need to find a doctor with expertise in the management of mesothelioma patients, as well as a healthcare facility that is familiar with caring for patients with mesothelioma.
Choosing The Right Mesothelioma Cancer Center
There are several major cancer hospitals located throughout the United States that care for mesothelioma patients and those who have been exposed to asbestos-related diseases. These facilities are home to mesothelioma specialists, such as mesothelioma surgeons and oncologists, as well as other healthcare professionals who are experienced in managing this rare and complex disease.
Choosing the right cancer hospital and treatment facility to manage your mesothelioma is an important decision. While most hospitals have specialists in cancer treatment, few have specialists that are known to care for mesothelioma patients all the time.
Your decision of which mesothelioma cancer center to attend depends mostly on where you are located in the United States and whether or not you are a U.S. veteran. Some mesothelioma centers care for anyone with mesothelioma, while others are V.A. medical centers. These centers only care for mesothelioma patients who were exposed to asbestos while serving in the U.S. Armed Forces.
Find your local Mesothelioma Treatment Center
Alabama
Alaska
Arizona
Arkansas
California
Colorado
Connecticut
Delaware
Florida
Georgia
Hawaii
Idaho
Illinois
Indiana
Iowa
Kansas
Kentucky
Louisiana
Maine
Maryland
Massachusetts
Michigan
Minnesota
Mississippi
Missouri
Montana
Nebraska
Nevada
New Hampshire
New Jersey
New Mexico
New York
North Carolina
North Dakota
Ohio
Oklahoma
Oregon
Pennsylvania
Rhode Island
South Carolina
South Dakota
Tennessee
Texas
Utah
Vermont
Virginia
Washington
Washington DC
West Virginia
Wisconsin
Wyoming
We found mesothelioma treatment centers in .
Need help getting connected? Contact us at (877) 450-8973 today.
Connect with a Mesothelioma Specialist
Secure Submission
Here are some hospitals known for their expertise in mesothelioma that are worth considering:
Brigham and Women's Hospital
Brigham and Women's Hospital is one of the oldest hospitals in the U.S., having first opened its doors in 1832. It is located in Boston, Massachusetts and houses world-renowned specialists known for their management of patients with mesothelioma. This is a cancer center that caters to the public, so anyone with mesothelioma can attend this world-class facility with confidence that their mesothelioma will be treated by staff — including surgeons, oncologists, radiation therapists and other healthcare personnel — who are skilled in caring for mesothelioma patients.
The Brigham and Women's Hospital is closely partnered with the Dana Farber Cancer Institute and the Harvard Medical School and it is known throughout the country as a facility that carries an emphasis on the treatment of mesothelioma patients, as well as patients suffering from asbestos-related lung conditions. This is a facility that is home to the world-class International Mesothelioma Program (IMP), which offers the latest in treatments for pleural mesothelioma. Patients with this disease can be confident that their mesothelioma will be treated with cutting edge techniques that have been found to significantly prolong the lives of those suffering from this disease.
Brigham and Women's Hospital cares for mesothelioma patients from all over the country and they offer housing facilities for patients with mesothelioma and their families. This way, you can get the treatment you need without having to worry about things such as housing or transportation.
The International Mesothelioma Program at the Brigham and Women's Hospital treats hundreds of patients with mesothelioma and was founded by the late Dr. David Sugarbaker, who was internationally known for his work in mesothelioma. He pioneered the extrapleural pneumonectomy (EPP) surgery, which is used as part of the surgical management for patients with pleural mesothelioma.
Some of the clinical trials you may have access to at this facility are:
A new method for determining the stage and prognosis of individuals with malignant pleural mesothelioma
A pre-surgery drug (defactinib) study for patients with malignant pleural mesothelioma
A study aimed to provide a better understanding of the coagulation profile of mesothelioma patients for future surgeries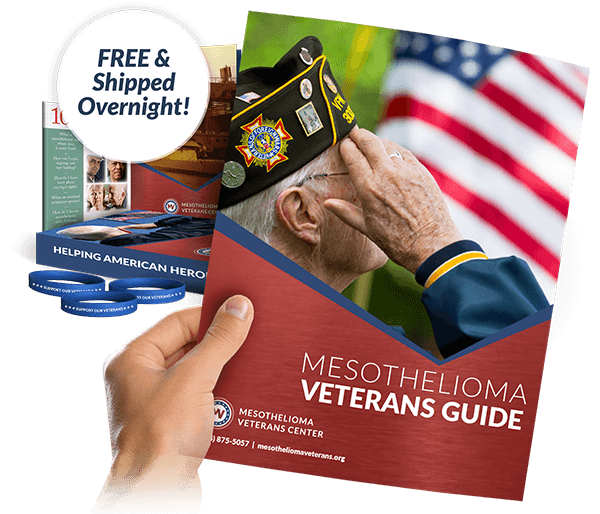 Get a FREE Veterans Packet
Get information on:
Treatment Options
Mesothelioma Specialists
Veterans Benefits
Get a Free Veterans Packet
Mayo Clinic
Located in Rochester, Minnesota, the Mayo Clinic sees patients with mesothelioma throughout the world and offers housing and transportation programs for patients needing care.
The Mayo Clinic is one of the most well-known facilities for the treatment of a variety of patients, including those with mesothelioma. Not only do they have specialists in the care of mesothelioma, but the Mayo Clinic is also a research facility that offers patients with mesothelioma a chance to participate in clinical trials that could improve their condition.
Some of the clinical trials you may have access to at this facility are:
The Intrapleural Cryotherapy for Malignant Pleural Mesothelioma Study
The Study of Performing Surgery for Resectable Pleural Mesothelioma after Radiation Therapy
Intrapleural Measles Virus Therapy in Patients with Malignant Pleural Mesothelioma
The Study of Response Rate and Survival from Combined Chemotherapy
Surgery and Radiation Therapy for Patients with Malignant Mesothelioma
Boston VA Hospital
The Boston VA Hospital is partnered with the Brigham and Women's Hospital in Boston, Massachusetts. They care for veterans who are suffering from mesothelioma as a result of being exposed to mesothelioma while a member of the U.S. Armed Forces.
The Boston VA Hospital treats hundreds of veterans with mesothelioma each year and is home to world-renowned Mesothelioma Specialists. Adhering to the highest quality of standards, the Boston VA Hospital is one of the few VA-connected mesothelioma facilities, which makes it a good choice for those who have mesothelioma who are also U.S. veterans.
The hospital is a world leader in Mesothelioma Treatments and participates in clinical trials that have the potential to prolong the lives of U.S. veterans suffering from mesothelioma.
West Los Angeles VA Medical Center
The West Los Angeles VA Medical Center is home to the largest healthcare system within the Department of Veterans Affairs. They treat numerous patients with mesothelioma each year and offer housing and transportation programs for veterans with mesothelioma that don't live near the Los Angeles area.
The VA Greater Los Angeles Healthcare System is accredited by the Joint Commission, which certifies thousands of healthcare programs and organizations in the United States. Being accredited means that the facility has met the highest quality standards in healthcare and is a symbol of excellence in medical treatment.
Veterans with mesothelioma can be treated by healthcare professionals at the West Los Angeles VA Medical Center that are skilled in the latest Mesothelioma Treatments. They can also have access to clinical research for mesothelioma. This means that veterans with mesothelioma may be able to participate in a clinical trial that could provide a treatment method that ultimately improves the quality of life for those who participate.
UCLA Jonsson Comprehensive Cancer Center
Located in Los Angeles, the Jonsson Comprehensive Cancer Center was founded in the late 1960s. It is among one of the biggest cancer centers in the United States. The center's staff of 500 doctors and researchers works alongside over 20,000 patients each year.
The Jonsson Comprehensive Cancer Center focuses on:
Clinical trials and research
Experimental cancer treatments
Standard cancer treatment methods
The center is internationally known for its breakthroughs in treating cancers — including mesothelioma. It is one of just 47 cancer centers recognized by the National Cancer Institute (NCI) as providing comprehensive care to patients. It was first recognized in 1976 and has maintained this status ever since.
The Jonsson Comprehensive Cancer Center treats both veterans and non-veterans. The facility upholds the highest standards as it helps patients and researches new treatment methods.
Ronald Reagan UCLA Medical Center
The Ronald Reagan UCLA Medical Center was founded in 1955 and is highly regarded across the nation. It was ranked the 7th best hospital in the nation by U.S. News & Report in 2019 and was also ranked as the best hospital in Los Angeles.
This center has been treating mesothelioma patients since 1997 and employs some of the best mesothelioma doctors. Among them is Dr. Robert B. Cameron, who serves as the director of comprehensive mesothelioma care.
Under Dr. Cameron's guidance, the center focuses on lung-sparing surgery to treat mesothelioma patients. Through years of research, Dr. Cameron developed a breakthrough surgery called the pleurectomy with decortication procedure (P/D). This surgery removes the lining of the lung (pleurectomy) and any visible tumors (decortication), but leaves the lung itself intact. By not removing the lung, patients have a better chance of long-term recovery.
Visit the UCLA Health website to learn more about Dr. Robert Cameron.
Disclaimer
The Mesothelioma Veterans Center has no affiliation with and is not endorsed or sponsored by Dr. Robert B. Cameron. The contact information above is listed for informational purposes only. You have the right to contact Dr. Cameron directly.
The mesothelioma treatment program also uses consistent therapies to slow the cancer. The combination of surgery and follow-up treatment helps patients live longer without suffering from serious side effects.
MedStar Washington Hospital Center
The MedStar Washington Hospital Center is located in Washington D.C. This facility employs some of the top cancer experts currently practicing and has several different cancer-related branches.
These branches include the Washington Cancer Institute and the Center for Gastrointestinal Malignancies. Both of these facilities seek to treat cancer as safely and effectively as possible. The facilities' nurses and staff provide the support and expertise needed to help patients during this difficult time.
A key link between both branches is Dr. Paul Sugarbaker, who is internationally renowned for his mesothelioma treatment. Dr. Sugarbaker previously served as the medical director for the Washington Cancer Institute and currently spearheads the Center for Gastrointestinal Malignancies.
Today, these cancer facilities focus on treating peritoneal mesothelioma patients. The main form of treatment is Dr. Sugarbaker's cytoreductive surgery with HIPEC. This surgery removes all visible tumors and then bathes the affected area in heated cancer-killing drugs.
With this technique, 60% of patients survive at least 5 years after surgery. The facilities also have clinical trials available, giving patients other options outside of standard mesothelioma treatments.