Quick Summary
The Boston VA Hospital is a center of excellence in the treatment of veterans with mesothelioma, an extremely rare form of cancer that affects only about 3,000 U.S. citizens per year. Many mesothelioma patients are veterans who were exposed to asbestos as part of their service in the U.S. military.
Because mesothelioma is so rare, many general oncologists have likely not seen many cases of mesothelioma and do not know the latest research protocols involved in caring for these types of patients.
Only a recognized mesothelioma hospital, such as the Boston VA Hospital (also known as the VA Boston Healthcare System) in Massachusetts has the staff and expertise to treat veterans who have developed mesothelioma. Its thoracic oncology team is dedicated to treating this rare cancer.
In too many situations, patients with mesothelioma are initially misdiagnosed and treated for the wrong disease before finally being diagnosed with mesothelioma. At that point in time, the disease has likely already advanced, making the treatment options limited.
Thankfully, the U.S. Department of Veterans Affairs (VA) has several mesothelioma doctors available to treat veterans with this cancer. One of these doctors, Dr. Avi Lebenthal, offers inpatient treatment, medical advice, and health services at the VA Boston Healthcare System.
If you are a veteran diagnosed with mesothelioma, it is important to get in touch with a VA medical center that has treated patients with mesothelioma so that the latest research protocols for the treatment of the disease can be implemented.
The Boston VA Hospital offers experienced, passionate doctors and other health care professionals who can begin a treatment regimen that can best treat mesothelioma. This will improve the quality of your life, as well as extending the length of your life.
The VA Medical Center employs a multimodal approach to the treatment of mesothelioma, using treatment strategies such as surgery, radiation therapy, and chemotherapy.
These are based on the latest research regarding mesothelioma. This condition is often treated differently from other cancers, so you'll want to be treated by physicians at medical centers that have experience in the multimodal approaches that work the best in treating mesothelioma cancer.
The VA Boston Health Care System is also a close partner with some of New England's premier medical colleges, such as Boston University School of Medicine and Harvard Medical School.
Improving Your Prognosis at Boston VA Hospital
Just ten years ago, the life expectancy for patients with mesothelioma was only 6 to 12 months in length.  With the specialized therapies given at the Boston VA Hospital, patients with mesothelioma can expect to live much longer than that, especially if the disease has been caught in its earliest stages.
In fact, there are many patients with mesothelioma who are living more than five years after being diagnosed with the disease. At specialty centers such as the Boston VA Hospital, it isn't unheard of to have patients living longer than ten years with minimal disability.
While there is not yet a cure for mesothelioma, specialists at the Boston VA Hospital have begun to treat mesothelioma as a chronic disease with life expectancies far beyond what was accepted just a few years ago.
About a third of cases of malignant Pleural Mesothelioma are veterans who had been exposed to asbestos while they served in the military. Many of these patients are treated at VA medical centers, such as the Boston VA Hospital.
Among veteran's hospitals, the Boston VA Hospital has distinguished itself as a national center for the treatment of patients with malignant pleural mesothelioma, as well as the other variants of mesothelioma, such as peritoneal mesothelioma and pericardial mesothelioma.
When veterans are initially diagnosed with mesothelioma in its' early or locally advanced stages, surgery is one of the initial options given in order to prolong life expectancies.
Only a few surgical centers have the expertise in mesothelioma surgeries, such as the extrapleural pneumonectomy (EPP) procedure and the radical pleurectomy and decortication (P/D) procedure. The Boston VA Health Care System is one of the best places to have these types of procedures performed, where they are conducted on a regular basis.
Specialties and Treatment
The Boston VA Hospital is recognized throughout the country as one of the nation's leaders in the management of pleural mesothelioma. They provide easily accessible treatment for veterans with minimal copays by utilizing the VA's health care benefits. Even if you don't live in the Boston area, you can be treated at the Boston VA hospital.
Their facility includes transportation and housing programs available to veterans and their families to live locally while being treated for mesothelioma.
A subunit of the Boston VA Hospital is the Division of General Thoracic Surgery (GTS). This is located at the West Roxbury Campus where patients with mesothelioma receive their surgical care as part of their treatment for the disease.
The Boston VA Hospital has Dr. Ari Lebenthal and several other surgical specialists who spend all of their time caring for veterans who require thoracic surgery for mesothelioma.
If you choose the Boston VA Hospital, you will be treated at the West Roxbury Campus, which sees more than 300 mesothelioma patients. In fact, this campus has the largest number of non-cardiac surgical cases per year when compared to other VA medical centers.
The doctors at the Boston VA Hospital have spent the last twenty years perfecting their surgical technique and doing research through clinical trials that have been found to extend the lives of veterans with mesothelioma.
A Free Veterans Packet can help with
Treatment Options
Financial Assistance
VA Benefits
Get Your Free Veterans Packet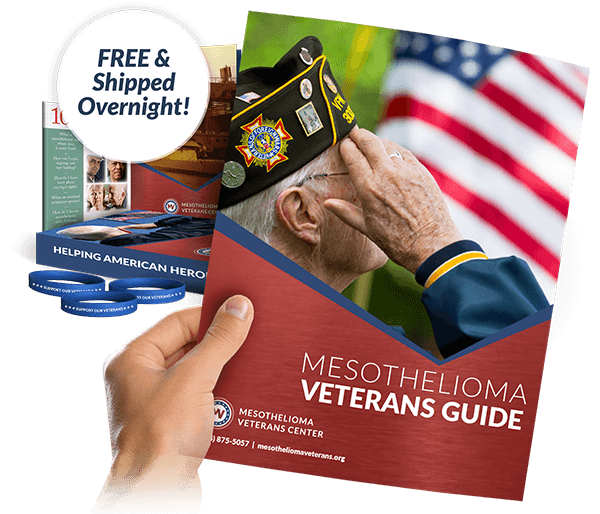 Get a FREE Veterans Packet
Get information on:
Treatment Options
Mesothelioma Specialists
Veterans Benefits
Get a Free Veterans Packet
Dr. Lebenthal and Dr. Cohen conducted their fellowships at the Brigham and Women's Hospital in Boston, a world-renowned center for mesothelioma research and treatment. They are a part of the International Mesothelioma Program, which is dedicated to the advancement of mesothelioma research and management.
These doctors are also affiliated with the Dana Farber Cancer Institute, as well as the Harvard Medical School, which trains students and young doctors in the various ways of treating mesothelioma.
Most veterans with mesothelioma are cared for at the Boston VA Medical Center but don't live directly near Boston or the West Roxbury Campus.
Because of this, the facility has programs offering airfare for the mesothelioma patient and a caregiver to travel to Boston for consultation and treatment. Eligibility for this service depends on your service connection and your income.
There are also housing options available for veterans who do not live near the West Roxbury Campus but require lengthy stays in the Boston area. There are currently two sites for housing for veterans and their families at the Fisher House Boston and the VA Boston Huffington House.
If these become unavailable, there are also private organizations that may be able to provide you with assistance in traveling and lodging in Boston during your treatment.
The VA Boston Healthcare System has three major locations within Massachusetts: the Jamaica Plain campus, the Brockton Campus, and the West Roxbury Campus. Contact the Boston VA by visiting www.boston.va.gov to make sure you can get mesothelioma treatment at the facility closest to you.