Quick Summary
A mesothelioma prognosis describes the expected outcome of a patient's cancer. Mesothelioma generally has a poor prognosis, but treatments are helping more people live longer. Thankfully, veterans with mesothelioma may be able to access treatment from the U.S. Department of Veterans Affairs (VA) or private doctors to improve their prognosis.
Topics on this page:
What Is the Prognosis for Mesothelioma?
A malignant mesothelioma prognosis is how doctors describe the expected health outcomes after someone is diagnosed. A prognosis takes two main factors into account: life expectancy and survival rate.
Mesothelioma Life ExpectancyThis is the average length of time a patient can expect to live after their diagnosis. The average life expectancy is

12-21 months

for patients with

pleural mesothelioma

and over

60 months

for those with

peritoneal mesothelioma

.

12-21 Months

Plueral mesothelioma average life expectancy

60+ Months

Peritoneal mesothelioma average life expectancy

Mesothelioma Survival RatesSurvival rates measure the percentage of patients still alive after a specified length of time. The

1-year survival rate

is

73.1% for pleural mesothelioma

and

91.6% for peritoneal mesothelioma.
Improving Mesothelioma Prognosis
Many patients feel discouraged by their prognosis, as mesothelioma is highly aggressive and there is no known cure. However, a mesothelioma prognosis is not set in stone.
In fact, some patients who were originally given a poor prognosis went on to live for many months or years longer than expected.
Here are some tips to improve your mesothelioma prognosis:

Work with a mesothelioma specialist

Oncologists (cancer doctors) across the country specialize in treating different forms of this cancer. Some of these doctors created groundbreaking treatments to help patients live longer. Working with these experts offers you the best chance of improving your prognosis. Several specialists have partnered with the VA to provide treatments to veterans with mesothelioma.

Undergo surgery

Mesothelioma surgeries allow doctors to remove all visible traces of the cancer, preventing it from spreading. While not every patient will qualify — as the side effects can be risky — most mesothelioma specialists agree that surgeries offer the best chance to improve lifespan.

Get support

A mesothelioma diagnosis can bring a lot of stress and uncertainty to you and your loved ones. With help from friends, extended family, Veterans Service Officers (VSOs), and even mesothelioma attorneys, you can get the emotional and financial support needed to battle this cancer.
Call (877) 450-8973 right now to see if you can work with mesothelioma specialists.
Factors That Determine Mesothelioma Prognosis
A patient's individual traits play a major role in determining their prognosis.
Notable factors that affect prognosis include:
Mesothelioma location
Cell type
Treatment options
Patient history
Some mesothelioma types have a better prognosis than others. For example, peritoneal mesothelioma is easier to treat than pleural and thus it has a better prognosis. Thankfully, there are treatment options to help patients live longer no matter what type of mesothelioma they have.
Learn about ways to improve your prognosis in our free mesothelioma packet made for veterans.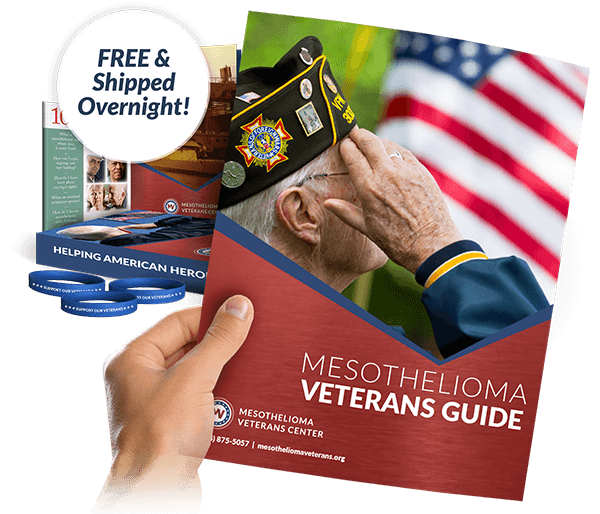 Get a FREE Veterans Packet
Get information on:
Top Treatment
Best Doctors
Improving Prognosis
Get a Free Veterans Packet
Pleural Mesothelioma Prognosis
Pleural mesothelioma, which develops in the lining of the lungs, is often diagnosed in its later stages. A late mesothelioma diagnosis makes surgery a less likely option, which means the patient will usually have a poor prognosis.
Pleural Mesothelioma Prognosis by Stage
Malignant pleural mesothelioma has 4 stages. Patients in early stages (1 and 2) have a better prognosis as the cancer is still largely contained to the lung linings.
12-21 Months
Plueral mesothelioma average life expectancy
Those in advanced stages (3 and 4) have a worse prognosis as the cancer may have spread to the lymph nodes and throughout the body.
| Stage | Life Expectancy |
| --- | --- |
| Stage 1 | 21 months |
| Stage 2 | 19 months |
| Stage 3 | 16 months |
| Stage 4 | 12 months |

Source: Frontiers in Oncology, 2018
Peritoneal Mesothelioma Prognosis
Malignant peritoneal mesothelioma, which develops in the peritoneum (abdominal lining), has the best prognosis of all types due to advancements in treatment options.
60+ Months
Peritoneal mesothelioma average life expectancy
This type of mesothelioma has a median survival time of roughly 63 months. Roughly 65% of patients live for at least 5 years after their diagnosis.
Those with peritoneal mesothelioma have a better prognosis if they are diagnosed before their cancer spreads. In these cases, surgery and chemotherapy can help patients live longer.
Prognosis worsens for peritoneal mesothelioma patients diagnosed when their cancer is more advanced. Typically, these patients are no longer good candidates for surgery and may opt for palliative treatments to improve their quality of life.