Quick Summary
Stage 4 mesothelioma cancer is the most advanced stage. Cancer tumors have spread throughout the body in this stage. Treatments can help reduce pain and symptoms, such as difficulty breathing. Veterans with stage 4 mesothelioma may qualify for free or low-cost treatments and financial payouts from the U.S. Department of Veterans Affairs (VA).
What Is Stage 4 Mesothelioma?
In stage 4 mesothelioma, the cancer has spread beyond its origin and reached distant parts of the body. This spread is also known as metastasis.
Common areas stage 4 mesothelioma may spread to include:
Bones
Diaphragm
Distant organs (such as kidneys or liver)
Lymph nodes
Opposite side of chest wall
Life-extending treatment options may be limited at this stage because of how far the cancer has spread. Most stage 4 patients cannot undergo major surgery to remove cancerous tumors, according to the American Cancer Society (ACS).
That said, treatments to help patients manage their pain or even live longer may still be available.
Amy FairRegistered Nurse
20+ years helping mesothelioma victims
"We don't like to look at stage 4 as a death sentence."
Chat now with our trusted advocates to learn more about what treatment may be available for you or your loved one.
Veterans and Stage 4 Mesothelioma Risks
Veterans make up 33% of all mesothelioma patients due to widespread military asbestos use between the 1930s and early 1980s. Asbestos exposure is the only known cause of mesothelioma.
Sadly, most veterans with mesothelioma are not diagnosed until stage 3 or stage 4. This is because noticeable symptoms of mesothelioma (like coughing up blood or shortness of breath) might not appear until these stages.
Veterans may not think these symptoms stem from mesothelioma since this cancer is so rare and it takes 20-50 years for symptoms to appear after asbestos exposure.
Thankfully, veterans with stage 4 mesothelioma can still pursue treatment and financial compensation through the VA. Additional compensation might also be available from the makers of asbestos-containing products through a lawsuit or trust fund claim.
Get a free veterans packet to learn about all the benefits available to veterans with mesothelioma.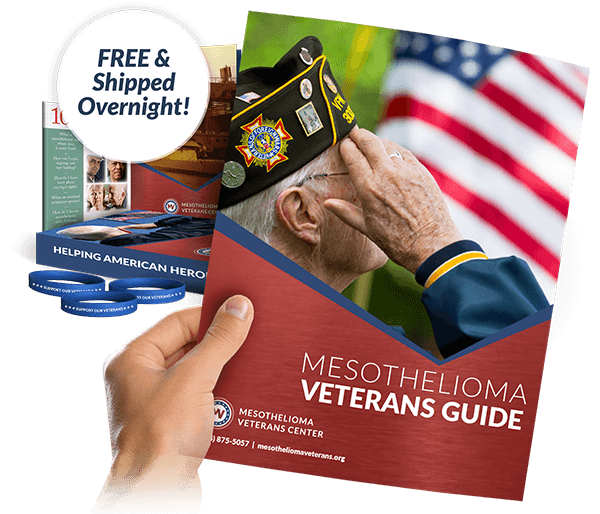 Get a FREE Veterans Packet
Get information on:
Top Treatment
Best Doctors
Improving Prognosis
Get a Free Veterans Packet