Quick Summary
Until the early 1980s, the U.S. Air Force used asbestos for its heat resistance and fireproofing properties. Air Force veterans who worked with asbestos materials have a higher risk of developing mesothelioma. Thankfully, benefits are available for veterans who can prove their mesothelioma began with their time in the Air Force.
Topics on this page:
Air Force Veterans With Mesothelioma
From the 1930s until the early 1980s, asbestos was used by the military for insulation and fireproofing. Unfortunately, during their service, members of the Air Force were exposed to asbestos found in barracks, ground vehicles, and aircraft.
Decades later, this asbestos exposure triggered cellular mutations in some veterans, leading to mesothelioma.
All branches of the military used asbestos, which is why veterans make up the largest group of mesothelioma sufferers — nearly 30% of all cases. Air Force veterans who worked construction were at the highest risk within the Air Force because they used materials that contained asbestos every day.
If you were diagnosed with mesothelioma due to asbestos exposure during your service, it is important to understand that the Air Force didn't know that asbestos was dangerous.
Although the branch used asbestos in its buildings and aircraft, the risks of asbestos weren't known by the public until the early 1980s. Tragically, the asbestos industry did know asbestos was deadly and failed to notify the military.
The U.S. Department of Veterans Affairs (VA) offers benefits to veterans who can prove that their mesothelioma was caused by exposure to asbestos during their time in the U.S. Armed Forces. These benefits include financial compensation to help affected veterans and their loved ones.
History of Asbestos Use in the Air Force
Today, over one-third of all mesothelioma victims are veterans. Most Air Force veterans who fought in the Korean and Vietnam wars were exposed to asbestos at some point. The Air Force was at the height of its asbestos use during these wars.
Many Airmen were exposed to asbestos, most often while in aircraft or barracks. Construction workers who built military barracks also suffered from long-term exposure to asbestos in the insulation, piping, drywall, and many other products.
Because asbestos spores are released into the air after the slightest disturbance and can stick to a person's body for hours afterward, everyone in the Air Force ran the risk of asbestos exposure.
Jobs that posed a high risk of asbestos exposure in the Air Force include: 
Aircraft Handler
Aviation Fire Control Technician
Electronic Technician
Jet Engine Mechanic
Metalsmith
Welder
Asbestos was also used to protect aircraft from fires. The substance was used to line engines, brakes, gaskets, and electrical wiring. Aircraft mechanics who had to install and repair these components were at the highest risk for asbestos exposure because they consistently worked on aircraft.
Did you know?
No level of asbestos exposure is considered safe. Even a few days of exposure have caused mesothelioma to develop in some people.
In the late 1970s, the U.S. military learned about the long-term health risks posed by asbestos exposure. As a result, the military began to remove asbestos from its infrastructure. In the 1980s, the Air Force started to replace asbestos in aircraft with substitute materials.
In 1994, the Air Force had a study commissioned on how to deal with asbestos throughout Air Force barracks and aircraft.
The study, named "The Facilities Asbestos Management" study, was completed in 1994. It established "management principles and practices" for dealing with the hazardous material across the Air Force.
Where Air Force Veterans Were Exposed to Asbestos
Unlike the other branches of the military, the Air Force is relatively new, having only been established in 1947. There was only a 20-40 year period when asbestos was actively used in the Air Force. Other branches used the material for significantly longer periods of time.
Still, a significant number of Air Force veterans are at risk of developing mesothelioma.
Below, learn more about some of the places where asbestos might have been encountered by an Air Force veteran.
Bases
The Air Force's barracks were often lined with asbestos. The material was used in the construction of the barracks.
Typically, asbestos wasn't released into the air unless construction was being done. The construction teams that worked on buildings and repairing the barracks have the highest risk of developing mesothelioma due to extended exposure.
Construction teams disturbed asbestos as they worked on:
Ceiling tiles
Flooring
Insulation
Piping
Roofing materials
Sheetrock
As the infrastructure degraded, the asbestos fibers were more easily disturbed and released into the air. Even if a veteran only lived on an Air Force base, they may still develop mesothelioma.
Aircraft
The Air Force used asbestos for a wide variety of functions inside its aircraft. From the military branch's inception in 1947 until the late 1970s, virtually all of its aircraft contained asbestos.
Asbestos helped protect key components of the aircraft, such as the engine, from excess heat. The mechanics that installed and repaired these components had the highest risk in the Air Force of asbestos exposure.
Aircraft components that used asbestos included:
Adhesives
Brakes and brake pads
Caulk
Ceiling tiles
Electrical wiring
Engine firewalls
Flooring tiles
Gaskets
Heating systems
Insulation
Joint compounds
Valves
Most of the aircraft used throughout the Cold War was lined with asbestos for its fireproofing properties. Asbestos protected aircraft components from catching fire. However, as the components wore down, the risk of asbestos being released into the air increased.
Aircraft components weren't regularly replaced, and the mechanics who repaired them were often put at risk of direct asbestos exposure.
Some of the aircraft that used asbestos in that time period include:
U-2 Spyplanes
SR-71 Blackbird
KC-135 Stratotanker
F-104 Starfighter
B-58 Hustler
B-36 Peacemaker
B-47 Stratojet
B-52 Stratofortress
Secondhand Exposure Risks and the Air Force
The family members of Air Force personnel could also have been at risk of asbestos exposure if they lived on an Air Force base when the material was widely used. Air Force bases contained huge amounts of asbestos products, meaning the risks of exposure were high.
Additionally, Air Force service members may have brought asbestos fibers back to their homes. In high-risk jobs, asbestos dust could get stuck to their uniforms. If their family members touched the contaminated clothes, they were being exposed to asbestos.
See if you can pursue VA benefits right now — get a free veterans packet to learn more.
A Free Veterans Packet can help with
Treatment Options
Financial Assistance
VA Benefits
Get Your Free Veterans Packet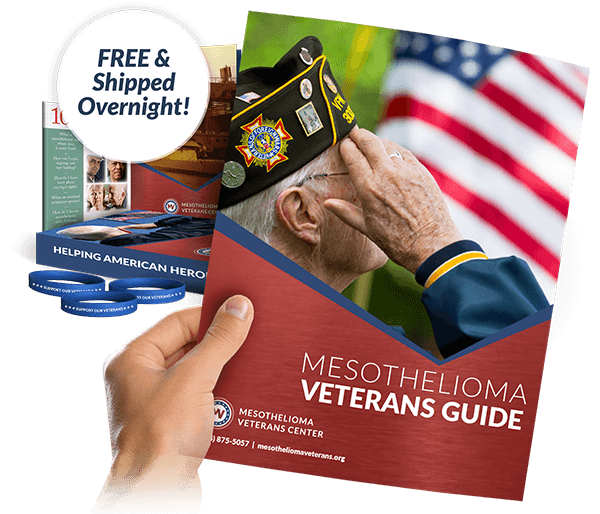 Get a FREE Veterans Packet
Get information on:
Treatment Options
Mesothelioma Specialists
Veterans Benefits
Get a Free Veterans Packet
Resources for Air Force Veterans
There are many benefits available to veterans and their families through the VA. These benefits are intended to help with the costs of living with and the treatment of mesothelioma.
While you can get treated at a non-VA hospital, you may not be eligible for some of these benefits, so exploring all options is worth it.
Benefits available to former Airmen include: 
Treatment from a VA Mesothelioma Specialist
All veterans with mesothelioma should get treatment from a specialist. This disease is rare, and few doctors have experience treating the disease.
You can access a mesothelioma specialist through VA health care. Not only could your treatment be free, but it will also come from one of the best mesothelioma doctors in the world.
VA Benefits
The VA offers a range of important benefits for Air Force veterans diagnosed with mesothelioma. In the VA, mesothelioma is classified with a 100% disability rating.
This means veterans with mesothelioma get the maximum amount of compensation. This monthly financial VA benefit can support you and your family if you can't work or are in recovery from treatment.
Trusts Funds for Asbestos Victims
Many aircraft parts were built with asbestos-containing products. However, the makers of these parts did not reveal that asbestos was dangerous.
Once the health risks became widely known, companies had to establish asbestos trust funds for those who were harmed. Today, there is more than $30 Billion available in these funds.
An Air Force veteran received VA benefits in a 2005 appeal to the VA. He had 20 years of experience working around asbestos after the military. Yet, he still proved his exposure was sufficient during his service.
 "[He] provided competent evidence that the fire protective suits were made of asbestos cloth during the time that he served as a firefighter in service."

— U.S. Department of Veterans Affairs (VA)
Getting Your VA Benefits
Air Force veterans can take advantage of VA benefits to relieve financial stress.
These benefits are meant to offset lost wages or incurred medical expenses. They can also allow you to live comfortably while going through treatment.
Here are some of the highlights of VA benefits:
Disability compensation usually pays $3,332.06 per month for mesothelioma patients.
Low-income veterans may be eligible for a pension.
Treatment from a specialist in the VA is often free.
You don't have to file for your VA benefits alone. There are people with years of experience who can help you quickly put together a complete and accurate claim.
Get connected with a VA-accredited Claims Agent for help with your claim now.