Quick Summary
There are certain occupations that put a person at a high risk of developing an asbestos-related disease. The list is, unfortunately, very long as many occupations put people at risk of coming into contact with asbestos. If you or your loved one faced occupational asbestos exposure and have since developed mesothelioma or another illness, you may be eligible for financial assistance.
Topics on this page:
Occupational Asbestos Exposure
Asbestos exposure can occur under many different circumstances. In the 20th century, men and women were exposed to asbestos as part of their job or by living with someone who worked in a job that exposed the worker to the substance.
They brought the asbestos home on their clothes, and family members breathed in or ingested it. They later came down with asbestos-related diseases, such as mesothelioma, lung cancer, or asbestosis.
Those who worked in the military were especially at risk of asbestos exposure. During World War II, people who worked in the Navy lived on ships or submarines insulated with asbestos. Also, Navy workers could become exposed to asbestos when they used the substance to build ships.
In other service branches, military members were exposed to asbestos while using asbestos-containing products on construction job sites. Because asbestos-related illnesses don't show up for up to 50 years after the exposure, these people didn't develop malignant mesothelioma until many decades after they left the Armed Forces.
A Free Veterans Packet can help with
Treatment Options
Financial Assistance
VA Benefits
Get Your Free Veterans Packet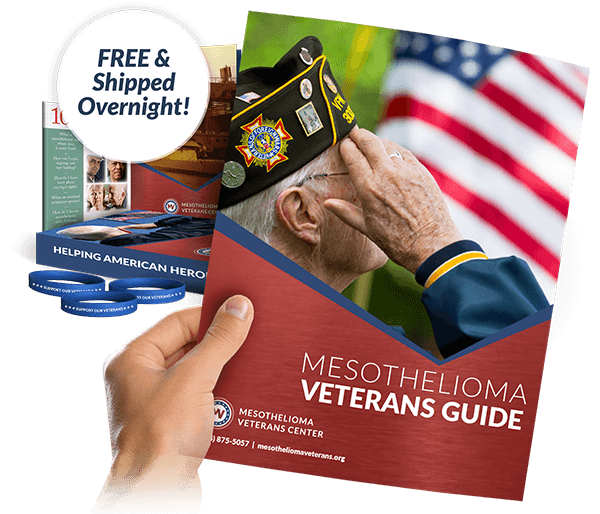 Get a FREE Veterans Packet
Get information on:
Treatment Options
Mesothelioma Specialists
Veterans Benefits
Get a Free Veterans Packet
Professions With The Highest Risk For Asbestos Exposure
The following is a list of occupations that carry the highest risk for asbestos:
Aircraft Mechanics: Asbestos was used in aircraft, especially by the U.S. Navy. Before 1981, asbestos was used to insulate engines in making brake pads, adhesives, and electrical insulation components. Mechanics were exposed to asbestos when repairing these types of vessels.
Aeronautical Engineers: Aeronautical engineers were at a greater risk of contamination with asbestos if they worked as retrofitters of various aircraft types. When aircraft were being maintained, the aeronautical engineers became exposed to asbestos used to insulate the aircraft. This is no longer the case, as asbestos has been banned in aircraft.
Auto Mechanics: Automobiles use asbestos in many components, such as brake linings and clutches. Mechanics who worked on replacing brake pads or building cars were exposed to asbestos as part of that process.
Blacksmiths: Blacksmiths generally work with molten metals, but they require substances that are heat resistant. Because asbestos is an extremely flame retardant material, it was used in the blacksmith industry to cool molten metals. As a result, blacksmiths breathed in the substance.
Boilermakers: Asbestos is used as insulation for things like hot water heaters. Boilermakers who worked around hot water heaters and other construction materials came into contact with the substance and breathed in asbestos fibers.
Brick and Stone Masons: Many bricks had asbestos mixed into the material so that, when working with bricks and stones, these workers were exposed to the substance. This increased the likelihood that they would develop an asbestos-related disease.
Bulldozer Operators: Bulldozer operators are instrumental in taking down older buildings insulated with asbestos fibers. As part of the demolition process, the bulldozer operator breathed in the insulation fibers and later came down with mesothelioma from this exposure.
Cabinet makers: The paper liners in cabinets were often made from asbestos. While this practice was discontinued in the 1980s, cabinet makers responsible for demolishing old cabinets and putting in new cabinets continue to have an increased risk of asbestos exposure when doing this type of work.
Carpenters: Carpenters before the 1980s were exposed to asbestos whenever they put in asbestos-containing insulation. Nowadays, asbestos isn't used for insulation, but those carpenters who work in renovation have to get rid of asbestos-containing insulation in older homes as part of the demolition and rebuilding process.
Chemical Technicians: Chemical technicians often work with substances that contain asbestos.  While this is less often occurring today, those chemical technicians who still work with specific products come into contact with asbestos as part of their job.
Civil engineers: Civil engineers often work closely designing and building various structures. They previously worked in building structures that were insulated with asbestos products. Fortunately, buildings are no longer insulated with products that have asbestos materials in them.
Construction Workers: People working in the construction industry are similar to carpenters who work in older homes that are still insulated with insulation made from asbestos. Construction workers who work in renovation are particularly at risk of breathing in asbestos from building materials, even in modern times.
Crane operators: Crane operators often work like bulldozer operators in the demolition of buildings. They use the cranes to demolish larger buildings that are often still insulated with products laced with asbestos.
Draftsmen: Draftsmen are those involved in designing and building large structures like office buildings. While doing their job, they came into contact with insulation used to build the structures they designed and were exposed to asbestos.
Drill Press Operators: Drill press operators generally work with metal objects. Unfortunately, many metal substances used in metalworking contain asbestos, and, while drilling holes, the drill press operators breathed in asbestos dust that ultimately led to asbestos-related illnesses.
Drywall Tapers: Drywall is often made with asbestos because it is lightweight and can be incorporated into the drywall. Tapers are exposed to the raw edges of drywall and breathe in asbestos as part of their job.
Many other occupations have been associated with asbestos exposure in the military and civilian jobs.
Additional occupations at higher risk for asbestos exposure include:
Asbestos Abatement Professionals
Deckhands and Sailors
Electrical Engineers
Electric Power Linemen
Forgemen
Freight and Smelter Operators
Furniture/Smelter Operators
Garage Mechanics
Grinding Machine Operators
Hairdressers
Heavy Equipment Operators
Home Inspectors
Household Appliance Installers
HVAC Workers
Industrial Plant Workers
Industrial Engineers
Iron Workers
Machinists
Merchant Marines
Mechanical Engineers
Metal Lathers
Millwrights
Mixing Operators
Molders
Operating Engineers
Painters
Pipefitters
Plasterers
Police Officers
Power Plant Workers
Road Machine Operators
Sales Engineers
Sawyers
Stationary Engineers
Sheet Metal Workers
Steamfitters
Structural Metal Craftsmen
Telephone Repairmen
Textile Operators
Tinsmiths
Tool Makers
Welders
Weavers
If you worked in any of the above occupations or were in the military, you may want to learn more about your occupational use of asbestos and educate yourself about the health risks of the material.
You should also constantly watch for symptoms of an asbestos-related disease.