Quick Summary
The Aid & Attendance (A&A) benefit is for veterans who need the help of another person to perform basic daily tasks. A&A can pay for an at-home caregiver or an assisted living facility. Spouses of veterans can also qualify for this VA benefit.
How Aid & Attendance Claims Work
Unlike some other benefits, A&A is not tied to military service.
The cause of your mesothelioma doesn't have to be from asbestos exposure in the military, but veterans must still meet specific requirements set by the VA to be eligible for this benefit.
Typically, veterans with mesothelioma don't have to prove the names of products containing asbestos that they were exposed to in the military. The veteran's military occupation can place them in a location known to the VA as a location that exposed veterans to asbestos.
Mesothelioma takes many years to develop, and most veterans diagnosed are 65 years or older.
The symptoms of mesothelioma, combined with the effects of aging, require that some veterans need a caregiver. Common symptoms of mesothelioma include shortness of breath, limited mobility, and chest or abdominal pain.
Treatment for mesothelioma may also facilitate the need for a caregiver. The A&A benefit helps families of mesothelioma sufferers afford the care their loved one needs.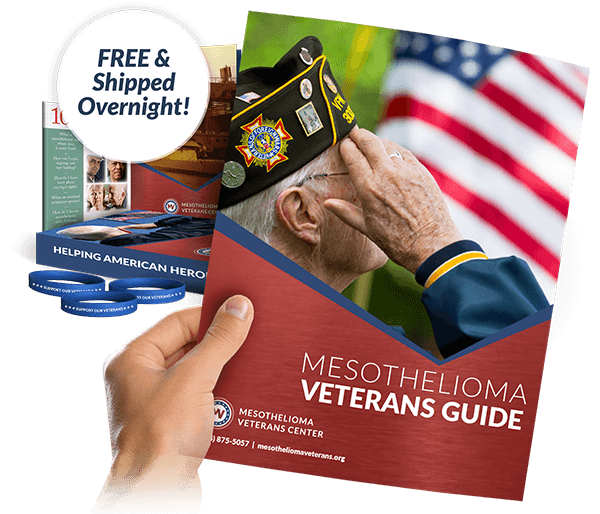 Get a FREE Veterans Packet
Get information on:
Treatment Options
Mesothelioma Specialists
Veterans Benefits
Get a Free Veterans Packet
A&A is Tied To Eligibility for VA Pension
A&A is not a stand-alone benefit.
The Veterans Administration states that "[Aid & Attendance] benefits are paid in addition to monthly pension, and they are not paid without eligibility to pension."
Veterans with a service-related disability who need a caregiver can get this benefit. This includes veterans who developed mesothelioma due to asbestos exposure in the military.
Some veterans have mesothelioma that isn't service-related. These veterans can also qualify for the A&A benefit as long as they get VA Pension benefits.
Once you get pension benefits, the VA will determine your need for a caregiver. The VA will pay the veteran based on the A&A income limits.
Below are the VA's requirements for VA Pension eligibility.