Quick Summary
Veterans who served in the Coast Guard from the 1930s to the early 1980s are at risk of developing mesothelioma. Because asbestos was used in so many aspects of Coast Guard duty, many veterans developed mesothelioma because of their time in the service. However, there are benefits and treatment specialists available just for these veterans.
Mesothelioma and Coast Guard Veterans
There are few cases of Coast Guard veterans diagnosed with mesothelioma each year. This is because of the relatively small size of this branch of the federal service.
Despite the low number of cases diagnosed, Coast Guard veterans have a high risk of developing mesothelioma. This is due to the heavy use of asbestos in Coast Guard ships. Asbestos was very effective at insulation and fireproofing materials, so it was also found in siding, building materials, and certain fire suits.
Some veterans wonder why the military would expose service members to a deadly substance like asbestos, but the Coast Guard isn't responsible for the high rates of exposure among veterans. While every military branch used asbestos, only the asbestos companies knew of the dangers of the substance until decades later.
If your mesothelioma did come from exposure during your time in the Coast Guard, you are entitled to benefits from the VA. However, you may have also been exposed if asbestos was used at your job after the Coast Guard.
If this is the case, you can also file a legal claim. Through this claim, you may be able to get justice and compensation from major asbestos companies.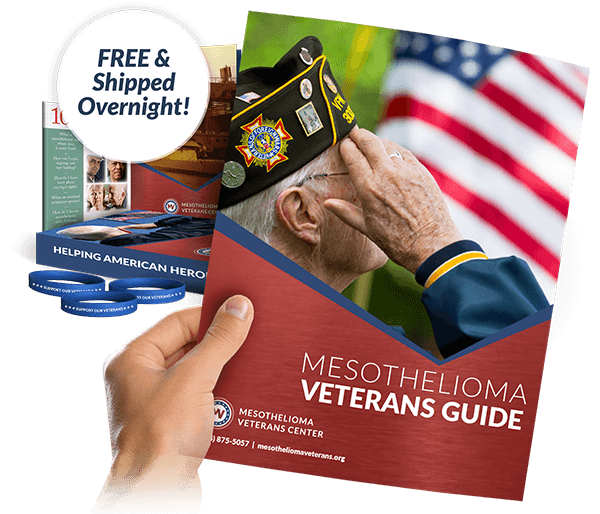 Get a FREE Veterans Packet
Get information on:
Treatment Options
Mesothelioma Specialists
Veterans Benefits
Get a Free Veterans Packet
History of Asbestos Use in the Coast Guard
The military used asbestos in almost all of its vehicles, weapons systems, and infrastructure before the dangers of asbestos became known in the early 1980s.
Asbestos was extremely common on Navy ships, and it is the only substance proven to cause mesothelioma. Since the 1980s, the Coast Guard has removed almost all of the asbestos from its ships.
According to the Office of Public Health, Coast Guard veterans most at risk were "those involved in renovation of asbestos-containing structures and/or removal of asbestos materials either before or after 1970."
Coast Guard workers most at risk of asbestos exposure are: 
Construction and demolition workers: During construction or demolition, asbestos was released into the air when disturbed. This included installing or removing asbestos-containing materials. Once disturbed, asbestos could cling to a person's hair or clothes, and continue to be inhaled. Mechanics that installed and repaired ship components fall into this category as well. Asbestos was used in the materials that construction and demolition workers would have used like piping and floor or ceiling tiles.
Shipyard workers who built new parts for ships: Because it was used in so many different areas of ships, many shipyard workers were exposed to asbestos. The insulation used to build ships during World War II and the Korean War was highly sought after during that time and also highly toxic.
Those who served in the Coast Guard any time from World War II until the late 1970s are at risk of developing an asbestos-related illness. This includes mesothelioma, asbestosis, lung cancer, and other types of asbestos-related cancers. The first symptoms usually appear well after the veteran served in the military.
Mesothelioma can develop anywhere from 20-50 years after initial asbestos exposure. Coast Guard veterans with jobs where asbestos was constantly used have the highest rates of mesothelioma.