Quick Summary
Navy veterans have the highest risk of developing mesothelioma out of all U.S. military branches. Navy veterans diagnosed with mesothelioma after being exposed to asbestos while in the Navy can get treatment and benefits through the VA and may be able to get legal compensation.
Navy Veterans With Mesothelioma
Military veterans make up the largest group of mesothelioma patients in the U.S., and a majority of these patients are Navy Veterans. The Navy used asbestos extensively in their ships for insulation and fireproofing.
Former Sailors may be able to get legal and financial help due to their exposure to asbestos while in the Navy.
The fault of asbestos exposure among veterans lies with asbestos companies. These companies knew the risks of asbestos exposure for decades but hid this truth from the public and the military so they could continue to profit off of its manufacture and sale.
Because of this corporate malfeasance, Navy veterans may be able to receive financial compensation through a legal claim. This compensation can be used to help veterans afford the high costs of treatment and provide financial security for their families.
Video Summary: Walter, a victim of mesothelioma, shares the story of his journey in the Navy, diagnosis with mesothelioma, and filing of an asbestos claim. View Transcript.
The word mesothelioma I didn't know anything about. When I turned 70 I started getting pneumonia, but then as time went on they kept getting closer and closer and closer together [the occurrences] and I asked the doctor, I said, I wanna know why.
And they sent me downstairs to get a chest x-ray and the x-ray made it back before I got back up there.
He said, we are gonna go inside and take a look. He came up right to my bedside after the operation and showed me the pictures they took on the inside of the lung and he pointed out the cancer.
I really can't explain it, I got a knot in my stomach you know. But, he told me then that there was no cure for it.
I was impressed – by the Navy – seeing my uncle in that Navy uniform you know – take pictures of him. So I just decided when I come outta school I was gonna join the Navy. I was very proud of that uniform, I was a bartender when I went aboard my first ship and started doing my first job. I asked them what the material was made out of and they told me it was asbestos. It didn't kill anybody on the spot that's for sure but it took years later when it started catching up with us. But, my understanding is that the powers-at-be knew.
I didn't wanna sue my government and I damn sure didn't wanna sue the Navy cause their still feeding me. I wasn't suing the government, I wasn't suing the US Navy, I was suing the manufacture.
I was only 2 or 3 days and he was here [the lawyer]. He came and seen me, talk to me personally. He knew what kinda a man I was and how involved I was with my job in the Navy. Felt very comfortable with them. I was watching the way they handled it, they did good. It was positive thinking, nothing negative about it, it was positive. They were prepared, they could go back to day 1, and I appreciated that. There was no guessing about it, they had the paperwork to back them up. It was a hands on approach I guess, and that's what drew me. Cause that's the way I do things – a hands on approach. They damn well earned it.
History of Asbestos Use in the Navy
Before the 1970s, the dangers of asbestos weren't known outside the asbestos manufacturing industry.
Asbestos was relatively cheap and very heat-resistant, so it was widely used by the military. The Navy used asbestos for everything from fire protection to insulation on ships and in their buildings on shore.
Did you know
Navy service members have the highest risk of asbestos exposure because it was so widely used, particularly on their ships. 
Although all of the other branches of the military used asbestos, they did not use them to the extent that the Navy did. This is why so many veterans who get help filing for VA benefits are former Navy Sailors.
Veterans of the U.S. Coast Guard have similar risks to members of the Navy. However, the branch is the military's smallest and, therefore, has the fewest number of veterans diagnosed with mesothelioma each year.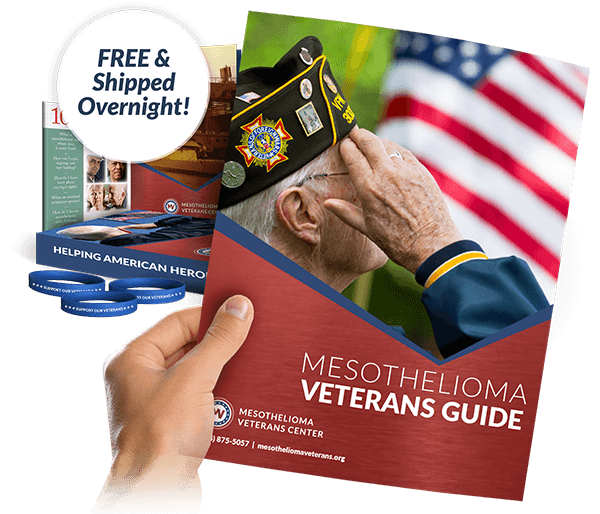 Get a FREE Veterans Packet
Get information on:
Treatment Options
Mesothelioma Specialists
Veterans Benefits
Get a Free Veterans Packet
Asbestos Products on Navy Ships
Asbestos in Navy ships was virtually everywhere. Sailors working on insulation, piping, or other parts of the ship often released asbestos into the air unknowingly while going about their normal duties.
Asbestos onboard ships could be found in:
Berthing
Boiler rooms
Bulkheads
Deck flooring
Engine rooms
Gaskets
Insulation
Pipe lagging
Pumps
Seals
Valves
When disturbed, asbestos can become airborne for hours. The fibers stick to the clothing, hair or skin of people nearby. Sailors spread asbestos to other parts of ships and barracks, unknowingly contaminating their seamates.
Once asbestos fibers are inhaled, they may become lodged in the lungs. This can lead to mesothelioma, lung cancer, asbestosis, and other asbestos cancers later in life.
Some Navy rates, such as boiler technicians and machinist mates, have extremely high rates of asbestos exposure. They also have high rates of mesothelioma among workers.
The VA usually admits that the cause of mesothelioma is a patient's time in the Navy. This makes it easier for these veterans to get VA benefits. However, Navy veterans must provide documentation to prove that their mesothelioma is service-related.