Quick Summary
Anyone who has served in the U.S. Armed Forces may have been exposed to asbestos. In fact, many victims don't even know they were exposed because the fibers can be inhaled through secondhand exposure. Today, thousands of veterans who were exposed to asbestos while in the service of their country are developing mesothelioma.
Asbestos Use in the U.S. Military
Veterans in the U.S. military have a higher risk of developing mesothelioma, a deadly cancer, than those in the general population.
In fact, over 30% of all mesothelioma patients are veterans. Veterans were exposed to asbestos in a variety of different environments while serving in the military.
From the 1930s to the early 1980s, the U.S. military used asbestos for a variety of different infrastructure projects. Mainly, the military used asbestos for its heat resistant and insulating properties.
Asbestos-lined products allowed the military to protect ships, aircraft, tanks, transport vehicles, barracks, and other infrastructure from the risk of fire. All branches of the Armed Forces — the Army, Navy, Marines, Air Force, and Coast Guard — used asbestos products liberally.
The following military occupations had a high risk of asbestos exposure, according to the Department of Veterans Affairs (VA):
Carpentry and construction
Demolition specialists
Floor and roofing installers
Pipefitters
Welders
Most veterans with mesothelioma are eligible for VA benefits.
The VA says, "The evidence must show you have a disease or disability related to asbestos and a relationship exists between the exposure to asbestos in military service and the disease/disability."
This evidence is strong for most veterans with mesothelioma.
The military didn't stop using asbestos products until the early 1980s. This is when the health dangers associated with the materials were revealed.
The U.S. military did not know about the health risks of asbestos and was misled by manufacturers of asbestos-containing products.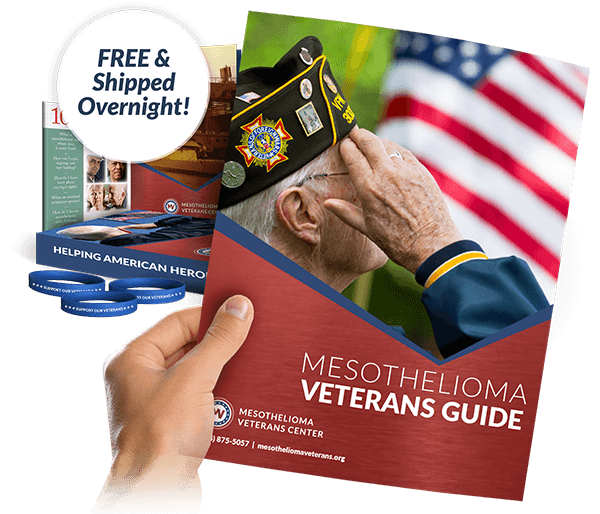 Get a FREE Veterans Packet
Get information on:
Treatment Options
Mesothelioma Specialists
Veterans Benefits
Get a Free Veterans Packet