Quick Summary
There are different ways doctors administer chemotherapy for mesothelioma patients. Patients may also receive chemotherapy before, after or during surgery. The method your doctor chooses depends on your specific diagnosis.
Treating Mesothelioma with Chemotherapy
Chemotherapy is usually the first line of treatment for all mesothelioma patients.
Regardless of mesothelioma stage or type, nearly all patients can receive this chemotherapy treatment. Chemotherapy types may be categorized by their delivery method and how they are used to make surgery more effective.
Types of chemotherapy for mesothelioma include:
Systemic chemotherapy. Chemotherapy drugs are given by injection or intravenous drip. This is the most traditional type of chemotherapy.
Intracavitary chemotherapy. Special catheters are placed directly in the area where the mesothelioma tumors are located. This helps deliver chemotherapy directly to the source with the intention of making chemo more effective.
Multimodal chemotherapy. Many patients receive chemotherapy to make surgery more successful. The chemotherapy can make tumors easier to remove or help kill cancerous cells left behind from surgery. Sometimes doctors deliver the chemotherapy intraoperatively via the intracavitary route and then postoperatively systemically.
First and second-line systemic chemotherapy. Doctors use chemotherapy as first and second-line treatment in advanced mesothelioma. Because patients can develop a tolerance to some drugs, oncologists use different drugs for second-line therapy.
Each type of chemotherapy has different benefits. Your individual diagnosis helps determine the appropriate type of chemotherapy for you. For example, some mesothelioma patients who are candidates for surgery may benefit most from multimodal chemotherapy. Patients in later stages may benefit more from just systemic chemotherapy.
Did you know?
Heated (or hyperthermic) intraoperative chemotherapy is becoming a popular treatment. Peritoneal mesothelioma surgical candidates commonly receive HIPEC (hyperthermic intraperitoneal chemotherapy). This type of chemotherapy is heated and placed into the chest or abdomen, it can extend life expectancy by several years.
A Free Veterans Packet can help with
Treatment Options
Financial Assistance
VA Benefits
Get Your Free Veterans Packet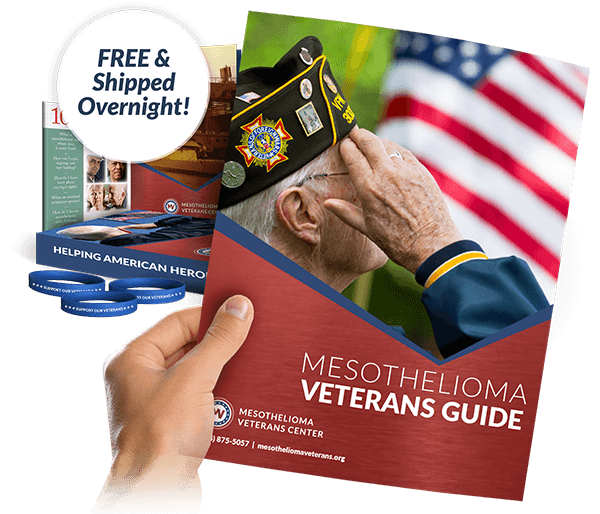 Get a FREE Veterans Packet
Get information on:
Treatment Options
Mesothelioma Specialists
Veterans Benefits
Get a Free Veterans Packet
Systemic Chemotherapy
Systemic chemotherapy involves delivering chemotherapy via the bloodstream. This is the most familiar chemotherapy delivery method for all types of cancer.
There are 3 ways to deliver systemic chemotherapy into the bloodstream:
Simple intravenous (IV) drip. This method uses a tube inserted into the vein in your arm or hand to deliver the drugs. Repeatedly inserting tubes into the veins of your arm and hands causes damage and scarring to the veins over time.
Central line. This is a long tube placed inside the large vein in your chest. The tube is also called a central venous catheter (CVC). Doctors use local anesthesia to insert this thin catheter. The line stays in until your chemotherapy cycles are complete. The central line is clamped and sealed with a special cap when not in use.
PICC line. Like a central line, a PICC line also uses a long, thin tube to deliver chemo. PICC stands for "peripherally inserted central catheter." A PICC line may also stay in place until you have completed your cycles of chemotherapy. A PICC line, however, is placed in the vein above your elbow. The line is guided through the vein until it reaches the large vein in your chest. Putting in a PICC line doesn't require anesthesia.
The systemic delivery method you receive depends on the chemotherapy drugs your doctor has prescribed. It also depends on the dose and how long it takes to receive the drugs. Some drugs can be delivered in under 15 minutes while others takes hours to administer.
Patients receiving many rounds of chemotherapy are more likely to have a central or PICC line put in place. This makes it easier for patients and doctors because a new tube doesn't have to be inserted at each visit.
Central and PICC lines are usually better for patients whose veins can't handle frequent tube insertion. These lines also minimize the risk of chemotherapy drugs leaking into the surrounding tissue compared to a regular IV.
If you receive a central line or PICC line, always remember:
Keep the area around the insertion site clean.
Wash your hands before touching the insertion site.
Tape the tubes to your body to prevent creasing.
Keep the bandages over the site dry.
Types of Multimodality Treatment
Multimodal treatment is commonplace for mesothelioma patients. This is when a patient receives 2 or more treatment modalities, such as chemotherapy and radiation. Surgery and chemotherapy is a popular multimodal method due to their success rates.
Surgical treatment offers the best chances of survival for eligible patients. Studies have also shown that multimodal treatment increases survival times even more.
Did you know?
Most patients who receive chemotherapy and surgery nowadays take part in trimodality therapy. As the name suggests, trimodality therapy includes 3 different treatment modalities. A common trimodality therapy is chemotherapy first, surgery, and finally radiation therapy. According to some studies, patients who receive this type of treatment can double their survival time.
Chemotherapy types can vary on when the patient receives the drug in relation to surgery. Chemotherapy may be administered before, during, or after a surgical operation. Each method has risks and benefits. The type that's right for you depends on your diagnosis. The stage of your disease, cell type, and overall health are only a few factors that mesothelioma specialists consider before prescribing chemotherapy.
Below are the 3 different time frames when chemotherapy may be given in relation to surgery.
Neoadjuvant Chemotherapy
Many surgical candidates receive intravenous chemotherapy before surgery, known as neoadjuvant chemotherapy. It's used in pleural and peritoneal mesothelioma patients.
The purpose of neoadjuvant therapy is to make surgery more successful. Mesothelioma tumors are small and dispersed in the chest or abdominal cavity. Shrinking these tumors to a smaller area gives surgeons a better margin of success. This is because surgeons can cut away a greater portion of tissue with the hope of removing a larger portion of the patient's mesothelioma.
In 2007, doctors published a study of neoadjuvant chemotherapy followed by surgery and radiation therapy. The median survival time was 25.5 months.
Intraoperative Chemotherapy
Some surgeons administer chemotherapy during surgery, which is called intracavitary chemotherapy.
In one review of intraoperative mesothelioma treatments, the authors said, "The advantage of the [intraoperative chemotherapy] is that local effects can be enhanced whereas systemic side effects of the therapeutic agents applied might be reduced."
The primary benefit of intraoperative chemotherapy is survival time. Patients who receive intrapleural chemotherapy in addition to surgery have a median survival of about 35 months, which often leads patients to live longer than 3 years.
Peritoneal mesothelioma patients have even better outcomes from intraoperative chemotherapy. Studies have published survival times greater than 4 or 5 years.
An additional benefit of intraoperative chemotherapy is reduced side effects. Unlike systemic chemotherapy, intraoperative chemo isn't introduced directly to the bloodstream. Doctors place chemotherapy directly into the chest or abdomen for a short period of time. The chemotherapy doesn't have time to circulate through the body, causing unwanted effects.
Adjuvant Chemotherapy
Adjuvant therapy is chemotherapy given intravenously following surgery. Surgeons aren't able to remove all the microscopic cancer cells during surgery. Since there are lingering mesothelioma cells in the body, adjuvant chemotherapy may help to kill the remaining cells.
First and Second-Line Systemic Chemotherapy
Most patients receive a combination of pemetrexed (brand name: Alimta) and cisplatin as their first line of advanced mesothelioma treatment. This combination was standardized after a landmark 2003 study showed superior survival times for patients who received both drugs.
First-line chemotherapy itself hasn't changed much since 2003.
"The combination of cisplatin and pemetrexed has become standard first-line therapy worldwide for patients who are not suitable for aggressive surgery, or in whom chemotherapy is recommended as part of a multimodality regimen," said mesothelioma expert Dr. Anna Nowak in a review of mesothelioma chemotherapy.
Second-line chemotherapy takes place when a patient's disease comes back.
Most people with mesothelioma experience a recurrence of their disease. Their first-line treatment slowed or reversed the disease progression, but eventually, the disease returned. Second-line chemotherapy can prolong survival times further.
Second-line chemotherapy is still in development. Doctors may use any combination of different chemotherapy drugs, or they may continue with pemetrexed and cisplatin. If you are looking for second-line treatment, clinical trials may offer the solutions you're looking for.
Which Chemotherapy Is Right for You?
The nature of mesothelioma treatment is based on specialization, which is why several types of mesothelioma chemotherapy exist. Each patient has different needs, and researchers haven't found one all-encompassing treatment.
The main uses of chemotherapy include:
Systemic chemotherapy for surgical (neoadjuvant and adjuvant) and non-surgical candidates
Intraoperative chemotherapy
Chemotherapy for pain relief in advanced stages
Your doctor will choose the chemotherapy type that fits your specific diagnosis and stage. If you're unhappy with the course of treatment your doctor has chosen, consider getting a second opinion. Our VA claims agents are familiar with mesothelioma treatment and have connections to specialists who can help.